Almost everyone has social media accounts by now, aside from my husband and a handful of others I know.  For most of us, we share a lot of our moments and memories on social media- which is fun, and wonderful, but if you are like me, taking them the next step and printing them just doesn't happen.  So I look at them, but only in cyberspace. I need to get better. Then we can show off our memories to family and friends not on social media (and we have many!)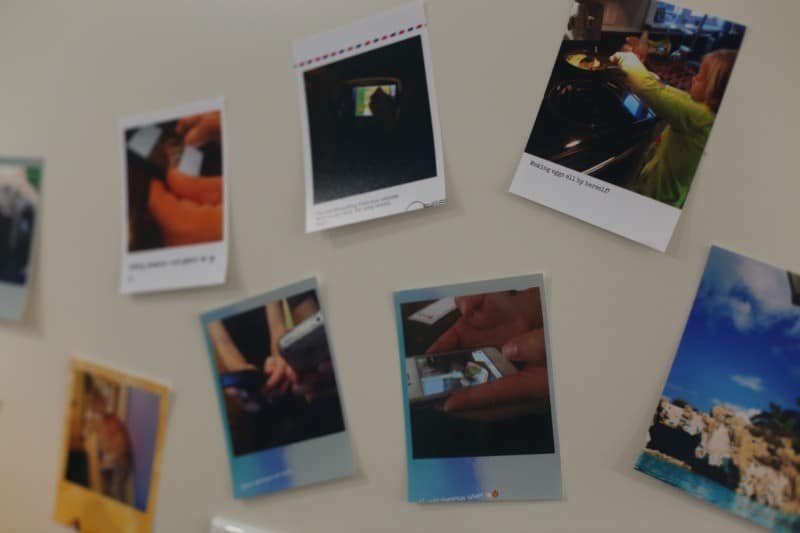 HP recently sent me an HP Envy printer and some of their  HP Social Media Snapshots Photo Paper to share with some friends. I'd originally wanted (and still plan to) do something really fun with my Girl Scouts or my little Sunday School class, but the timing was off and so I decided to have a little photo fun with a few girlfriends, both of whom are new to the smartphone and social media world. I invited them over with the promise of coffee, snacks, and a fun activity… and then proceeded to show them all about printing social media photos at home.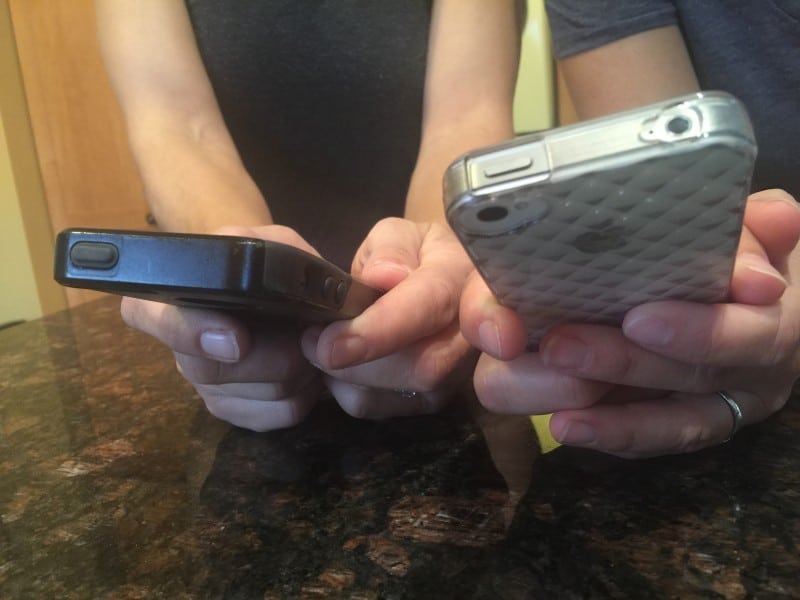 Two of my friends who came have kids in high school, who are always using Instagram to share photos – and both of them commented that this would be a REALLY fun Christmas gift for their kids- either for stockings, or for them to give one another.  One mom had actually just purchased a new HP printer a few weeks ago, and had gotten a sample of this paper when she purchased…. she hadn't realized what it was.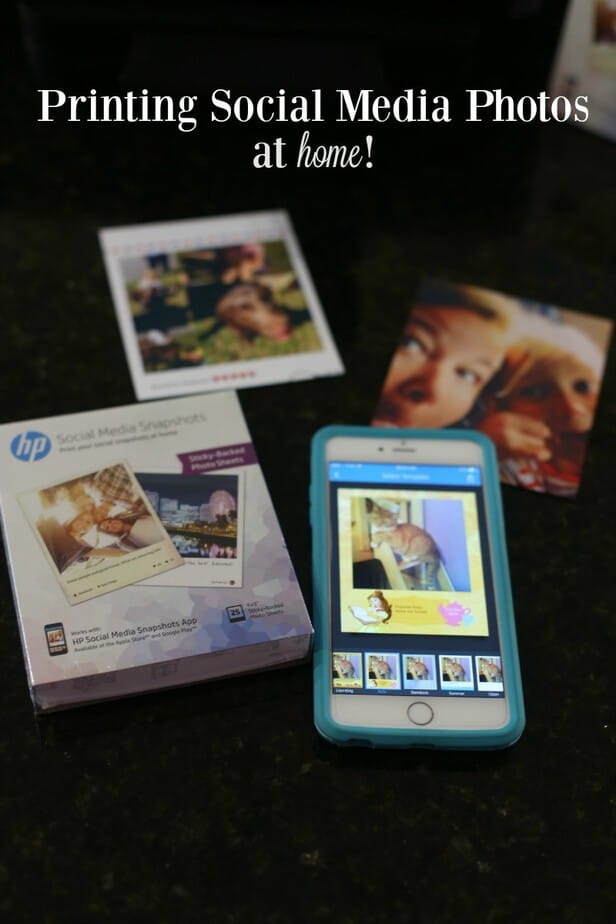 HP is by far one of my favorite brands.  They are so user friendly- actually, I think I need to say user intuitive, that their products are just a given in our house.  I'm forever having printer issues.  Or, rather, was.  As my friend Jenni.  I have asked her at least 30 times if I can print something at her house because our printer decided to go offline and I hadn't a clue how to make it go back online, and my husband was away/working late/ I needed that printed ASAP.  Happily, once we went to an HP printer, we've not had that issue. Love at first power and all.  But really, it is really hard to screw up when you are setting up anything (in this case a printer) from HP.  Their printers come with videos to watch to make it even easier. It's totally a Brett-proof system that I can't screw up.  Also? The printers actually say right on them what kind of ink you need to use for refills.  How many times have you had to dig around for that information?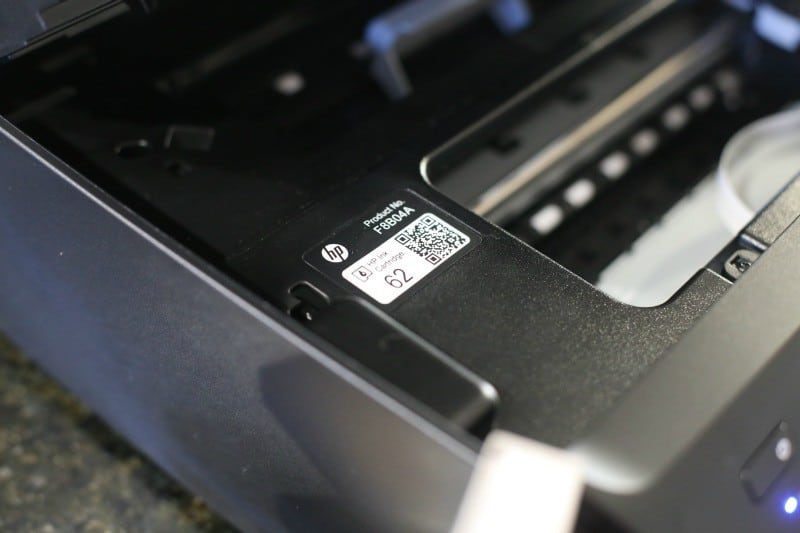 So, now you have a printer and you have all these photos on social media and you are all "Ok Brett, what's next?"
Well, first you download the Snapshots app (Grab it free on iTunes and Google Play)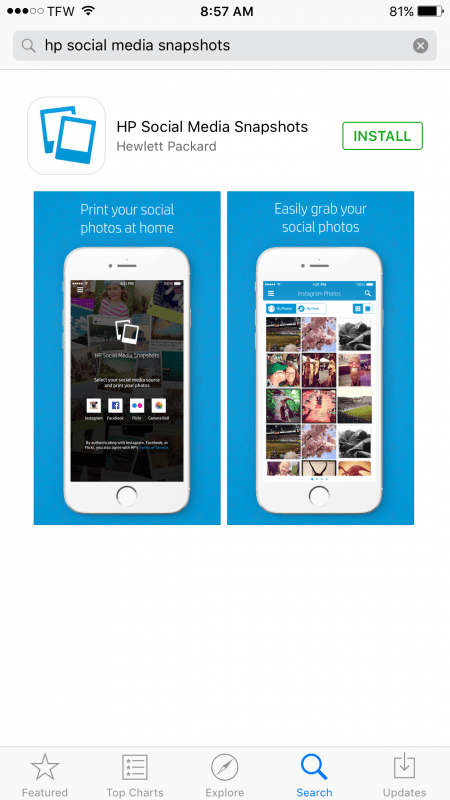 Follow the steps included in your printer instructions or your app to make sure your phone knows where to send the photos.
Start playing with your photos.  You can connect Facebook, Instagram, Flickr and your phone's camera roll… and in the app, there are tons of options to caption and personalize that photo even more.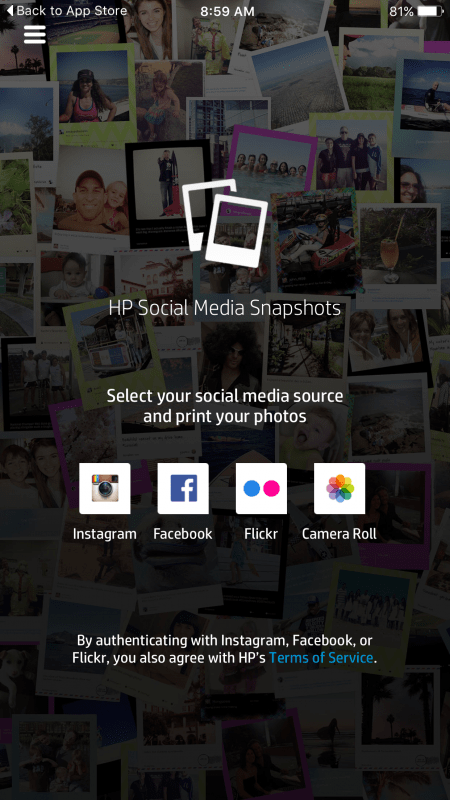 Love Disney? There's frames for that. Our kitty, Rosabeth, is kind of the Princess of our house, so it was fitting I use her for a Snapshots print)!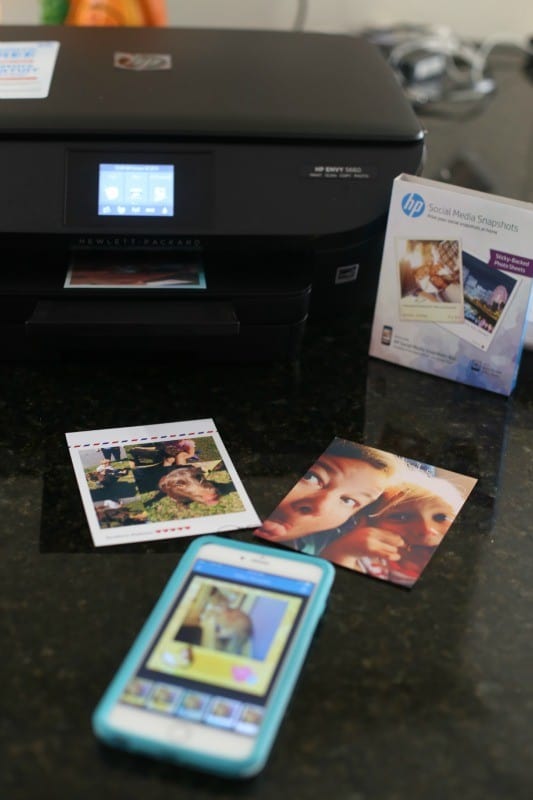 Want to add some notes?  Add text- and pick a font that matches your mood or the photo.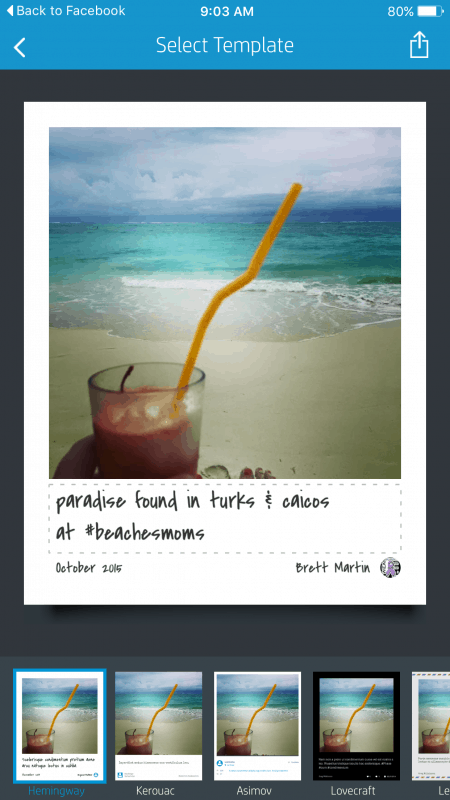 Not a big fan of the frames?  No problem.
Print it, my friend.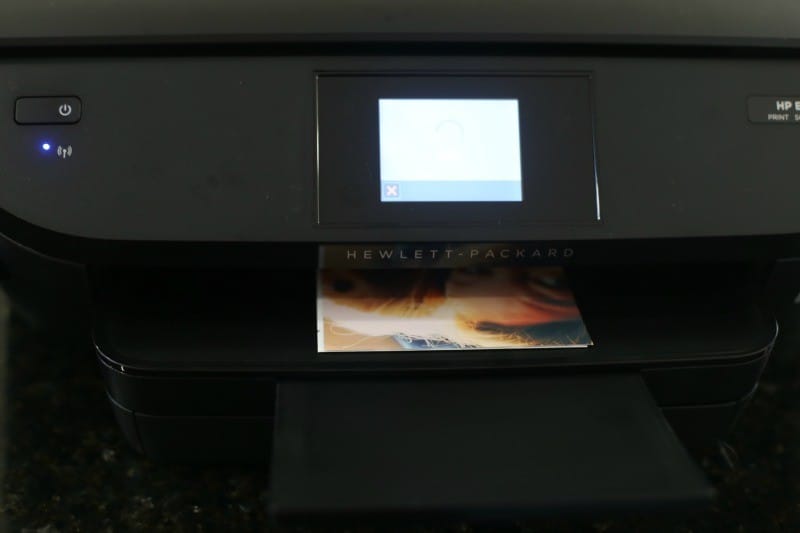 Our photos and memories are so personal to us, and with this new HP Social Media Snapshots paper, we can not only get those memories onto photo paper, but we can also capture (if you want to) the number of comments and likes.  So for my friend who's just finished losing 75 lbs, when she gets these photo papers, she can not just remember and celebrate that HUGE milestone, but she can also have a little record of just how many of her readers, followers, friends and family celebrated along with her.  That's something special, and not like anything I've seen before.  If we're sharing things on social media, why wouldn't we want to capture how others responded to us? Or for my niece who finally graduates with her two diplomas from college in a month or so- those celebrated moments can be captured with those likes and support.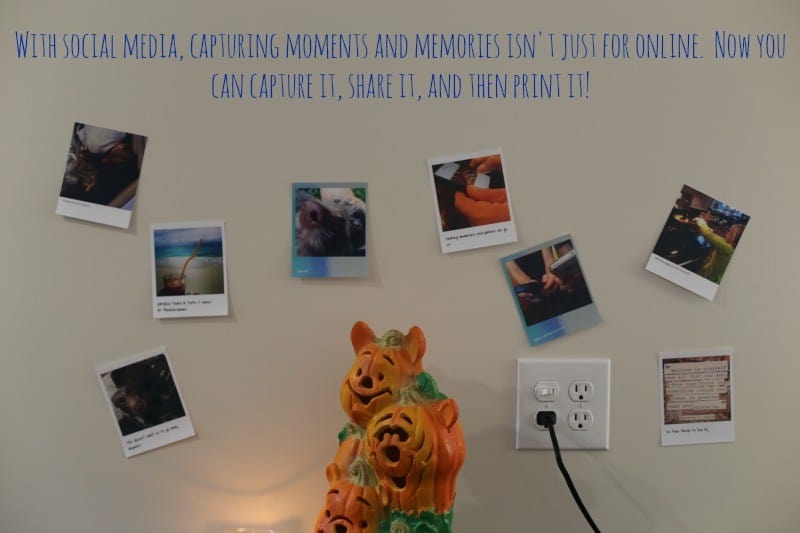 We had so much fun playing around with the HP Social Media Snapshots paper.  I had intended to send everyone home with a full box, but we printed so many photos that morning, that everyone only had 5 sheets of the paper to bring home.  So much fun was had- and so much laughter…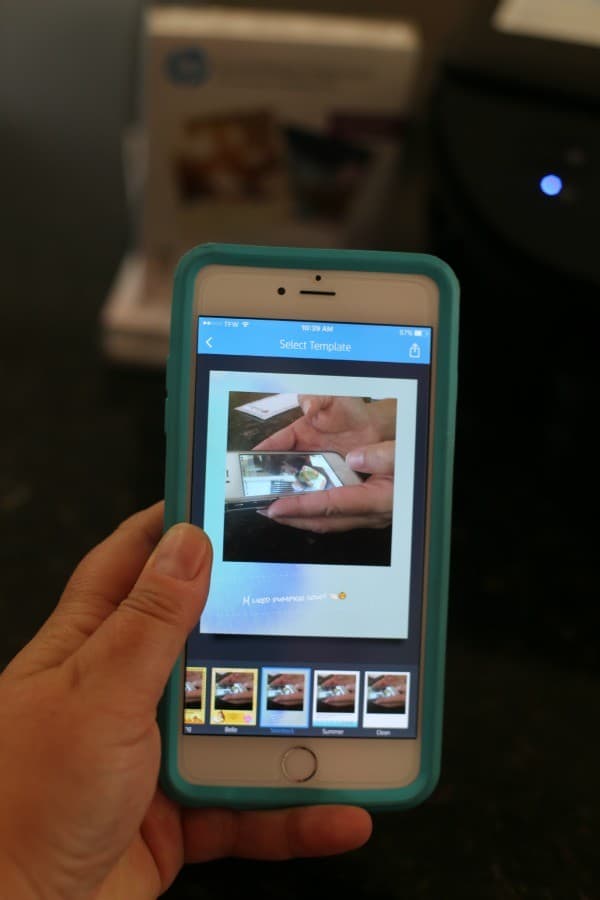 Here's the REALLY fun part about the Snapshots papers.  They have a sticky back.  Think post-it notes.  So you can totally have some fun with friends and family (I keep thinking of Scavenger Hunt ideas… the size and text areas are PERFECT for this!!) It's all just a whole lot of fun and there are SO SO SO many ways you can have fun with this cool new photo paper.  AND… if you have someone on your holiday list (don't we all?) who has everything, and loves social media?  Hello!! You have the perfect gift!! This is new paper and only available at Staples, so chances are, they don't have it, or they've only just discovered it…so surprise them with it, and challenge them to have some fun with printing their social media memories at home.  HP wants to know what you think- what we all think- so when you do print your social media moments on the Snapshots paper, take a quick pic, tag @Staples and #StickaPic wherever you want.  I can almost guarantee a smile on your loved ones' faces when they walk in and see so many memories stuck on the wall!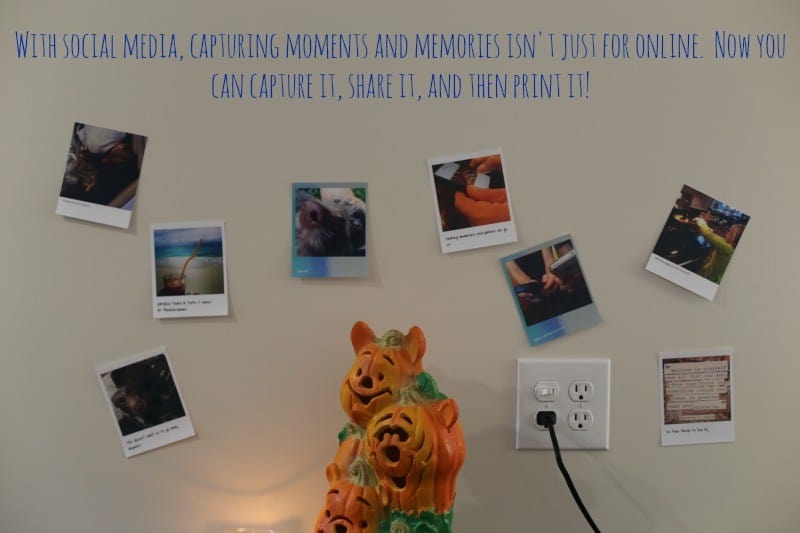 HP Social Media Snapshots is new, it's fun, it's modern, and it's got SO many possibilities. It's available now at Staples. PLUS!! Now through November 30th, HP Social Media Snapshots are Buy One Get One Free!! To get this great deal on HP Social Media Snapshots, visit this link or click the image below to head on over to Staples.com.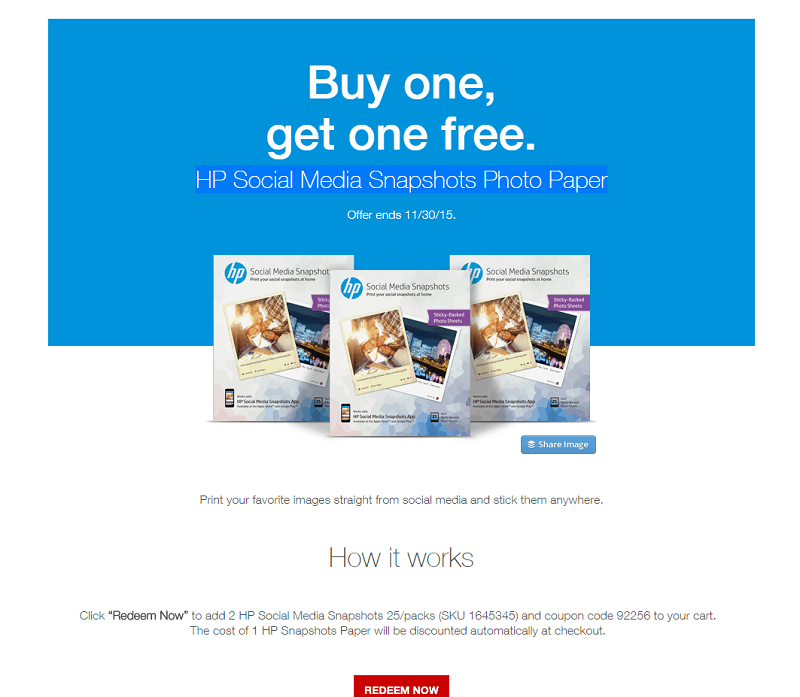 Have you tried the new Social Media Snapshots photo paper? Do you print your social media memories?
Thanks to HP and BSM Media for sponsoring today's post about printing social media photos at home.  Opinions are my own.