Disclosure: Compensation was provided by Mott's via Mode Media.  The opinions expressed herein are those of the author and are not indicative of the opinions or positions of Mott's.
As parents, we all have our shortcuts we take, for good and for bad.  Our confessionals can be the cause of many a laughter-filled gathering.  I'll even share one of mine- one that we got "away" with for 9 years…
We told the kids when the ice cream truck plays music, it means they are all sold out.  No more ice cream treats to buy.
This actually didn't backfire until last spring when we were at a soccer game and parents on the other team had asked the truck driver to come back around when the game was to end.  (We're in a fairly rural area, so trucks aren't frequently around). Normally when kids ran to the truck, my kids would be like "they will be so sad there isn't ice cream left," and we'd be leaving already and not see.  And it isn't that we didn't want the kids to have ice cream (and honestly, often we did at home later… it's just that we live on a busy road and we were afraid the kids would run to an ice cream truck and not stop to think about the road and the fib started as a way to keep them safe… but we didn't ever correct it).
Thankfully, the kids were laughing at us being "busted" and all 3 enjoyed from the ice cream truck that day.
Confessions of parents. Real life parents who aren't perfect. And realizing we don't need to be, our kids don't want us to be.
Shortcuts for Moms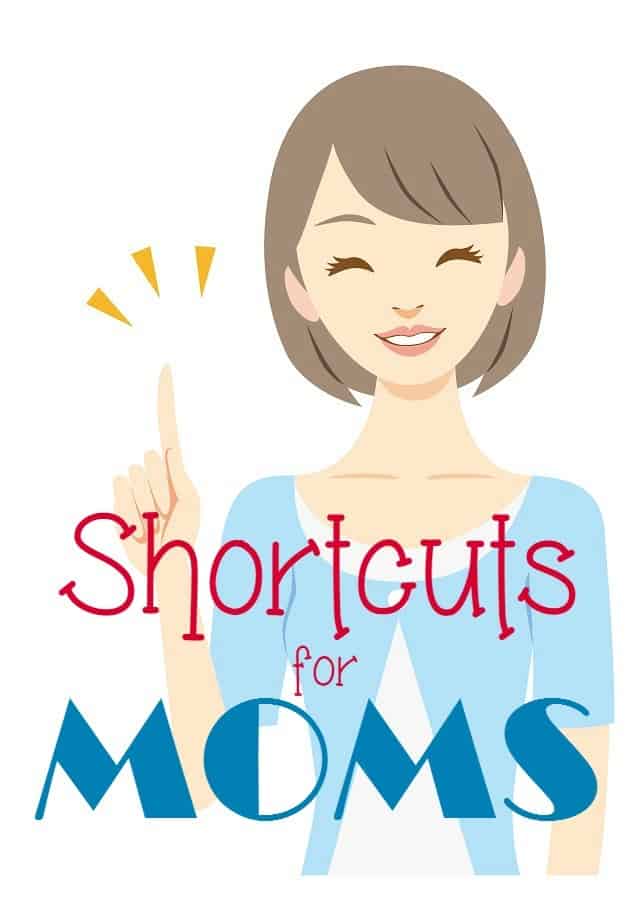 #1 A favorite– and it's a big one- SEMI HOMEMADE.
I prefer most of our meals to be from scratch.  In a dream world, they'd be all natural and all organic, sourced from a local farmer.
But we don't live in a dream world. We live in Connecticut. With the schedule we have, I'm all about balance. Are you making a soup?  Frozen veggies cook up in no time at all.
Need cupcakes for the bake sale? I've even bought cupcakes from the store and just done the icing and decorations myself. Homemade is nice but isn't always practical.  Prioritize and figure out what works best for you.
#2 Cleaning doesn't have to happen all at once.  It doesn't have to be perfect.  It just has to happen.  My kids actually LIKE to help clean (when we ALL clean)…. But they've all been handed a cloth or baby wipe since they were toddlers to help out.  Our kids rinse the sink when they brush their teeth.  They understand that if they don't, they'll be cleaning the entire sink and counter later… so they get it.  A little effort now saves you more work later.
Let the cleaners work while you are away.  This is especially great for toilets, and even extra especially great if you have people in your house like I do that don't seem to be able to get all of their body fluids to fit inside the hole in the toilet lid.
I usually squirt cleaner in the toilets right before I shower, and then don't flush it down- whoever uses the bathroom next can flush.  That means within an hour or two, the bathroom smells pretty fresh and clean- AND you know the bowl had a good soak.
#3 Clean the tub/shower before and during your shower.  Yea, I said it.  I'm totally serious.  (This may not work if you are a bleach cleaner).  A typical shower time for me is like this:
Go in bathroom
Spray shower and tub with cleaner
Use toilet, flush
Squirt cleaner into toilet bowl, give a few good brush swirls, close lid.
Get in shower, wipe down walls and tub
Proceed with shower as normal
Now, you've gotten your bathroom "biggies" done and spent maybe 3 extra minutes doing it.
#4 If your kids really, really, really want to make cookies and you promised them but you aren't feeling well and just.want.to.nap on the couch… pop into the store and grab the premade dough.  This way, you can give the kids (most of) the rein of making cookies, but in half the time, and you can get your head on the pillow that much sooner.  Everyone wins.
#5 Don't go it alone.  Obviously if you have infants, they cannot help you to cut fruits or veggies and bag them.  But older kids?  Even little ones can put cut foods into baggies or containers with you, which means grab and go is simpler on busy mornings.
As the kids get older, teach them to use peelers and knives.  Obviously, supervise younger kids, but they are going to need to learn these life skills at some point, why not teach them while they are young and eager to help YOU?
#6 Prepackaged food is NOT the enemy. One of my secret weapons that's almost always in my bag and/or van are applesauce pouches.
We make a lot of applesauce here. It's mostly so food doesn't waste, because we have apple trees, with apples= need to use it up.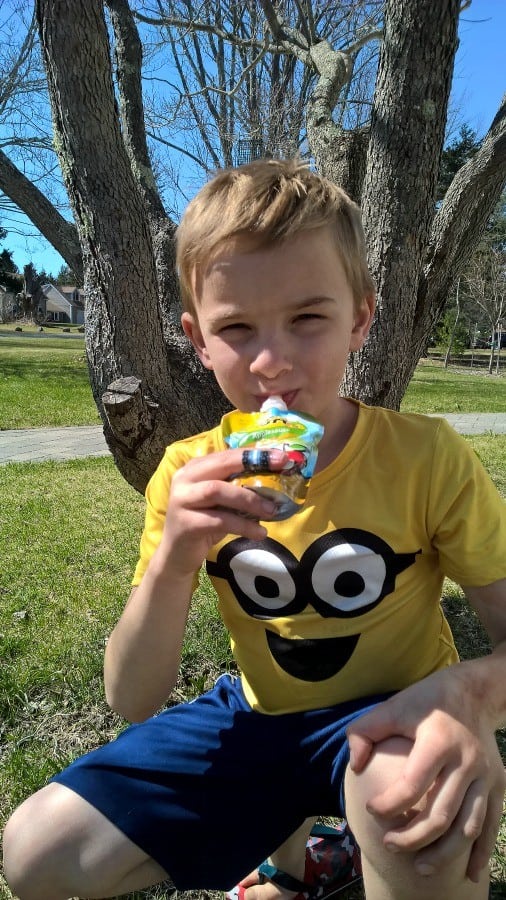 But my kids love Mott's® Snack & Go applesauce pouches.  I've learned the hard way at least 11 times that whatever containers we own or will find in a store just don't store applesauce well and it WILL explode all over the kid who brought it.  Maybe their neighbor.
So we do the fun pouches.  The kids think it's just easy to open.  I know better.  It's less mess for me to clean up. They don't pop in a bag, they don't explode when you open them.  It's a universal win! They can be eaten at any temp (well, frozen is a tough one…) but you know they are having a healthy snack.  Period. Plus, they are an excellent source of Vitamin C.  That's a win for all of us.
PS applesauce pouches are GREAT for camping. You can use them for baking and you can snack on them!
What are your mom or dad  shortcuts?!