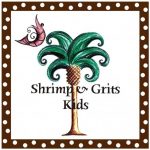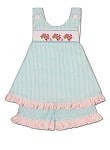 I am sure that you have heard me mention my recent obessesion with smocking. For girls AND boys. Yes boy moms, it IS possible.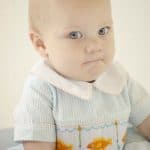 Cute little rompers with smocking. BUBBLE rompers!
How can you resist? I am on a mission to introduce more smocking and bubble jon jon's to New England. There just aren't enough out there!!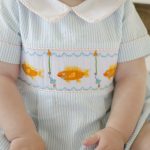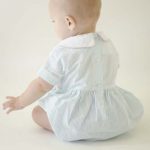 I am OBSESSED with Shrimp and Grits Kids Clothing. They offer the most adorable smocked clothing for babies and children. They were generous enough to send me their Orange Snapper smocked bubble jon jon for my little guy. I have been drooling over this little outfit ever since I saw it. I have visions of a family beach photo for the summer and can't wait to see how it turns out! Look at the adorable detail of the smocking. This jon jon is really boutique quality. The detailing is so fine and the light cotton material is nice and cool for the summer. The jon jon has snaps at the bottom and 3 buttons in the back. The collar adds just the right touch. I love the light blue and white stripes also. I think these light baby colors look great on any skintone and are perfect for babies.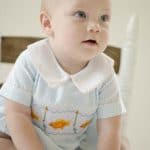 Shrimp and Grits Kids offers the following items for babies and children:
GIRLS (smocked and appliqued bishop dresses, bubbles, and bathing suits)
BOYS (smocked and appliqued jon jons, longalls, and shortalls)
MATCHING OUTFITS (brother and sister, siblings)
A sample of this item was provided to facilitate my review. All opinions expressed are my own."
0