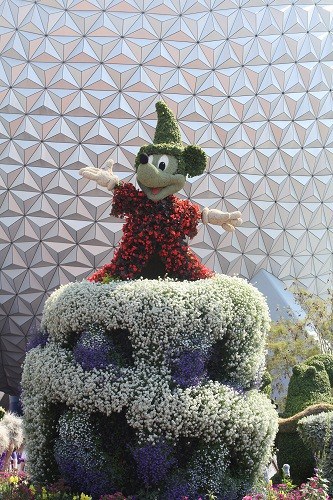 When I arrived in Florida last month, my flight got in early.  I decided that I could either go to the houses and chill by the pool, or have some time exploring Epcot by myself.  After shushing 25 year old me who was shocked that I'd even consider going to a theme park with no one else, I decided that yes, Epcot was in my future, got a ticket arranged, and off I went.  Six hours by myself, and they were awesome.  I did have a few twinges of "oh, I miss my kids, they'd love xyz" but realized quickly that they WILL enjoy it- when they are with me on our family trip.  The mama guilt got tucked quickly behind the oh-my-gosh-I'm-at-Disney-again-and-I-can-do-whatever-I-want feelings…and I ran with those.
I meandered. I explored. I smiled, and I took photos.  I did the rides I wanted, and checked out the things I felt like seeing.  It was amazing. I loved taking photos!  I think I got to do Mission to Mars, Finding Nemo and Soaring (1 1/2 hour wait and worth it!)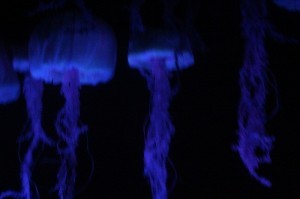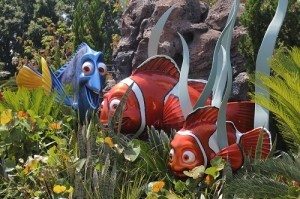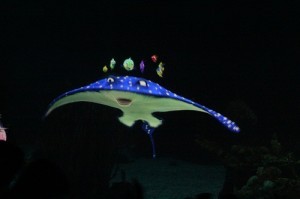 The best part? I got to do it again, a few days later, but this time, with bloggy friends.  Even more fun.
We started our day by rushing to Animal Kingdom so that Christie, Emily and Mary could ride Expedition Everest, and I could ride Dinosaur (which is as thrilling as my rides need to be…) and then Christie decided to share a little secret with us.  I'm going to share it with you.  There are cupcakes at Animal Kingdom.  Not just cupcakes, but glorious and wonderfully marvelous sugary sculptures that you really need a fork to eat.  Cupcakes that we enjoyed before 9:30 am.  Yes, we did. One glorious thing about being at Disney without the kids!!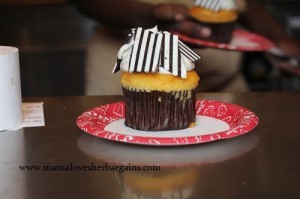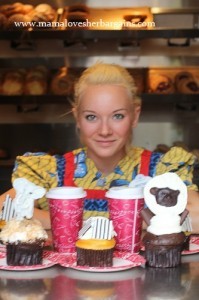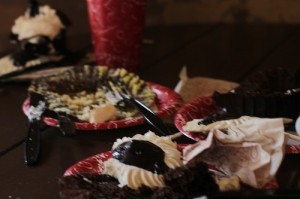 There are more cupcake secrets but that's for another post.
We didn't get to do a TON of rides- we were there during Spring Break and weren't any of us feeling pressured to cram a lot in- we kind of did what we wanted and headed where we felt like going, which was so much fun.  It didn't matter what we did.  We had so much fun and laughed so very, very much!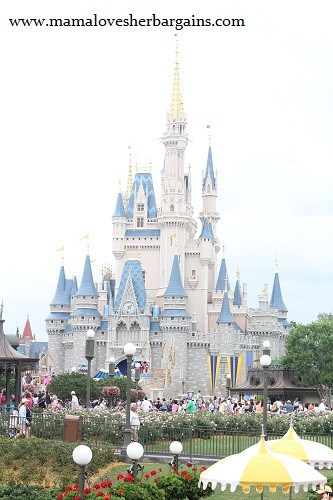 We went to Magic Kingdom after the quick stop at Animal Kingdom, and then we ended our day at Hollywood Studios. We laughed, we did rides, the girls teased me that the People Mover really was the start of Space Mountain and had a really good laugh at my panic-stricken reaction (thankfully, no photographic images of that moment)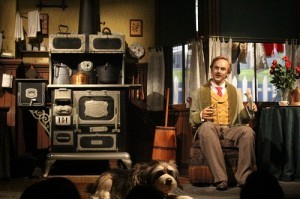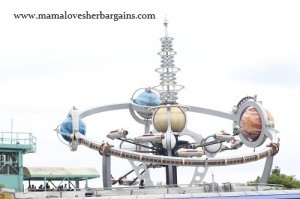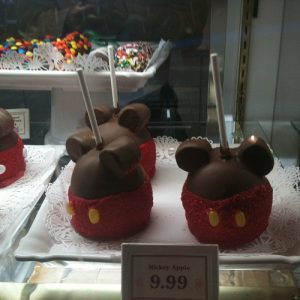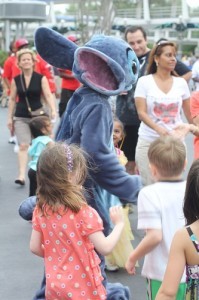 Even without kids, it's hard not to join in when there's dancing in the parks….and we did join in.  When in Disney…
We also had lunch at The Plaza Restaurant.  Delicious.  Not a huge menu, but great food, and outlets in more than one place.  (If you ever travel with a group of bloggers, you'll understand that anywhere we go, we look for outlets!) It really is like stepping back in time!
I was even able to sneak in a (too quick) visit with a dear friend from college and her scrumptious 8 month old baby, which was something that made my heart so happy (Love you Dani!)…and even got to enjoy the delicious Dole Whips from Aloha Isle over by Pirates of the Caribbean (which you really must.go.try.)   Plus, you can see the newly redone Pirates ride, with Johnny Depp included.  He looks marvelous.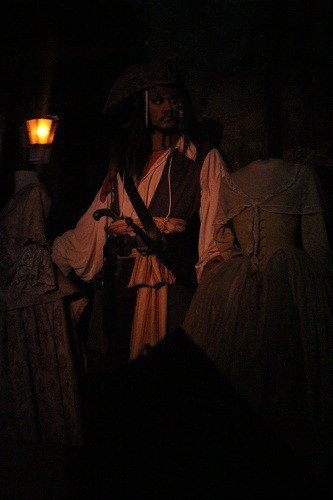 Next we were off to Hollywood Studios which we thought would be a quick stop for the Rock 'n' Roller Coaster, but with an hour + line, ended up being a long stop.  Being the roller coaster chicken that I am, I headed off to find a charger for my phone and that's how I discovered that even the bathroom signs are themed at Disney.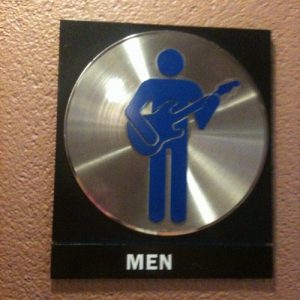 But, my pals loved the coaster and I got to have some more juice in my phone so I could keep tweeting about the fun we were having and checking in!
(In case you ever need one, there is an outlet between the men's and women's bathrooms near the Rock 'n' Roller Coaster.)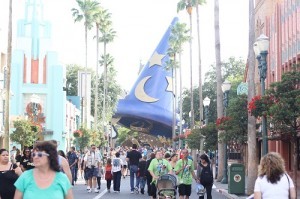 We did do Star Tours after the girls finished on the coaster, which is a thrill ride for those of us who are, shall we say, overly chicken?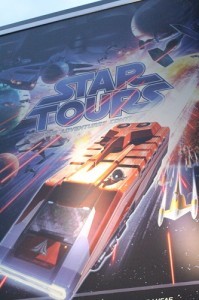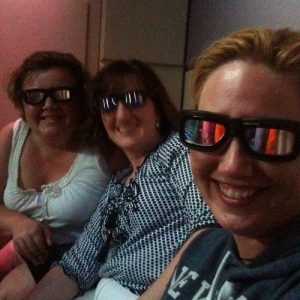 Here are 2/3 of my partners in crime from my day at Disney sans kids.  I love them all. Me on the left, Emily in the middle, and Christie on the right.
This is Mary. She was clearly taking the photo during Star Tours ride of the rest of us.
After Star Tours it was getting darker- and we were getting really HUNGRY. We tried to eat a few places (including the Sci-Fi Dine-in Theater, which is on my MUST DO list for my next trip) but the wait was long and we were all getting very, very hungry…so we ended up at Mama Melrose's Ristorante Italiano.  Delicious. We had the nicest waitress who chatted with us and gave fantastic recommendations for our dining pleasure!! (She also gave us cupcakes…but again…that's another post)  It was a nice, quiet setting and I almost forgot we were inside a theme park!!
We intended to see some fireworks, and didn't make it.  We had a blast, we were exhausted (that's one thing that surprised me- Disney is still exhausting even without kids- but OH, is it FUN!)  One of the best days ever!
Thanks to Disney for inviting us to spend the day without the kids! I can't wait to go back WITH the kids!