This is a sponsored conversation written by me on behalf of the HTH® Brand. I received promotional items and HTH® products and/or compensation in exchange for my participation. The opinions and text are mine.
Having a pool in the yard makes for many, many hours of summer fun.  There are endless ways to enjoy a pool.  Especially for the kids, a pool can help keep you cool even on the hottest days if you don't have air conditioning, and really just a fun addition to the yard.  The only thing about a pool is that you have to take steps to maintain the pool and the water quality in the pool.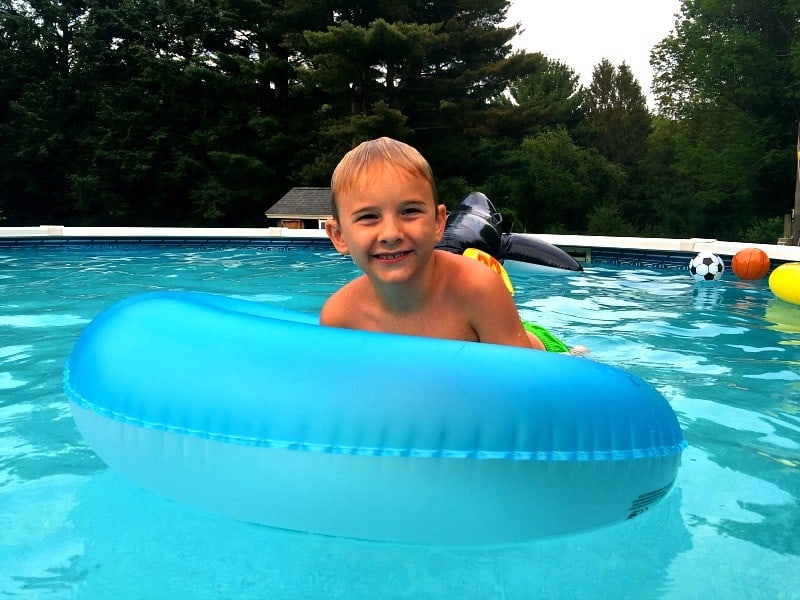 We've found, after owning a pool for 6 summers, that staying on top of things and being diligent about testing and treating the water regularly makes for simpler maintenance overall. With a pool, you will need to find a care and maintenance system that works for you.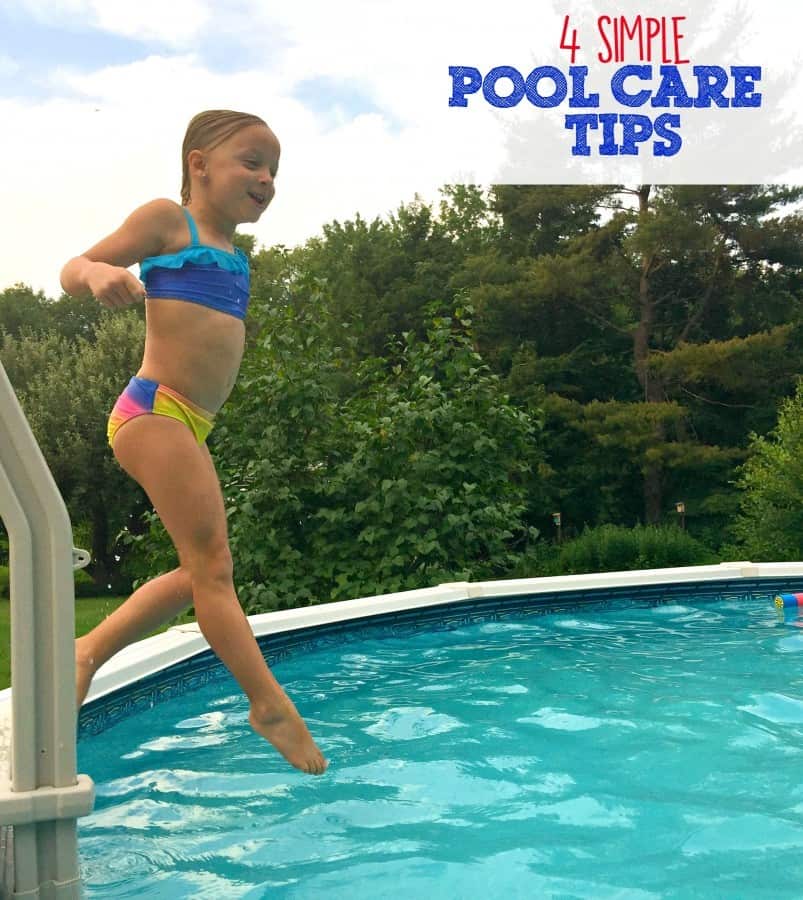 Here are  Simple Pool Care Tips to follow in order to keep your pool in optimal conditions so you can spend your time enjoying and splashing in it!
Invest in a good, quality pump. This is how the filtration system works, so you want to be able to rely on it. The vacuum runs using the pump too. We spent a little more when we got our pool because we did our research and found that spending a little more from the outset would mean a longer lasting, more reliable pump.  We're still using that same pump 6 years later.
Your pool surfaces need to be vacuumed at least once a week.  While a cabana boy (or girl) would be a nice way to get out of doing this, most of us don't have the luxury to afford that, so you'll likely be vacuuming yourself.  We empty the basket for the filter BEFORE vacuuming each time (that also needs to be done once a week at least).
For us, the HTH Pool 4-Step Program works really well for us for week to week care, and leaves us (ok, ok, my husband) more time for being IN the pool and enjoying it as opposed to having to test and add product, test again… which we have seen friends and family do over time. We turn to HTH® Pool Care products because they've been around since 1928 (my dad used HTH products in our pool growing up) and they have a user-friendly color-coded system, easy to understand packaging and a very simple 4-Step Pool Care Program that all combine to make for easy pool maintenance. Plus, you can find HTH® Pool Care products at many locations including at most: Walmart, Home Depot, Meijer, Ace Hardware, BJ's Wholesale Club, Costco locations.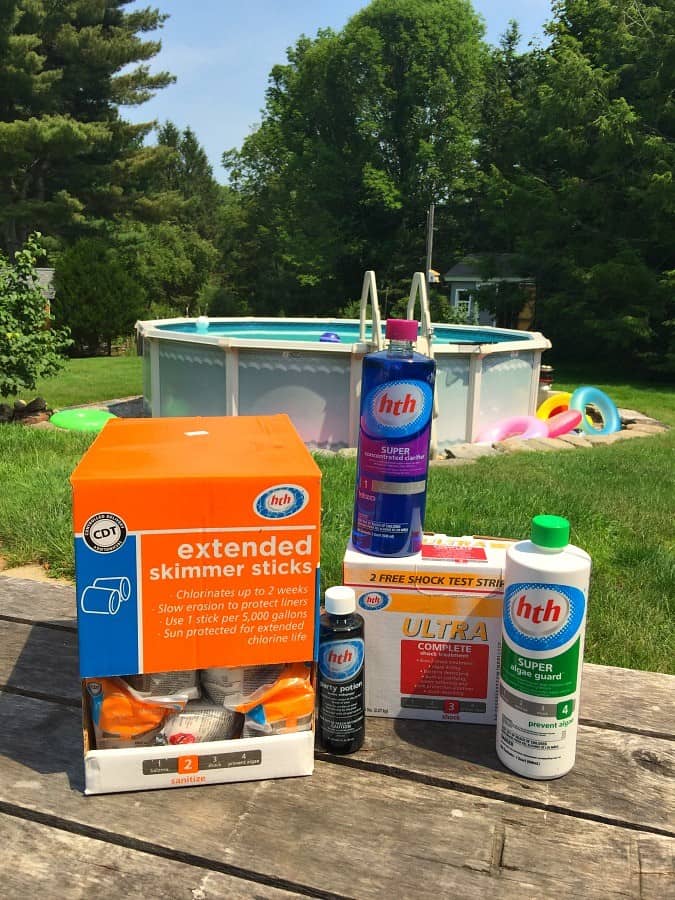 The 4-Step Program is simple- obviously it involves 4 components of pool care:
Testing & Balance (These are the balancer products we use for our pool)
Sanitize (We have typically used HTH® 3-in-1 Chlorinating Skimmer Tablets for our pool)
Shock (We've used both HTH® Shock 'N Swim and the HTH® Green to Blue Shock System on ours)
Prevent Algae (HTH® Super Algae Guard™ is what we've used)
Visit HTH Pool for complete details on the HTH

®

 4-Step Program (There's also a money saving coupon available)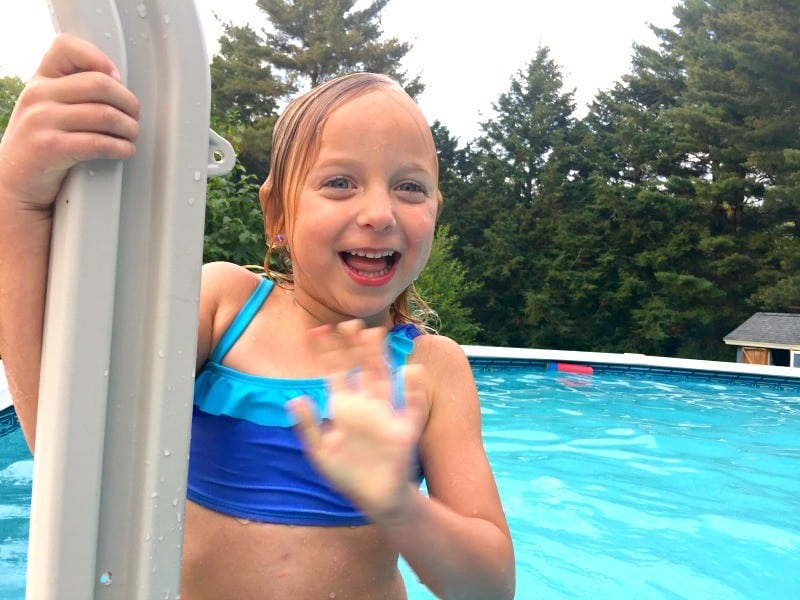 The HTH Blog offers a lot of great resources, troubleshooting and timesaving tips for pool owners. Be sure to visit! Also, "like" the HTH Pool Facebook Page,
Do you have a pool? What are your pool care tips?