This is a sponsored post about Simple Skincare products. is I don't know about you but I don't like a lot of fuss with my skincare products. I want something that works and doesn't have a lot of "extra" ingredients including alcohol, perfume or dyes. Take today, for instance. I spent the better part of 8 hours in airports and airplanes, landed in Austin, Texas in 98+ degree heat. I felt GROSS. A shower or bath then a nap would have been quite dreamy but my reality was that I checked in, ran upstairs, changed into a skirt and headed to my cosmetic case for my Simple Skincare Cleansing Facial Wipes. Per-fect way to wipe the airport and airplane ick from my face and neck and feel refreshed without drying my skin or making me smell fruity or flowery. I didn't want to take away from the sweaty smell I'd be developing as I hurried around Austin party hopping (I am at a blogging conference, my friends!). The cleansing wipes were just what I needed to feel a bit cleaner and definitely more refreshed.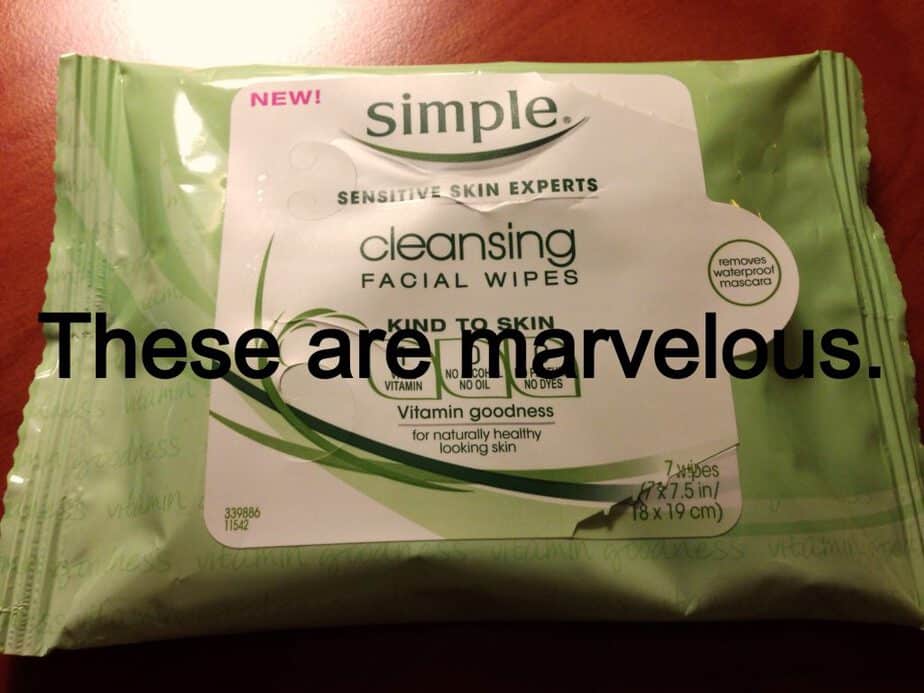 One of my favorite things about the Simple Skincare line is that it's an easily accessible brand- you can find it at the grocery store, chain pharmacy and big box stores at affordable pricing. So we can ALL use it without breaking the bank. And lucky you, my Safeway shopping friends, because when you buy 2 Simple Skincare products (and I'm going to just say that since it's summer or close to it, these wipes are marvelous and great to keep in the car or your bag) you get $2 off!! That's not a bad deal. But hurry, because you only get this deal until June 11, 2013.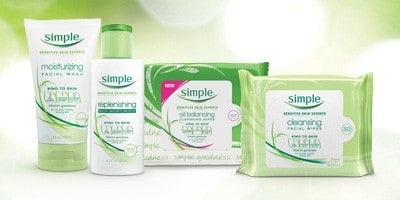 Safeway is also known as
Dominick's
Vons
Randalls
Tom Thumb and…
Carrs
Just in case you aren't sure what stores are Safeway. I want to be sure you know where to go.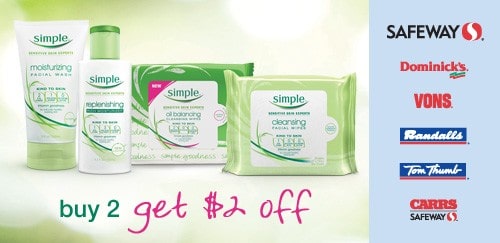 Complete Your Skincare Routine at Safeway (or any grocery store)
While you're at your local Safeway, make sure to pick stock up other items that will help complete your skincare regimen. It's not just about the products you use, but also the food you eat!
Avocados- Soothes irritated skin; they're abundant in essential oils and B-complex vitamins, also contains Niacin which is an anti-inflammatory.
Mangoes- Maintains and Repairs skin cells; contains 80% of your daily Vitamin A which helps to repair skin cells as well as fight free radical damage that can prematurely age skin.
Almonds- Moisturizes dry skin; contains Vitamin E, Vitamin E's rich oils moisturize dry skin and its antioxidants protect against skin damage and premature aging.
Mushrooms- Improves blemishes and rosacea; rich in riboflavin which is involved in tissue maintenance and repair.
Blueberries- Protects from premature aging because they are full of antioxidants.
What are your favorite skincare tips?