This post about custom closet ideas is brought to you by our friends at Tailored Living. Shoes, shoes, and more shoes! One can never have enough footwear. There is a shoe for each and every occasion, whether they are rugged and outdoorsy or classy and fashionable, you need to have a space to store them. Regardless of whether you share a closet or you have the closet space all to yourself, it seems that there is never enough room for all the shoes.
Custom closet ideas can make use of many different organizational solutions and every homeowner has a different taste in style, not only for shoes, but for their closet style as well. Some may have reach-in custom closets, others may have walk-in closets; there is an organizational solution for everyone and Tailored Living has provided a few fun examples of customized ways to store your shoe collection.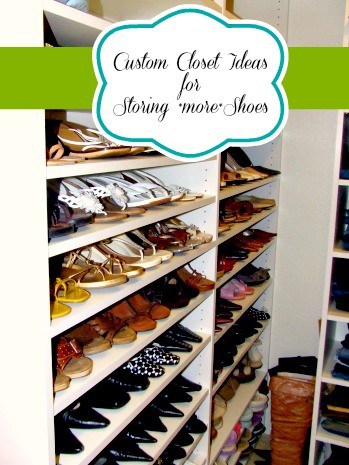 Custom shoeboxes
Customize the boxes you keep your shoes in with pictures on the outside of the shoes contained inside. This fun idea is a crafty way to show off your collection in either reach-in or walk-in custom closets.
Hanging racks
Hanging shoe racks can be implemented on valet rods or on the back of doors depending on the type of closet and the amount of space available. There are plenty of options when it comes to hanging racks, so take your time in finding just the right one!
Shoe cabinet
A gorgeous idea for shoe storage is to create customized cabinets with glass doors that allow you to view your shoes while providing beautiful aesthetics to your closet.
Decorative shoe shelves
Single shelving units only large enough to hold one pair of shoes is a great way to use your footwear as both decoration and storage unit.
Lazy Susan for shoes
For a quick and easy way to peruse your collection of footwear, invest in a customized lazy Susan built to store shoes.
Chair railing
This solution is an "outside the box" idea; chair rails are used to keep the backs of chairs from scuffing up walls, but if you hang the backs of heels on them, they display your shoes beautifully without taking up very much space at all!
Angled shelves
Angled shelving in custom closets allow an easy line of sight to help homeowners find the correct pair of shoes and quickly piece together their outfit, rather than having to look at shoes individually to see how they will mesh with a particular outfit.
Pull-out drawer
This is a great option for those who like to make use of minimal design styles and only a few colors. They can keep shoes behind closed drawers but easily access them when necessary.
These are just a few out of many different options when it comes to customizing your shoe storage options in the closet of your dreams. To get some help building that dream closet, give the local closet organization specialists at Tailored Living a call today.