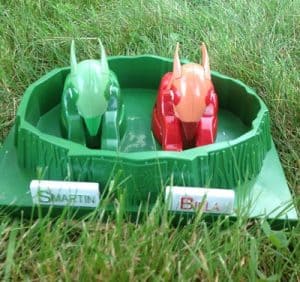 My family enjoys spending time outdoors and we are always looking for fun games to play together.  Along came Snipe Hunt an indoor/outdoor hide and seek game.   The game is simple and based on a traditional game often played while camping.  In this version one person or the teams hide the two Snipes, Biela and Smartin.  Once hidden the other team has to find the Snipe and return it  to the nest.  The really cool feature of the Snipes is that once they are removed from their nest and internal clock starts, at 2.5 minutes they start chirping and at 5 minutes their eyes begin to blink.  This game can be played in the daylight and is really fun in the dark while using flashlights to look for the Snipes.  My 7 year old LOVES this game.  I can not count how many times I have heard, "Can we play Snipe?"  We will take Snipe Hunt on our annual vacation with my parents and brother's family.  It will be a great way to get the four kids outside and running around.
Snipe Hunt's packaging is really cute.  It looks like a wooden crate, is stamped with Live Animals and has air holes for them.  My son was so excited when this game arrived.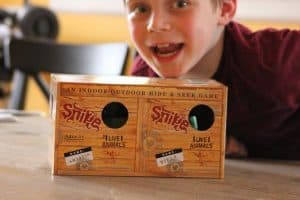 The packaging tells the story behind the legendary campfire animals. For more information on the game, including rules, visit www.educationoutdoors.net. Snipe Hunt retails for $24.99 and can be purchased at Bass Pro Shops, Cabelas, Books a Million stores and specialty retailers nationwide. Snipe Hun can also be found at online retailers.  Each Snipe Hunt game comes with 2 Snipes, a Snipe nest and instructions.   This game would be great to give as a gift or even save for a rainy day to play inside.
This product was provided to facilitate my review.  All opinions are my own.