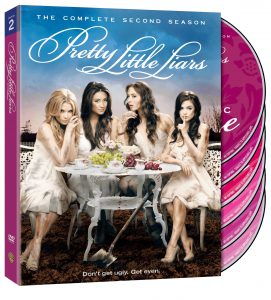 I have to admit to you that I kind of cheated a bit to find out who A was- before the season 2 finale of Pretty Little Liars.  I knew there were books and I poked around until  I found the answer.  Now that I know, I want to go back through and re-watch both Season One and Season Two and see what little hints and suggestions I missed out on!  Knowing that just like the books, A is really Mona…that's not surprising.  But the folks who write this show aren't going to give us all of the answers, and we should all expect a whole lot of twists, turns, and (un)pleasant surprises for Season Three.  Perhaps the show will be more pretty and handsome little liars?  So what's next for the girls?
Oh wait.  A isn't REALLY Mona.  She can't be.  She's the messenger.  Part of the team.  My bad.  And here some of you were thinking I was giving spoilers (can they be spoilers after the episode airs?  I think Mona's doing the "social media" taunting and bullying FOR A….or rather, the A-Team.  She's not working alone.
I cannot say who I thought really was A before I did my research- I'm probably the worlds worst "detective" and miss things all the time.  Just ask my husband (haha).
While you're waiting for your Pretty Little Liars: The Complete Second Season on DVD to arrive, don't forget to enter the Pretty Little Lies contest!! I want one of you to win a fun new bag!!  The promotion ends TONIGHT: June 12!!
Pretty Little Liars airs Tuesdays at 8/7c on ABC Family
"I have been hired by Warner Bros WBWord division to raise awareness for Pretty Little Liars."