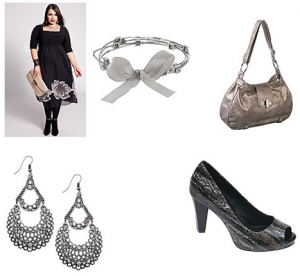 Last month I was introduced to Sonsi.com and their cool outfitting tool.  While I liked it and enjoyed playing around with all of the different components to make a ton of outfits (many which may never be in my budget with the accessories I chose…) I didn't actually purchase anything.  This month, in conjunction with the new "Math meets Fashion, Fit meets Style" technology that goes live September 12, not only was I able to use the technology, but I also made a purchase!  This technology made the shopping experience so much easier, especially for shoes- ever since having my kids my feet have been a wide and not regular anymore and finding shoes- dress shoes- that don't look ridiculous or cut off circulation has been a challenge to say the least.
I've left stores in tears on many occasions and when I was in LA I literally contemplated walking back through the streets of LA from the Cars2 premiere after party BAREFOOT because my shoes were that horrible to my feet.  I actually left them in the hotel trash can. I couldn't bear the thought of ever wearing them again.  I was so happy to find cute, fun and stylish shoes in casual, and dressy options within the style tools on Sonsi.com!!
Above you can see one of the outfits I created with Sonsi.com style tool.  I also created this one (below) , which interestingly….I ordered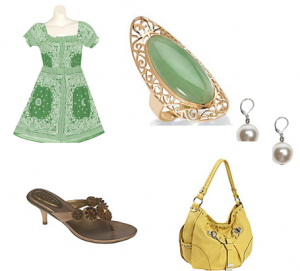 (the dress at least) and cannot WAIT for it to arrive. I am so not a dress girl but this looks comfortable, stylish and easy to wear so maybe I'll turn a new leaf this fall!   I would LOVE the bag too but that's not in the budget (although, perhaps the folks at Sonsi will agree that it would be sad to not have it to wear with this dress?!?! Hint, hint??).
This fall, Lane Bryant and sister brands Sonsi, Catherines and Fashion Bug, are launching a breakthrough technology that will make shopping for clothes online a cakewalk for plus size women, because it solves their biggest dilemma: the dreaded FIT issue. The new online technology is truly revolutionary.  In just 3 minutes, with no measurements required, plus size women will have access to a world of plus size fashions that cater to their unique body shapes and style preferences. This has never been done before.

It's taken the biggest names in the plus size fashion industry, a team of mathematicians and computer scientists to finally solve the fit issue for millions of plus size women.
So, now that this awesome style tool is live, will you use it?  Try it?  I want to know what you think!    Check out Sonsi's Fashion Genius tool and see what you think!!
Disclosure: This post was made possible by Mom Spark Media. I was compensated for my time investment and work on this campaign.
0