Yes, you read that right.  Spa birthday parties at Stew Leonard's are a thing and they are fabulous. Granted, a grocery store isn't the first place that comes to mind when you think of a birthday party for your kid, but Stew Leonard's isn't like any other grocery store, now is it?!
As a parent, having a birthday party can be daunting. Stress of planning, cleaning, food prep (regardless of how simple you keep things) and clean up. Having a place to walk in, enjoy, and leave the mess behind is a valuable thing to many of today's busy families. If the parentso aren't running around making sure everyone has enough to eat or drink or entertaining, it means they can relax a bit and maybe enjoy the party. For me, this is a HUGE part of hosting parties outside of the house. Being able to enjoy seeing my kids have the party and be with their friends is what I love most about having parties! When we're home, I'm constantly worried about every little thing from running out of food to the toilet overflowing to kids getting hurt and on and on…and it's a rare moment that I can step back and take it all in.
For kids? Parties are usually pretty fun for them, but my mom instincts tell me (and my kids' responses have shown me) that they have more fun when they don't see or sense that the parents are stressed out.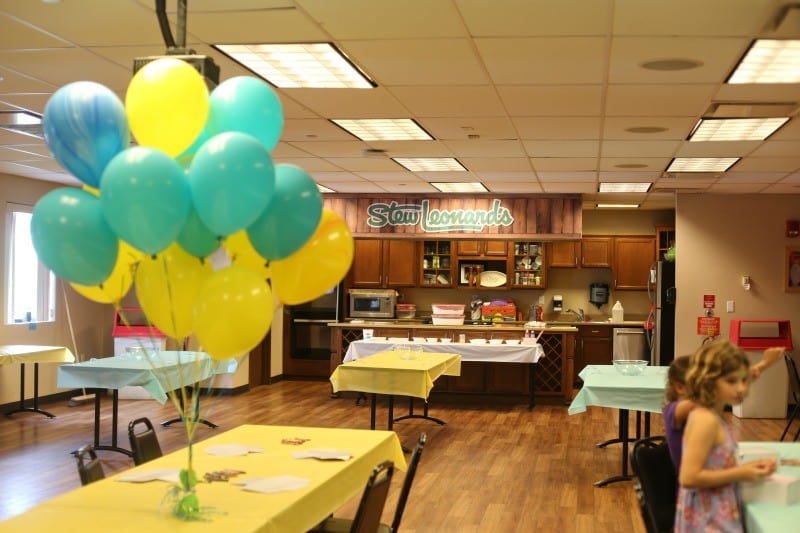 Stew Leonard's got in touch this summer and asked if we had any kids' birthdays coming and would we like to have a birthday party at one of the Connecticut locations. It took about four minutes for my now 8 year old to agree, and the plans were off and running. This post sharing about the party and the fun we all had is sponsored by our friends at Stew Leonard's!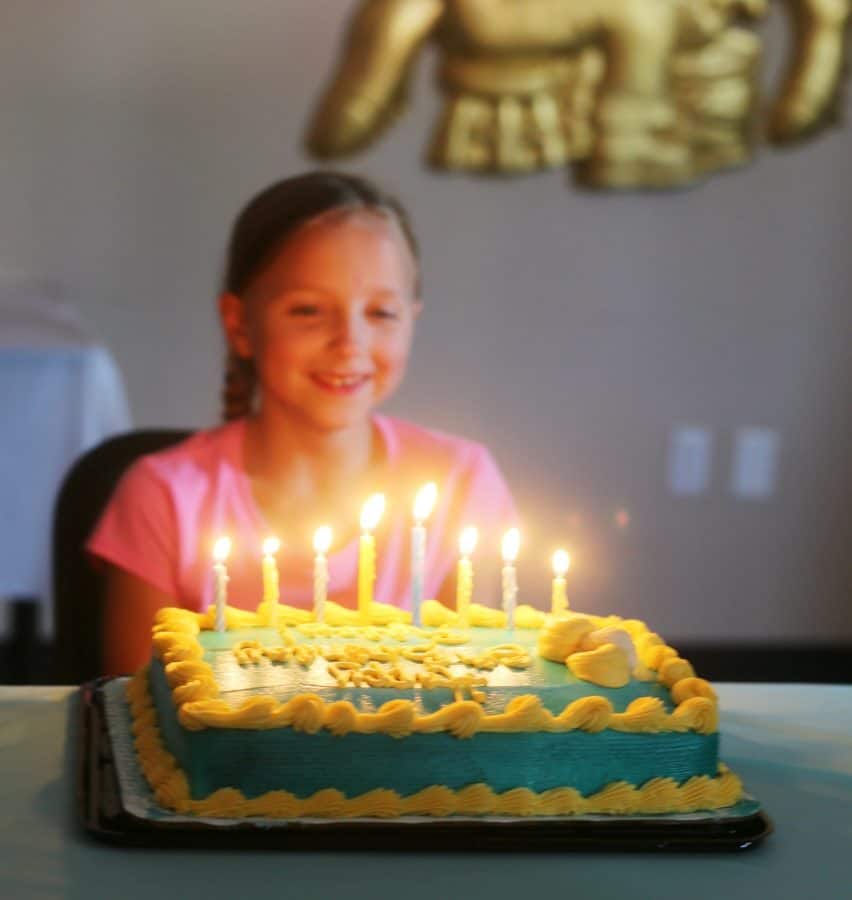 The hardest part of all of this was getting my daughter to make a decision about which type of party she wanted to have. Stew Leonard's offers a pretty big variety, and I thought for sure she'd want to do a paint night themed or a cooking themed party. Naturally, we went with a Spa Party theme.  This photo is far from the best I've ever taken, but it's honestly a favorite. It wasn't even a planned part of the party.  The girls running the party put some music on and the girls had an impromptu dance party and this photo captured my daughter's sheer joy at the moment.  THIS is what it's all about for me. Not perfection, but happy smiles and happy memories with her friends.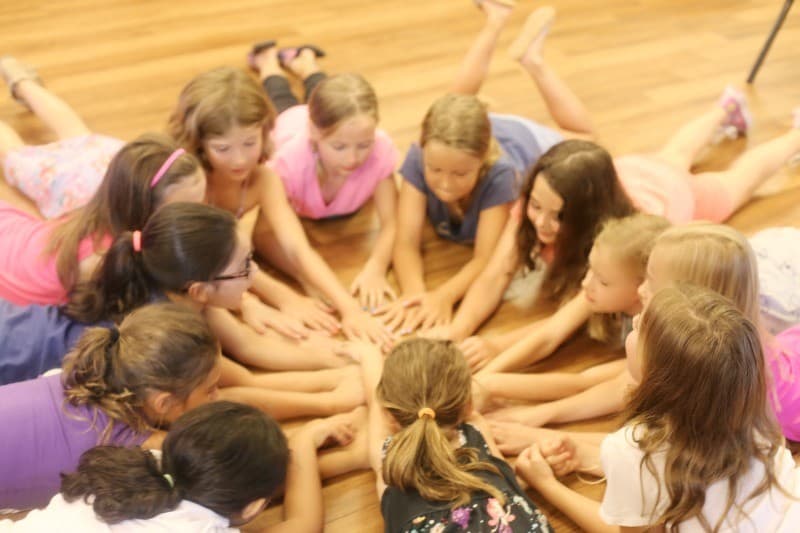 The spa theme was SO MUCH FUN.  We walked into a huge room above the main part of the store and found balloons, fun color tablecloths, and different areas set up for different activities. The girls are showing off their freshly painted nails above.  They had such a blast helping each other to choose colors!
So, the spa party. We made bath bombs, lip balm, lip scrub and a face mask. Bath bombs have to sit for 24 hours, and the lip balms and scrubs needed to cool, so those went into a (provided by Stew Leonard's) little box that each of the girls got to decorate and bring home.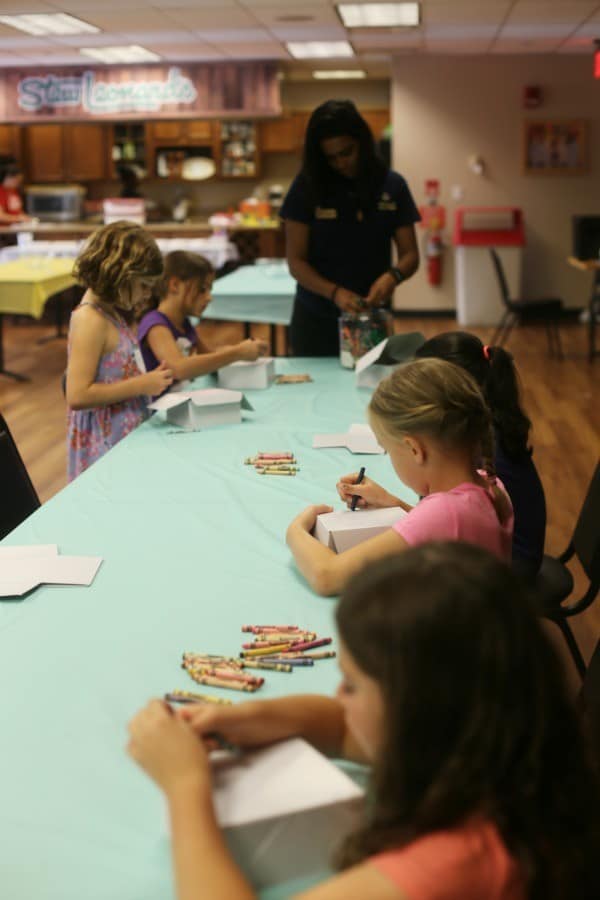 As the boxes finished up, the kids headed over to make bath bombs. I think all of the ingredients were available in the store to purchase. There were also some leftover supplies, and they sent that home with us- I didn't want it going to waste and we love baths in this house! The kids got to choose which color bath bombs they wanted to make.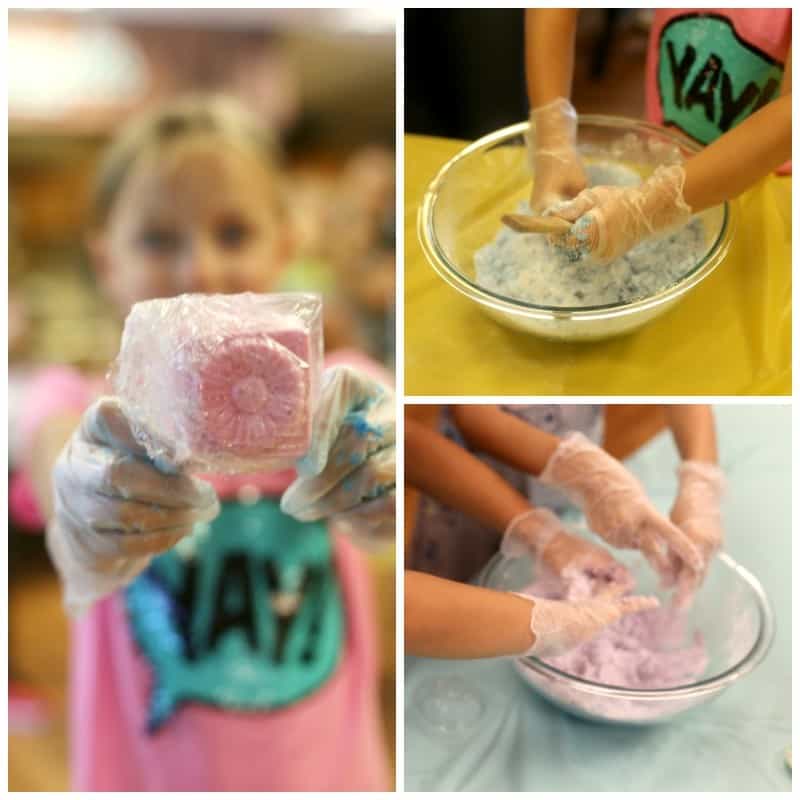 Next up was lip balm and lip scrub making.  I don't know about you but every kid I know loves lip balm. This was made by them and they loved having a cute little container to take home. Again, ingredients used were from the store. Easy to find ingredients makes me a whole lot more likely to try to recreate these activities in my own home, I don't know about you!
Everyone got to have their nails painted, some girls chose alternating colors, others wanted sparkles on top, but all had fun getting glammed up on a Thursday afternoon!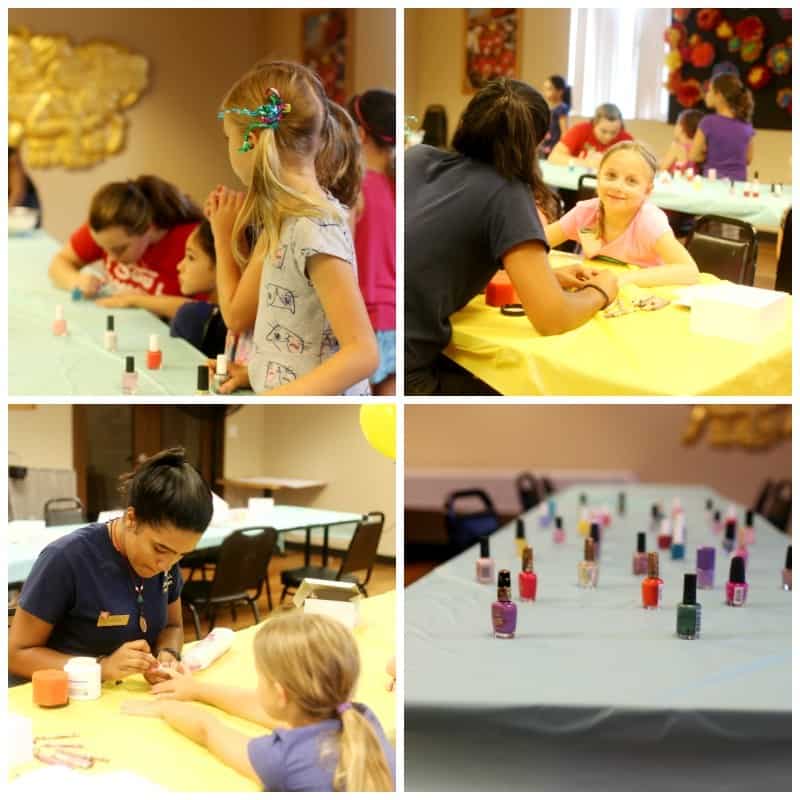 As we waited for nails to fully dry and masks to all get rinsed off of adorable faces, one of the party people decided to dim the lights and play some music. The kids couldn't have loved it more. They loved the party but the mini dance party in the middle was a huge highlight of their day!
Stew Leonard's is a good 35 minute drive for me. I don't get there as often as I'd like…or rather, I hadn't been getting there. Showing the kids who hadn't ever been inside a Stew Leonard's what it was all about made me fall in love with the store all over again, and again, and I will tell you that most of the parents went and did some shopping while we were upstairs partying. I've already been sworn to remember to buy three loaves of the rainbow swirl bread the bakery makes, one to enjoy and then two for the freezer "just in case" but also to get some of the ABC cookies and of course, some of the rice cakes!