This is post is sponsored by SignUp.com however all opinions and thoughts are my own. 
With three kids at home, all of them in school at some level or another, and all who are very active in sports it seems as though I'm volunteering for something ALL the time.  Don't get me wrong, I love it.  I love being involved in my kids classrooms, activities, and special moments and being there for their friends and teammates.  It's one of my favorite parts of the parenting job.  The oldest is in middle school now so there isn't quite as much classroom volunteering available as there was when they were younger… but I'm involved a lot when it comes to sports and other activities.
With so many kids in different places with different schedules, it's not always easy keeping track.   I've *knockonwood* only shown up at the wrong field for soccer once, and the wrong school for softball twice…but I worry I'll show up at the wrong classroom or on the wrong day for a party or event sometimes and I know I need help staying organized.  Otherwise, 7th grade students may be doing a third grade craft, and some third graders may be wondering why they have algebraic equation cupcakes on their desks… With these Tips to Be a More Organized Room Mom it doesn't have to be so overwhelming. #SignUpdotcom #OurBack2School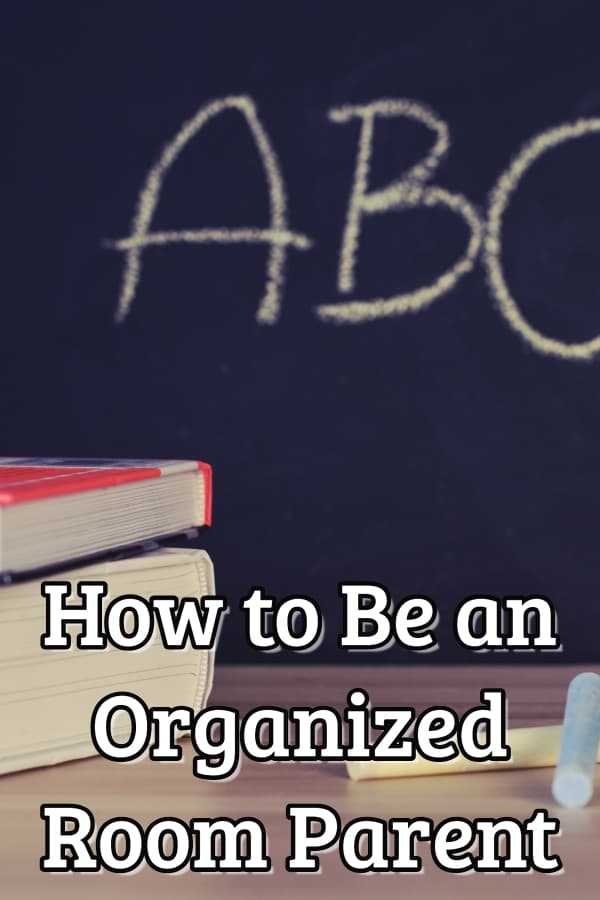 Tips to Be a More Organized Room Mom
1. Gather Information
Starting off the year on the right foot is key to being a more organized room mom.  No one person can be all or do all when it comes to making the classroom run smoothly.  That's why teachers need us room moms, right?  Well, we room moms also need a network of support and volunteers to turn to throughout the year.  Knowing what role other parents want to play in the classroom, when they are available, and how to reach them is super important.
Start the year by gathering information from the other parents by having them fill out a form where they can share their contact info, what parties or activities they want to be involved with, what times they can volunteer, and if there are any special ways they can contribute throughout the school year.  This is really a time saver when it comes time to call parents for a specific event.  You know exactly who to call instead of wasting time on parents who aren't interested.
2.  Schedule a Planning Session with the Teacher
Unless you're working with a first year teacher or a teacher who has just changed grades, you'll be working with an expert when it comes to students in a specific grade.  These teachers know their stuff.  They know what kinds of activities, parties, and games are appropriate at this grade level.  They know what's worked best in past years and they know what hasn't.  That doesn't mean that new ideas or activities aren't a good idea.  It just means that running your plans by the teacher first might avoid an unsuccessful day in the classroom.  Schedule a planning session with the teacher to run general ideas by him or her and ask how much she wants you involved.  They may want to take the lead on getting everything planned or organized or they may appreciate any help you're willing to give.  Communication is key!  Remember to contact your child's teacher early, even before school starts if possible.  Maybe they would love some help with preparing for the school open house or meet the teacher night.
3.  Keep Parties Simple
It's always exciting for kids when there is a special day planned at school.  It doesn't have to be over the top or fancy.  Kids just look forward to something different going on.  Keep parties simple so that it's not so overwhelming for everyone.  When you try to pull off a big, elaborate party it requires a lot of you, the teacher, and lots of parents not to mention that it can turn out to be way too much for the kids to absorb.  Keep decorations  (and food if allowed) for classroom parties minimal and simple.
With so many food allergies, keeping party foods simple (or skip them altogether like our school does)is really important.  I used to make a list of allergies in the classroom and from there make a list of approved classroom party foods.  Ask parents who have kids with allergies to send you a list of safe snacks. After that's done, you can use the information you've already gathered to ask parents who want to help with party food to volunteer for certain approved foods.  With three little boys heading into school for the first time this fall, we are all excited!  One of them has Celiac Disease and a nut allergy and I know that's a really common and serious issue in the classroom.  I found nut free class party snack ideas on SignUp.com and other parents can too.  You'll hopefully have a list of several parents who want to help so that you aren't asking the same parents every time a party rolls around.  Also remind parents that treat bags filled with candy or inexpensive trinkets aren't necessary.  I know I pitch most of that stuff when it comes home and you probably do too.  Save the money and the time and skip this.
4.  Share the Load
You've already gathered that list of parents who want to help.  Use it.  Make sure you aren't always going to the same mom for the same things.  It's fun to bake a treat for the classroom but it can become a chore if you're asked to do it for every single class activity.  It can also get expensive if you're the parent who always supplies paper products.  Make sure you're asking lots of parents to help throughout the year so the fun of volunteering doesn't start to feel like a burden.  One way you can help yourself stay more organized when it comes to reaching out to volunteers is with SignUp.com.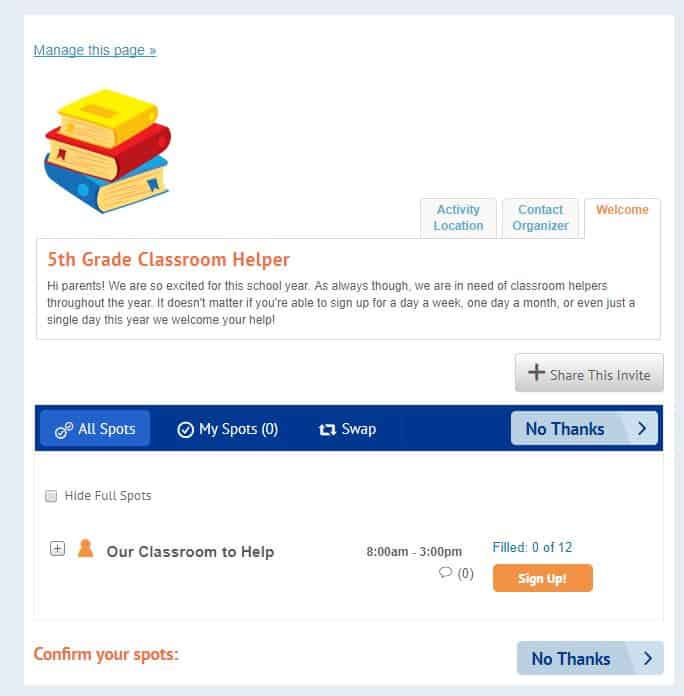 SignUp.com is a simple, one stop spot for organizing volunteers for the classroom.  They have resources for the room mom, team mom, group leader, or even teachers to help get volunteer spots filled quickly.  They even have activity ideas, printables, and organizational ideas for teachers and volunteers.  With back to school just around the corner SignUp has great ideas for Back to School Ice Breaker activities, Back to School apps for parents, and sign up sheets for every school activity.  They've thought of everything.  It's available for free and from any computer or mobile device, anytime 24/7. Parents can sign up for volunteer opportunities anytime from the convenience of home or work.  You can create a task that you need volunteers for and invite people to sign up!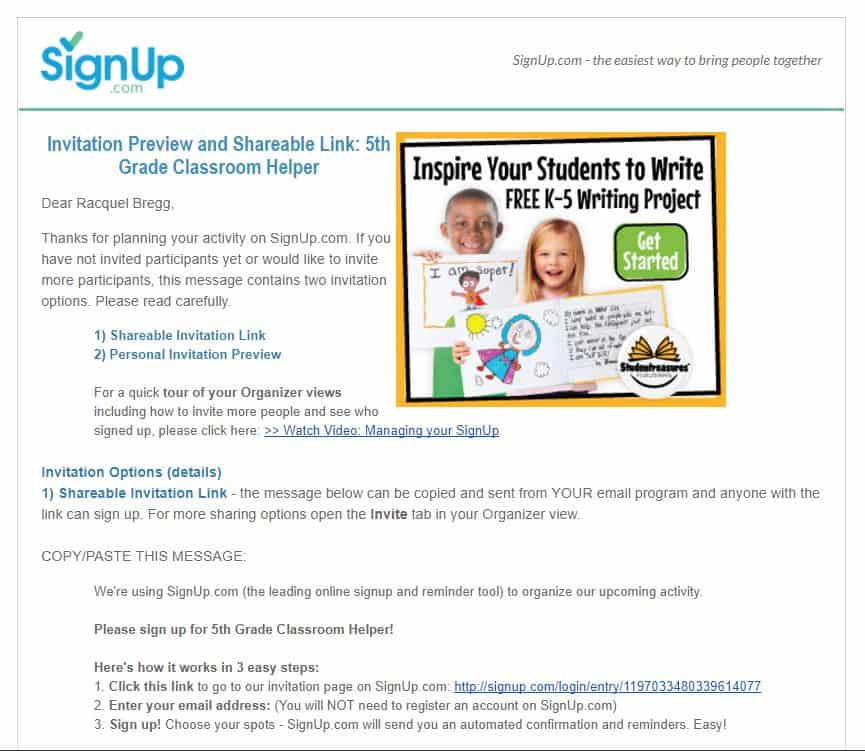 I'm so excited about Back to School this year.  It's going to be great for all of us, the kids and me!
Be sure to follow Signupdotcom on Twitter , FaceBook, Pinterest, and Instagram @signupdotcom !