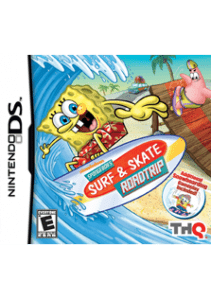 America's favorite sponge is going on a roadtrip!! SpongeBob Surf & Skate Roadtrip is now available on Nintendo DS!  Join SpongeBob and Patrick as they skate and surf their way across a whole new world.  Bikini Bottom lovers and anyone who likes to skate or surf will enjoy this game.  I had fun with it- from customizing your boards to surfing with a sponge…its hard not to!
In story mode (which is what I played), you kind of follow SpongeBob and Patrick in an arcade style play.  With the Challenge mode, this is where things get more serious, more adventurous, and more challenging with 7 different challenges and 12 new environments to explore.   The better you get the more awesome your skate and surfboard can become!!
Surf and Skate across more than 24 maps
2-player multi-play with Single and Multi-card gaming
Grab some air in 5 different victory conditions – Score, Collectible, Combo Mayhem, Win the Race, Untouchable
More than 150 ways to play for unlimited hours of boarding action
Customize your boards with colors, stamps, wheels, fins and decks
Bonus Sport: Full Snowboarding level with 10 maps unlocked upon game completion
Surf & Skate Roadtrip is also available on the XBox360.  
For the first time ever, you can BE SpongeBob
Augmented reality—move your hand through the water and watch it splash!
Compete and play with friends – show off your awesome tricks and mind-blowing stunts in head-to-head play (2-player split-screen)
12 awe-inspiring environments – 6 for each sport—and unlimited ways to perfect your board skills
7 different challenges including Gate, Timed and Score runs
Express yourself with a variety of righteous boards – earn even more awesome boards, the better you ride
Strike a pose: use your camera to show off gnarly moves and tricks

 
More information about THQ and its products may be found at www.thq.com.
I received a sample of this product in exchange for this post.  Opinions are my own.
0