Produce for Kids® is launching its annual Get Healthy, Give Hope campaign with 16 major supermarket chains across the country, including Connecticut Stop & Shop stores, to help raise money for local children's cancer research.
Launched May 4, 2012, shoppers like us can support local children's cancer research programs and get healthy at the same time.  Thanks to the annual Get Healthy, Give Hope campaign hosted by Stop & Shop Supermarket Company, LLC and Produce for Kids, the more produce shoppers add to their shopping lists the more hope they can give to local children.
I love that so many supermarkets and corporations are standing up and paying attention to supporting charitable endeavours and promoting healthy living!  I think its great too that the program works with how much produce we purchase and not counting on us to make a separate purchase.
Celebrating a milestone 10th birthday in 2012, Produce for Kids is excited to kick off this year's campaign with a new partnership with Sprout® and LazyTownTM. During the campaign, which will run through May 31st, Stop & Shop will offer shoppers collectible Produce for Kids' Ideal MealsTM – quick and easy healthy meal ideas, which are free and can be found in displays featuring LazyTown characters from the popular, health-focused, children's series airing exclusively in the U.S. on 24-hour preschool television channel, Sprout.
Ideal Meals offer shoppers chef-created/nutritionist-approved easy solutions for breakfast, lunch, dinner and dessert. Featuring fresh fruits and vegetables as the main ingredients, Ideal Meals are great for busy families who crave fast meal options that don't require stopping at the local drive-thru.
Below are some delicious and healthful summer-inspired Ideal Meals perfect for Memorial Day weekend and any upcoming picnics or BBQs you may be attending:
One thing I really like about these recipes is that they are healthy options- but also things we can do WITH our kids to help teach them healthy cooking practices, and instill healthy eating habits from an early age.  We do grow many vegetables in our garden but they won't be ready for a while- it's going to be fun trying all of these in the next few weeks!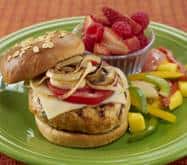 Preparation Time: 30 Minutes
·   1 cup panko breadcrumbs
·   1 Tbsp. fresh basil, (or ⅓ Tbsp. dried) chopped fine
·   1 cup mushrooms, washed/dried, sliced
·   ½ medium sweet onion, sliced
·   4 slices, deli style mozzarella cheese (¾ oz. each)
·   1 large tomato, sliced
·   4 whole grain burger buns
1. In large bowl, mix breadcrumbs, egg, basil, and salt. Once mixed, add ground turkey and mix well. Make patties about the size of the bun.
2. In frying pan, on medium/high heat add butter, mushrooms and onions and cook about 10 minutes until tender and brown. Turn heat to low and keep warm.
3. Pan-fry or grill, on medium heat, burgers until firm (about 4-5 minutes a side).
4. Assemble bun with burger, cheese, tomato and onion/mushroom mixture.
Preparation Time: 5 minutes
·   1 apple, cored, sliced
·   4 rainbow peppers, seeded, sliced
·   ½ mango, skinned, diced
·   ½ fresh lemon, juiced
1. Thoroughly toss apples, peppers, mango, lemon juice and olive oil in a bowl.
2. Season with salt and pepper, as desired.
Turkey Burgers & Rainbow Salad Calories 689; Fat ; Protein ; Carbohydrate ; Fiber 14g; Cholesterol 154mg; Sodium 606mg; Calcium 34%DV; Vitamin A 41%DV; Vitamin C 160%DV; Iron 25%DV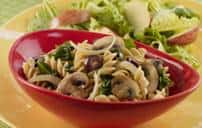 Preparation Time: 30 Minutes
·   8 oz. uncooked pasta (whole wheat or multi-grain)
·   1 medium sweet onion, peeled, chopped
·   2 Tbsp. unsalted butter
·   2 cups fresh spinach, chopped
·   2 cups mushrooms, washed/dried, chopped
·   ½ cup kalamata olives, sliced
1. Preheat Heat oven to 400° F.
2. Cover cookie sheet pan with parchment paper or use a non-stick pan and lay onion pieces and mushrooms on pan. Season very lightly with salt and pepper. Roast in oven for 15 minutes. Remove from oven, set aside until easy to handle.
3. While vegetables are roasting, cook pasta according to package directions. Once cooked, drain and toss with tsp. olive or vegetable oil and set aside.
4. In large frying pan, melt butter on medium high heat, add roasted onions and mushrooms. Stir for 2 minutes. Turn heat to medium, add spinach and sliced olives and cook 2 minutes. Add pasta, stir and season with salt as needed. Turn off heat and cover if needed to keep warm.
Preparation Time: 5 minutes
·   1 bag of packaged salad
·   1 apple, cored, sliced
·   4 Tbsp. red wine vinaigrette
1. In a bowl, add packaged salad and sliced apples.
2. Drizzle with vinaigrette.
Garden Vegetable Pasta & Fresh Salad Calories 501; Fat ; Protein ; Carbohydrate ; Fiber 6g; Cholesterol 33mg; Sodium 545mg; Calcium 34%DV; Vitamin A 46%DV; Vitamin C 86%DV; Iron 19%DV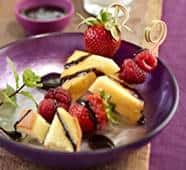 Preparation Time: 12 minutes
·   4 (6-inch) bamboo skewers
·   8 strawberries, whole, leaves hulled
·   1 cup pineapple, cored, chunked
·   4 Tbsp. chocolate syrup
1. Cut pound cake into 4 1×3-inch rectangles and 8 1×1-inch squares.
2. Place 1 1×3-inch piece cake on plate, stick skewer in middle.
3. Add strawberry, raspberry, pineapple and 1×1-inch piece of cake to skewer.  Repeat with another strawberry, raspberry, pineapple and 1×1-inch piece of cake.
4. Drizzle with chocolate syrup.
Chocolatey Fruit Tower Calories 354, Fat 2.5g, Protein 12g, Carbohydrate 52.1g, Fiber 2.4g, Cholesterol 9mg, Sodium 280mg, Calcium 348mg, Vitamin A 529 IU, Vitamin C 44.4mg, Iron 1.4mg
Follow PFK on Pinterest for even more fun recipe ideas!