Cake mix recipes make for a lot of quick and simple treats.  They take almost no time to prep and there's really no limit to what you can do with them- add-ins, colors, flavors… frosted, not frosted… These Strawberry Cake Mix Cookies with White Chocolate Chips are a fun reminder of summer but also perfect for a Valentine's Day treat!
Strawberry Cookies w/ White Chocolate Chips 
Ingredients
1 box of Strawberry cake mix, any brand
1 egg
1/3 C. vegetable oil
¾ C. white chocolate chips
Wilton cookie scoop
Directions –
#1. Preheat your oven to 350 degrees and line a baking sheet with foil or parchment paper.
#2. Combine the cake mix, oil and egg stirring well. If the dough is too thick add a little bit more oil.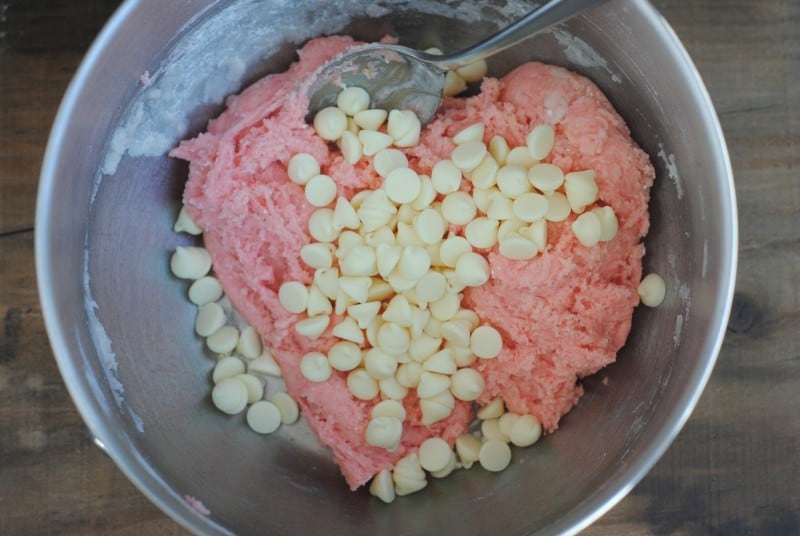 #3. Fold in the white chocolate chips.
#4. Use the cookie scoop to scoop the dough and roll into even balls using your hands. Place 2-3" a part on the baking sheet.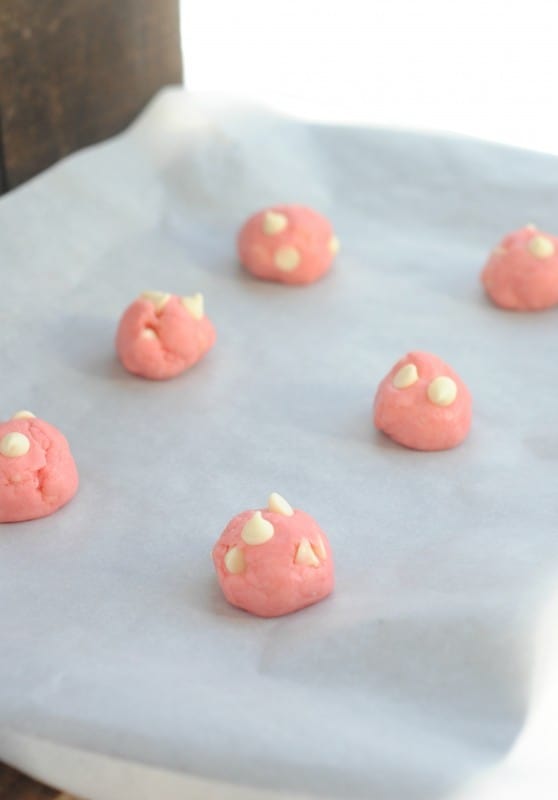 #5. Bake 7-8 minutes. Do not over bake. These cookies are best a little on the chewy side. 🙂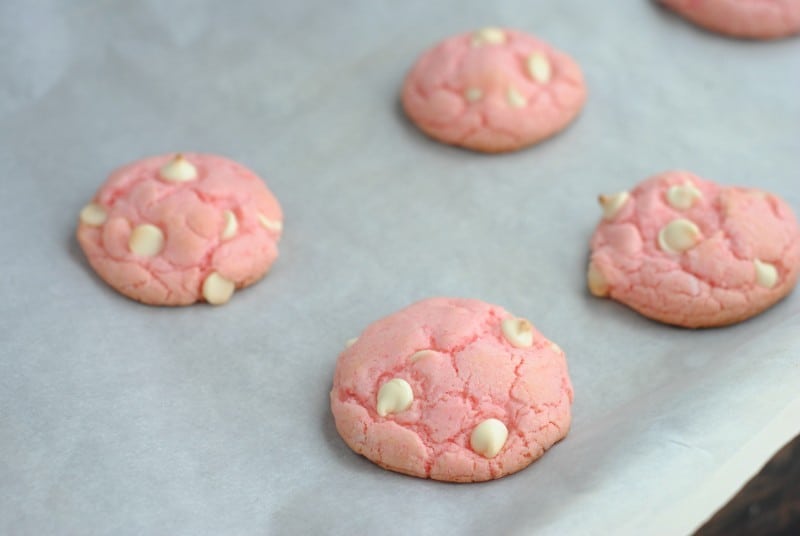 Strawberry Cake Mix Cookies
Author:
Prep time:
Cook time:
Total time:
Ingredients
1 box of Strawberry cake mix, any brand
1 egg
1/3 C. vegetable oil
¾ C. white chocolate chips
Wilton cookie scoop
Instructions
#1. Preheat your oven to 350 degrees and line a baking sheet with foil or parchment paper.
#2. Combine the cake mix, oil and egg stirring well. If the dough is too thick add a little bit more oil.
#3. Fold in the white chocolate chips.
#4. Use the cookie scoop to scoop the dough and roll into even balls using your hands. Place 2-3" a part on the baking sheet.
#5. Bake 7-8 minutes. Do not over bake. These cookies are best a little on the chewy side. 🙂