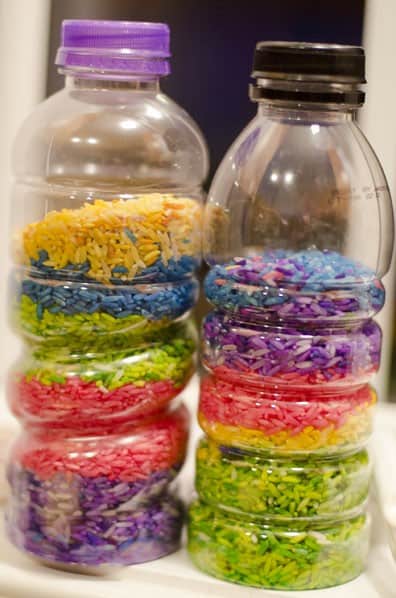 It's somewhat easy to occupy a toddler or older child in the car, but what in the world do you do with a 1 year old?  They certainly don't want to sit in a car all day long, especially after they have just discovered how to cruise along furniture!  I came up with the idea of a rice rattle.  I was inspired by our post last year on colored rice.  You can check out our tutorial here.  We colored plain white rice in a rainbow of colors and the kids absolutely loved it!
Directions:
Color rice in a variety of colors, using the above tuturial
Layer the colored rice in an empty, clean and dry plastic bottle
I also placed small knick knacks and shiny objects throughout (leggos, bright beads, coins, etc…)
Glue the lid on using a strong adhesive or epoxy
Let lid dry and give to your little one to shake and explore while they are sitting in the car
We tried this out on our little one and he loved it!  The rice makes a super fun sound when he shakes it and he is enthralled with the little "treasures" inside.  If you are looking for a fun car activity for a baby this is a simple, cheap and enteraining one!
0