This post brought to you by Hidden Valley for Everything. All opinions are 100% mine.
Hidden Valley has taken its Original Ranch flavor and made a thicker, creamier formula- and they are hoping their new Hidden Valley for Everything will replace ketchup as everyone's favorite condiment! It's a topping, it's a dip…
You can find the Hidden Valley for everything in the ketchup aisle at your local Walmart store. Not sure what you would use it on? How about: pizza, wings, sandwiches, burgers, nachos, french fries, veggies, salads…there's a lot of possibilities. A dip, a topping, an ingredient…when you are grilling…there's many ways you can use the new Hidden Valley for Everything! What will you try it on first?
I think the kids will love the squeezable bottle (they can do it themselves!) and since it's thicker, at least in my house, there will be less mess when they do squeeze the Hidden Valley for Everything on their foods. As a mom, this sounds like a great idea to me. I can't tell you how many times my kids have tried to do it themselves with dressings and we've ended up with a huge mess and large amount of dressing wasted. Plus, if it helps encourage the kids to eat more veggies? I'm all for it.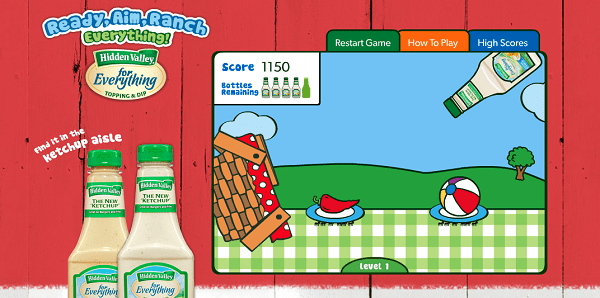 Check out the new game, 'Ready, Aim, Ranch – everything!' game: click here to play. The game is easy, quick and helps illustrate just how many foods you can use the new Hidden Valley for Everything on- just watch out for cute little puppies and beach balls, because adding the topping to those will make you LOSE points!! I can't seem to get anything but an 1100 or 1150 for a score (I've decided my mouse doesn't respond as it should…it can't be my gaming skills…)- how did you do in the game? Higher score than me? Lower?
0