Super Simple DIY DOG TOY
This super simple DIY dog toy is sponsored by True Chews® Dog Treats and the BlogPaws® Pet Influencer
Network™. I am being compensated to help share information about the True Chews line of all-natural dog treats , but ThisMamaLoves only shares information we feel is relevant to our readers. All statements made reflect my true opinion of the product. True Chews is not responsible for the content of this article.
Brownie's favorite thing to play is tug. She loves it. We love it. It's long been her favorite game, but it's also one that she happily adapts to playing no matter who's tugging with her. She's always seemed to "know" instinctively not to tug as hard when the littler kids play as when we adults play.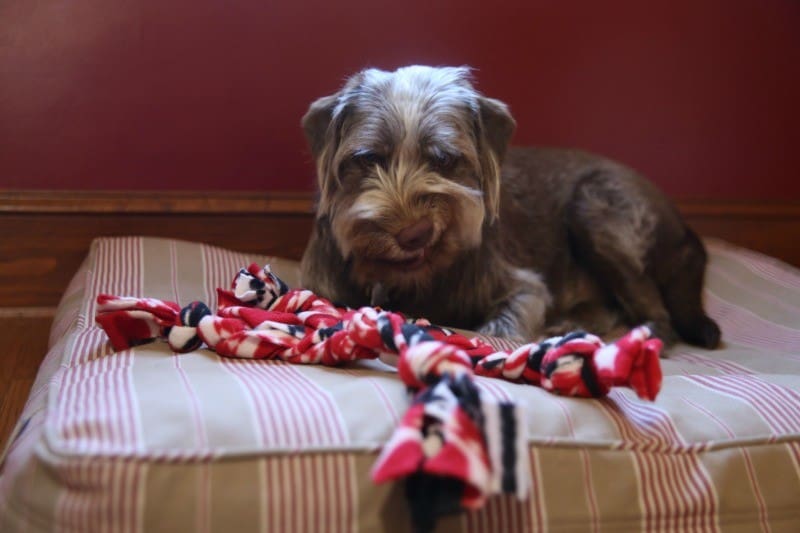 I know she's making a silly face here, but she loves her tug toys and the photo makes me laugh!
A few years ago, when my (then) Junior Girl Scout troop was working on a community service project, we made DIY tug toys for pets in shelters, and I realized the other day that not only were these really simple and fun for the kids to make, they are also really fun for adults to make too! These are really inexpensive when you pick up fleece remnants from a craft store! This is one of the easiest crafts, and all ages can do it.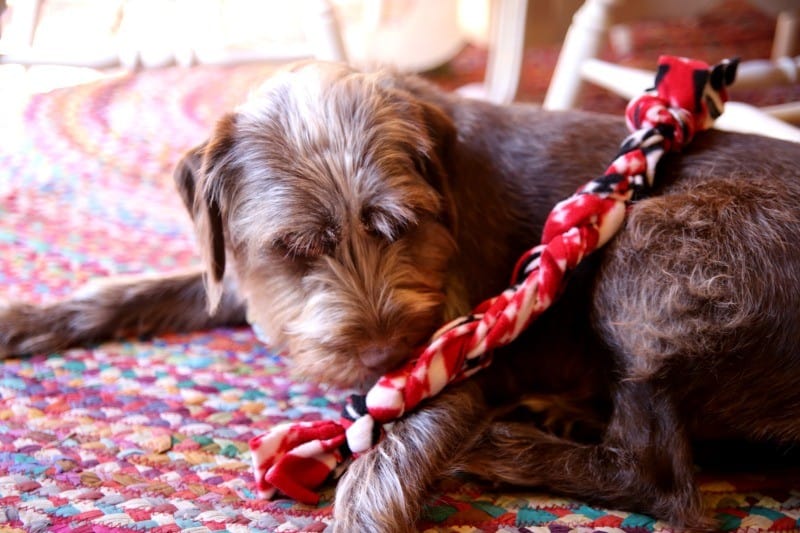 DIY DOG TOY
What you need:
fleece fabric, any pattern/print/color – the bigger your dog, the longer the fabric you'd like. We cut ours into 3 foot strips
heavy duty scissors
What you do:
Cut your fleece into 6 equal strips. Brownie's about 45 lbs and medium sized, and this length works well for us. Remember that fleece will stretch as you play with the tug toy, so it'll lengthen a bit after you've finished.
Double knot the ends of the fleece at one end.
Braid the fleece strips all the way to the end of the fleece length
Double knot the ends of the braided fleece.
Voila! You've made a DIY dog toy! Your pooch will love you, and you can have some fun playing together once you've finished!
We love doing crafts and making homemade gifts- we have so many friends and neighbors with dogs and we've got plans to make some cute little holiday gifts for them with a homemade dog toy and some special made in the USA dog treats!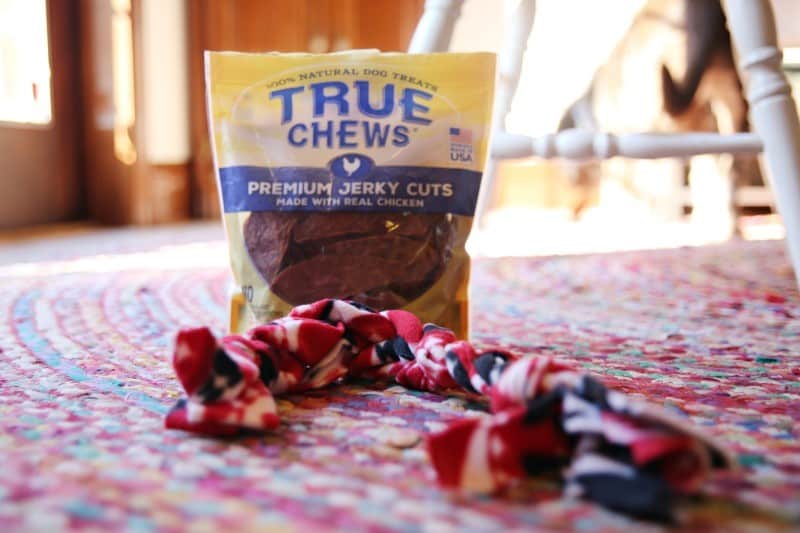 We love to spoil our pets and reward them with treats. Do they get them all the time? No, but we do give them frequently. Brownie is the epitome of unconditional love. She had such a rough start in life- abandoned in the woods, left to starve with her littermates and parents- but we were lucky enough to bring her into our family. Do we spoil her? YES. We try to make sure no memories of those horrible first weeks and months stay with her, and she's come a really long way in trusting us humans in general. I hate that her life started out that way, but I love that her family is mine and that I'm her "person" even though it means she's usually sticking her snout by the shower curtain even when I'm showering. As I type this, she's laying by my chair, one paw over my toes. That's how we spend our time when I'm working. Our dogs are family members, and we want to make sure we spend time with them and they know how much they mean to US, so when we do treats, make toys, play games, run around together, we're reinforcing how WE love our poochies. I made a little video about our Brownie. I get all warm and mushy watching it!

When we look for treats for our Brownie, we look for what she'll like for flavors, variety in taste and texture, ingredients, and where they are made.  True Chews® Dog Treats are sourced and made in the USA from all natural, premium quality, ingredients.  They're an easy choice for us to purchase for our girl because they fit all of our requirements! True Chews are available at pet specialty stores, such as PetSmart, Petco, your neighborhood pet store and Chewy.com – they are not sold in grocery stores.

Our loyal companion deserves the very best. They're the family members who give us 100% of their love, 100% of the time. And with True Chews® Dog Treats, they put 100% of our best into every dog treat they make.
Make your Life's Journey with your dog that much more special with 100% Natural Made in the USA True Chews Dog Treats. Treat them well!
This is a sponsored conversation written by me on behalf of True Chews. The opinions and text are all mine.