So here's something you probably don't know.  My husband has a thing for Reese Witherspoon and I seem to always have a thing for her costars in movies.  So when I heard that Sweet Home Alabama was coming out on BluRay, I had to jump at the chance to get it.  I'm still scratching my head that this is the 10th anniversary of the movie!  There's even 8 deleted scenes, and an alternate ending.  You may be thinking it's Patrick Dempsey that I had a thing for but it's not.  Apologies.  It's the delightfully handsome Josh Lucas.  It's a great movie for us to watch, because we can both enjoy our "screen crushes."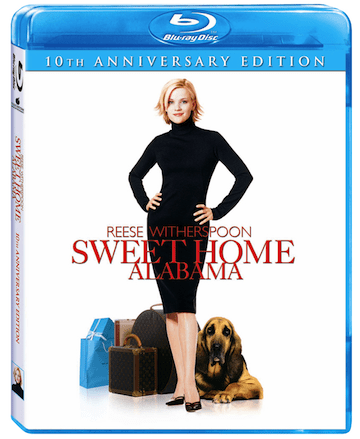 PLUS, this is where one of my favorite movie insults came from:
"Look at you… you have a baby… in a bar."
Classic. I love it. (AND I have a clip so you can watch it)

Plus, I love the happy ending stories, when boy meets girl and boy loves girl and boy loses girl and girl comes to her senses and goes back to the boy.  AND the soundtrack is great.
Melanie Carmichael, an up and rising fashion designer in New York, has gotten almost everything she wished for since she was little. She has a great career and the JFK-like fiancée of New York City. But when he proposes to her, she doesn'tforget about her family back down South. More importantly, her husband backthere, who refuses to divorce her ever since she sent divorce papers seven years ago. To set matters straight, she decides to go to the south quick and make him sign the papers. When things don't turn out the way she planned them, she realizes that what she had before in the south was far more perfect than the life she had in New York City.

 

Sweet Home Alabama is available in stores and online!
I received a copy of this product in exchange for my post. Opinions are my own.