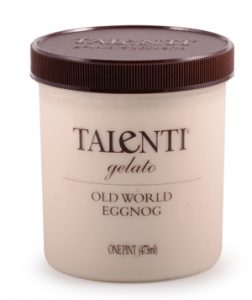 Are you an egg nog lover?  A foodie?  Epicurean?  Know someone who is?  I have a really wonderful gift idea (or treat for yourself) just in time for Christmas- my dad's favorite treat for the holidays is now available in frozen form…its sweet, its creamy, its smooth and oh, so very delicious.  But get it fast, because Talenti® Gelato e Sorbetto Celebrates the Holidays with Old World Eggnog, a Limited-Edition Gelato Flavor Available Now Through December 31, 2011
The holiday season is the quintessential time for families to get together, laugh, love and…indulge. This is why Talenti® Gelato e Sorbetto is launching Old World Eggnog, a flavor that packs the comforting ingredients of traditional eggnog in a rich, creamy gelato. Available in stores and online for a limited time only, Old World Eggnog features fresh egg yolks, pure vanilla extract, soothing nutmeg and no alcohol for a family-friendly treat.
Not an egg nog lover?  There's several other Talenti flavors to delight your palate- the Roman Raspberry is sweet and just a little bit tart and oh, so very delicious.  There's even a Double Dark Chocolate (THERE is a gift to give a chocoholic in your life!! Hint, hint!!)
Talenti is not your average frozen dessert.  Its rich, its creamy, and made of top notch ingredients.  You pay a bit more for this product, but if you are one who likes the finer tastes, you will probably love Talenti.  Try the egg nog- let me know what you think! I like it, although I'm not a wild-for-eggnog-girl like my friend Emily is.
I received samples of this product to facilitate my review.  Opinions are my own.