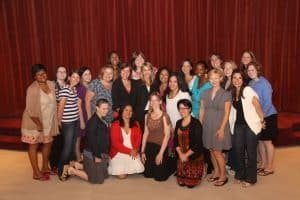 When I met Stacey Snider, CEO of Dreamworks, I was literally still drying the tears that had come so hard and so fast that my neck was wet.  The movie credits for The Help had just finished rolling and we knew we were going to be interviewing Stacey Snider, but not exactly the specific time- and into the screening room she came.  This was part of my trip to LA in June courtesy of Disney & Dreamworks, and I was in the company of the 21 other bloggers who were invited on this trip, along with a few Dreamworks employees. 
The first thing Ms. Snider asked us was if we'd read the book.  Many had- some of us hadn't.  I myself read it on the plane en route to LA.  It had been on my "must-read" list but I just hadn't gotten around to it. Ms. Snider shared that she'd read the book in manuscript form, before it was sent to over 60 publishers who rejected it.  Yes, 60 publishers rejected The Help in book form.  She loved the story, and she loves the story behind the book- that was very clear to us as she shared with us some of the backstory of this book's creation, and also the movie.  (I'm going to share parts of what Ms. Snider told us, not as quotes necessarily, but things she told us during our time with her). 
Like so many things in American culture today, 9/11 was a defining moment for Kathryn Stockett, and her childhood friend (from Jackson, Mississsippi) and then-NYC-roommate, Tate Taylor, challenged her to write about what made her feel safe.  Her beloved Demetrius' (very like Constantine in the film) lap was what made her feel safe, and so The Help story was begun. 

Ms. Snider shared with us how she'd tried to get the film rights for this story, and how when she asked Tate Taylor for the film rights and "you can watch how we make the movie and you'll learn and it'll be a great apprenticeship, you know, experience for you (Tate)."  He said no.  She told him to call her if he didn't get the film set up, and "by the time he called me he had written the script which was beautiful and, you know, it proved more than just that he had ambition. It proved that he actually had talent.  Still doesn't tell you if he can direct a movie but when you read a script that was as emotional and respectful as it was, it was a good sign."

So Dreamworks did the smart thing.  They took this beautiful script for the film and this new and talented director and surrounded him with the best of the best, like Stephen Goldblatt, an Academy Award winner as the director of photography, Mark Rickard as production designer, costume designer Sharon Davis and "gave it a whirl."  (A whirl indeed.  I've said many times since seeing this film that I have not been so emotionally involved in a film in many, many years- everyone involved in the production of this film did a simply amazing job).

"I love all the movies that we make.  You love all your children but like this one is a special one.  I love this movie and it really reflects I think the values of DreamWorks.  You know, Steven (Spielberg) is known for humanist movies, movies that shed some light on the human condition but in a popular way. No one wants to pound anyone over the head with it so every part of this, you know, it's an underdog story that Kitty got the book published….It's an underdog story that Tate got it made.  It's an underdog story that Aibileen gets that last word in.  You know, when she says you're a godless woman and she walks out, you know, go Aibileen.  It's really her movie. It's really her movie.  It starts with her and it ends with her so I think that, you know, those feel like values that mean something to us here so it took on special significance."

It is very clear when listening to Ms. Snider speak of this movie that she, and everyone involved in it, felt the power and importance of this movie before, during and after production.  Hearing her speak of what it was like when she visited on location, in Greenwood, Mississippi, and feeling the cultural barriers present even today, in modern times, and how so much of Tate and Kathryn (Kitty) is in this film- their memories, their childhood. 

In fact, Tate's own Carol Lee is in the film, in the scene were the women are at Abileen's to say they will tell their story.  Tate has documentary footage that Ms. Snider mentioned may be part of the DVD (I hope so!) and some of that footage was actually included in the movie itself. 
Speaking with Stacey Snider was truly an amazing experience for me, and one that has stayed with me and will continue to stay with me.  Such an honor and so refreshing that although she is truly one of the most powerful women in Hollywood, she was also so real, so down to earth, so much a woman, and so much a mom. 
Having seen the movie already, I can't wait to go see it again (and again) in the theater, but I will admit I'm also very much looking forward to seeing the DVD when it comes out, because I want to see that documentary footage, and see what the folks at Dreamworks include as extras and bonus features with the movie.  In time, when my kids are old enough, I will share this film with them.  Until then, I'll be sharing it with my sisters, my aunts, my nieces, my friends,  my neighbors and my readers.
Meeting Ms. Snider was part of my Disney/Dreamworks trip in June- all expenses were paid for me but my opinions are, as always, my own.  Photo is courtesy of MomStart.
0