As parents, from the moment we have that precious bundle placed into our arms, we take on a huge responsibility. We are charged with taking care of this little human, teaching them right from wrong, educating them, keeping them safe from harm and doing what we can to raise them to be the best people they can be. As our kids get older, the responsibility shifts to a more mature line of parenting. As we prepare our teens for adult life, we begin showing them how to shop, to cook, to drive and get ready for college. One area that is of utmost importance that many parents may not think to teach their teen is about managing their money. Many college freshman are living on their own for the first time and are often inundated with credit card applications. If we do not teach them how to be smart about their money, they can be in a dire financial situation by the time they graduate.
If you are not sure how to broach the subject of money with your teen, you should turn to someone who has experience. With the H&R Block Dollars & Sense educational initiative, they are dedicated to increasing the financial literacy of our teens. The program gets educators, parents and high school students together to ensure our teens are given the financial foundation they need to succeed after graduation. Because many of our high school kids are leaving the nest with limited financial skills, it is crucial we teach them before they head off to college. Surprisingly, only five states require at least a one-semester, stand-alone personal finance course before graduation, which completely shocked me! In addition, only a third of parents are even comfortable talking to their kids about money. As a matter of fact, many parents would rather talk to their teens about smoking, drugs or bullying than they would about money.
In a recent survey, H&R Block Dollars & Sense found that a whopping 58 percent of teens are worried about being worse off financially than their parents. With today's college student, more of them are paying for college themselves than ever before and many are taking on record-breaking debt once they graduate. If they are not going to college, many teens will be going to work after they graduate from high school and will move away from home. For many, they will be facing things like rent, grocery, utilities, car payments and insurance and other monthly bills. They have no idea how to manage their bills or even balance a checkbook. H&R Block Dollars & Sense equips teens with the skills, knowledge and confidence to manage their financial futures. The program covers subjects like budgeting, saving, spending, credit cards, student loans and more.

Another cool aspect of the program is high school students receive scholarships and tips to help them become more financially fit. High school educators will receive classroom tools and resources to help them in teaching their students about personal finance. And, parents will receive lots of resources and statistics and tips on how to talk to their teens about money management.  The program is free to a classroom teacher at an accredited high school or home study program, as it is a teacher-tested, online simulation tool that replicates real-world budgeting and personal finance decision making. The developers of the program believe that by simulating an adult's financial life, with paying bills, investing in retirement, managing loans and more that students will take a personal interest in this learn-by-doing educational approach allows high school kids to make real-world mistakes without facing real-world consequences.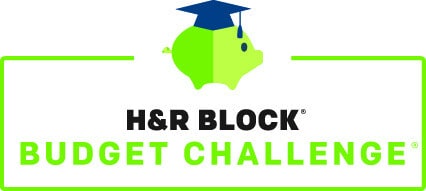 The educator can visit hrbds.org to register their classrooms. The H&R Block Budget Challenge immerses students in the life of a recent graduate who has been working for six months. Each participant receives a virtual salary and must make smart budgeting decisions with their expenses like rent, utilities, car payments and more. Students will receive bills on a regular basis and must pay them on time, while they maximize their savings via a virtual 401(k) and minimizing penalties like late fees, overdraft fees or other finance charges. H&R Block feels the simulation needs to include realistic surprise scenarios and monetary challenges such as a car accident or lost cell phone, just like we adults face in our every day lives. The participants can earn bonus points for completing quizzes on personal finance topics and H&R Block will award $3 million in classroom grants, college scholarships and cash prizes via the H&R Block Budget Challenge. Winners will be determined on both an individual and classroom basis. At the end, the one student who demonstrates they are the most "real-world ready" will receive a $100,000 college scholarship.  The next session begins on February 13, 2015 and will run through April 16, 2015, with sign-ups closing the week prior to the session begins.