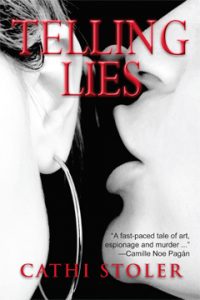 How many lies does it take to get away with murder?
I really enjoyed reading Telling Lies.  It gets to a quick start and kept me thinking the whole time. It was hard to put down and I read it in 3 days while on vacation this summer.  The characters are memorable and the story is interesting.  If you think that you don't normally enjoy mystery books, pick up a copy of this book and you will change your mind.

Here is a brief description of Telling Lies:
When a chance encounter in Florence's Uffizi Museum plunges Women Now editor Laurel Imperiole and private investigator Helen McCorkendale into an investigation of missing persons and stolen Nazi art, the women find themselves ensnared in a deadly maze of greed and deceit.

Could the man Laurel bumped into have been Jeff Sargasso, an art dealer and friend who perished in the World Trade Center on 9/11? Was it possible he was still alive and had disappeared without a trace?

Laurel, who was vacationing in Italy with her boyfriend, Aaron Gerrad, a New York City detective, is thoroughly shaken by the experience of seemingly meeting a dead man. Sargasso was supposedly killed that day during a meeting regarding the sale of a 150 million dollar painting between a Japanese billionaire and a Wall Street tycoon. Determined to get to the bottom of things, she and Helen investigate in Italy and in New York.

As she delves deeper, Laurel leaves the truth behind, telling lies to Aaron about her actions and the liaison she's formed with Lior Stern, an Israeli Mossad agent with an agenda of his own. One lie leads to another, entangling everyone and everything the women encounter, including murder and the painting at the heart of the affair.

Searching for answers, Laurel and Helen thread their way through a sinister skein of lies that take them on a whirlwind journey that could end in death.
Paperback
Price: $17.95
ISBN: 9781603818438
Pages: 270
Release: April 11, 2011
Cathi Stoler was an award-winning advertising copywriter. Telling Lies is her first mystery/suspense novel. Other novels in this series will include Keeping Secrets, which delves into the subject of hidden identity, and, The Hard Way, a story about the international diamond smuggling. She has also written several short stories including Fatal Flaw, which was published online this April at Beat To A Pulp and Out of Luck, which will be included in the upcoming New York Sisters in Crime anthology, Murder New York Style: Fresh Slices. In addition to Sisters in Crime, Cathi is also a member of Mystery Writers of America and Women of Mystery.
I received a copy of this book to facilitate my review. Opinions expressed within are my own.
0