Christmas vacation is upon us and Mama Bargains and I were looking for a fun and easy craft to do with the kids. Terrariums!!! After doing a little research I decided that this would be the perfect kid friendly craft. Not to mention, all the supplies can be found around your house! There are TONS of terrarium sites out there with tutorials and information. We decided to go with a low maintenance moss terrarium and purchased a DIY kit on Etsy through Miss Mossy. She was so friendly and helpful. Her kit arrived with all the supplies we needed (minus the jars) along with an e book on the assembly and care of the terrarium. Here's how to make one of your own. Supplies: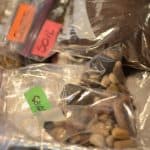 Gravel
Activated Charcoal (found in pet supply store near aquariums)
Garden Soil
Moss
Decoative Stones
Clay Or Plastic Figurines
Cute Glass Jars With Lids
Step 1 – Gather all supplies (I put mine on a foil lined jelly roll pan for easy clean up) and Glass Jars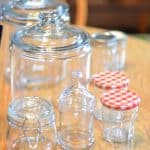 **A note about jars – Any glass jar will do, but one with a clear glass lid works best for viewing your terrarium. The large jar in the picture is the 2 gallon Anchor Hocking jar found here. We also used regular old Mason Jars and jelly jars. I really like the shape and look of the small jelly jars with the red and white tops. The brand is Bonne Maman preserves and I just found it in the grocery aisle near the Smucker's.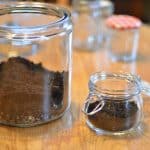 Step 2 – Place a layer of gravel on the bottom of the jar for drainage. Step 3 – Sprinkle a thin layer of activated charcoal over the gravel for odor control. Step 4 – Layer your soil on top. Step 5 – Place your Moss on top of the soil, pressing down gently. Moss can be purchased on Etsy or found outside around your house. One benefit of the Missy Mossy kit is that she hand picks the variety of mosses that thrive under terrarium conditions (I love it when I don't have to think about these details!)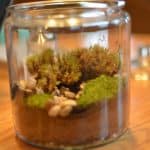 Step 6 – Add decorative Stones and clay figurines! Ok figurines. This is when I get excited. You can purchase clay figurines online. I bought mine here. These figures were so cute and came with a metal spike for easy placement in the terrarium. Your other option: make your own figurines. This is where you can get really creative. I just used Sculpey III polymer clay (I bought mine at JoAnne Fabrics with a coupon) to make cute mushrooms, gnomes, animals, flowers, etc…. I looked online for clay designs that I liked, and copied them to the best of my ability. When you are finished, just place them on a baking sheet and bake according to package directions. Here are some of my creations: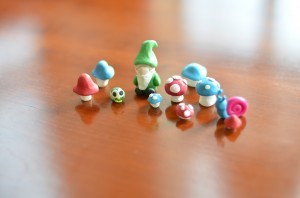 Step 7 – Give your terrarium a light mist and cover with glass lid. Step 8 – Place your terrarium in an area with low light (not a bright sunny area) and mist every couple of weeks. Enjoy!
**We also added a couple of cute air plants for some visual interest. We bought ours on Etsy (of course!) here. They were Extremely reasonably priced and the seller was great to work with.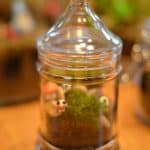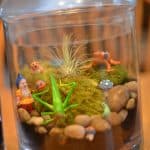 My kids have a little terrarium in their rooms and we keep another on our kitchen counter. They are so cute and low maintenance!!! Best Craft Ever.