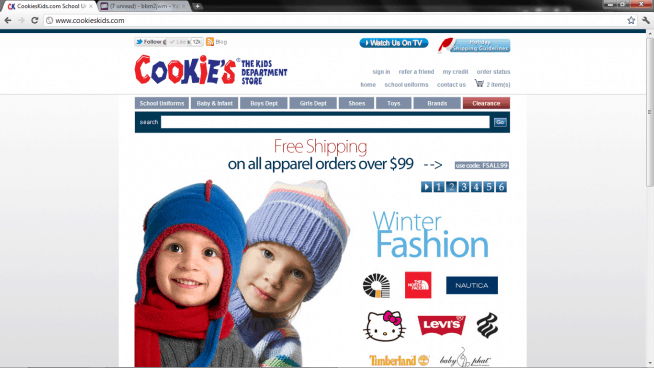 I have heard of Cookie's Kids before- but I had no idea what I was missing. I think I'd heard once that it was a site that offered great selection and pricing for school uniforms, and kind of never took the time to explore. I shopped on their site on December 15th, as part of a shopper insights study.
Cookie's Kids was totally not what I'd expected!! From baby gear to the latest in hot toys, and so much in between, they definitely have lots to offer and should be on parents' lists for checking when we need to get things for our kids.
There are lots of great name brands on Cookie's Kids- this isn't just an off-brand discount site- I saw some fantastic deals on The North Face outerwear items, Levi's, and more.
They do offer lots of great uniform staples, which is great, especially since I was able to find some plain colored cotton cable knit tights (this has been an ongoing challenge for us, at least in this area- all of the cotton tights I find seem to be patterns and prints, but no solids.  My girls love dresses but I want their legs to have a little more coverage than just plain tights, you know?)  The super low price made me one happy mama.  I will probably be placing another order this week for some more tights for both girls, and some underwear for all three kids.  When I did my original order, no one needed underwear, but apparently, we have an underwear monster in our house and they all need some!!  The prices I saw on undies on Cookie's Kids seems to beat even the lowest store pricing around here so I'm going back there).
There were some Batman and Spiderman items on Cookie's Kids that I haven't seen before- with a 4 year old boy who is superhero obsessed, this is key information for me to have.  His little pals are loving the same things, so now I have a new place to go to find some cool gift ideas.  (They have glow in the dark Spiderman underwear.  Which may backfire on me, because if I order them, he may never wear pants again!)
I found (too) many things that I loved on this site, while browsing.  Time limited what I was able to purchase (we had a lot going on 12/15 which was my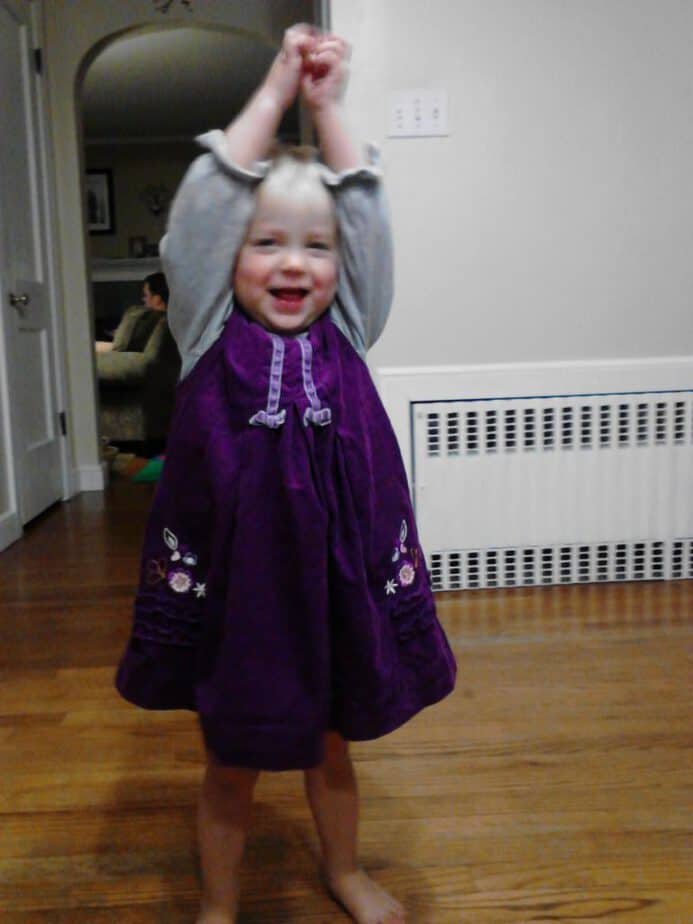 day to shop) so now that the holiday is over and the kids are happily playing with their new toys, I can take some time to really browse and see what else Cookie's Kids has to offer. I ended up ordering  a few things- a purple dress for Baby B (as seen to the right), 2 pair of the cable knit tights, and some snowpants for my little guy.  I may or may not be shopping today for other things….
Cookie's Kids is a great resource for parents who want- and need- to make their dollars go as far as possible for children's items.  They are definitely on my bookmark list!
Want to check out Cookie's Kids?   They have a refer-a-friend program called Cookie's Treats, and if you sign up with my link (or a friend's link) you will get $10 off $50 credit on your first purchase.
Check out my whole shopping experience in my Google Plus album!!
PS Lest you think my children are always happy and cooperative for photos, this was what I got for a response when I asked my little one to show me her dress yesterday in the morning: (although you can see the back quite nicely!)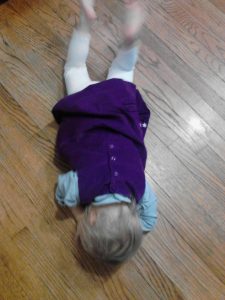 This shop has been compensated as part of a social shopper insights study for Collective Bias. Opinions are my own. #CBias #LuvCookies