Confession: I love People Magazine. It's super expensive though, and I cannot justify the expense of a subscription, so we don't get it anymore. But I miss it, and I love reading all the news and gossip.  It's a guilty pleasure, and silly, but there you go. Plus, finding the time to get through an entire magazine while at home?  Never happens. But I like to keep up with what's going on in the world, the *fluff* can be a great distraction and entertaining. Thanks to our friends at Texture for sponsoring today's post.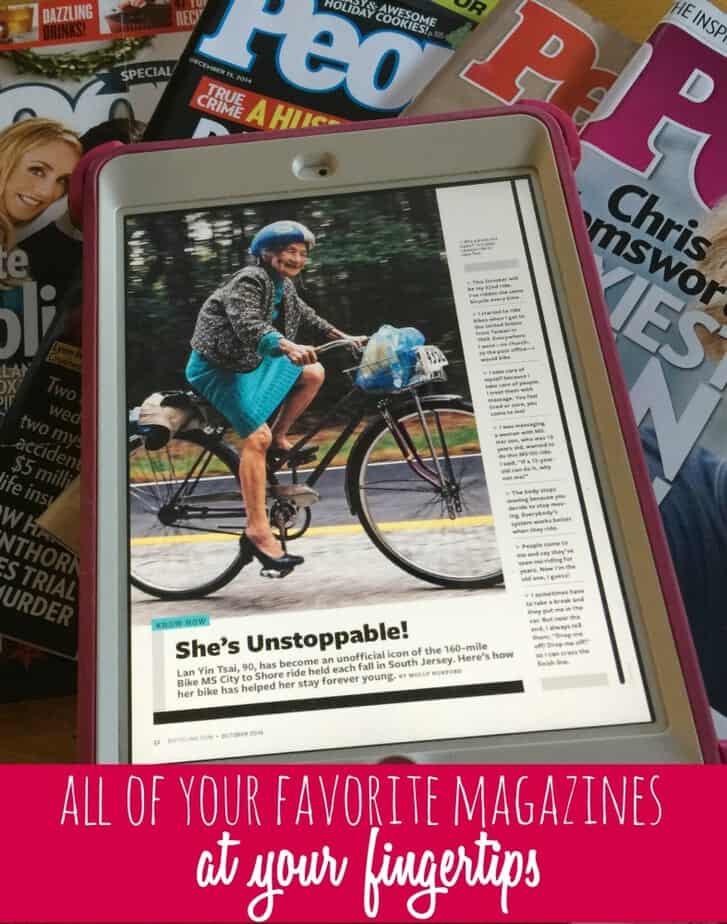 Next confession: I don't have to subscribe to the magazine to enjoy my People anymore.  I signed up for  a free trial of Texture, which I saw a few folks describe as "Netflix for magazines" and totally agree with… and now that I did my free trial of Texture, I've gotten hooked and extended my membership. Texture is the only premium content subscription service that provides unlimited access to the world's most loved magazines for one low monthly price. That's where the Netflix comparison comes in.  Low price, access to oodles of awesome magazines.  Even back issues.  Low price, access to oodles of movies and TV shows, even cancelled shows.  That's Netflix.  Super similar, right? After a 30-day free trial, Texture is only $14.99/month for unlimited access to the entire catalog, or $9.99/month for unlimited access to all monthly magazines.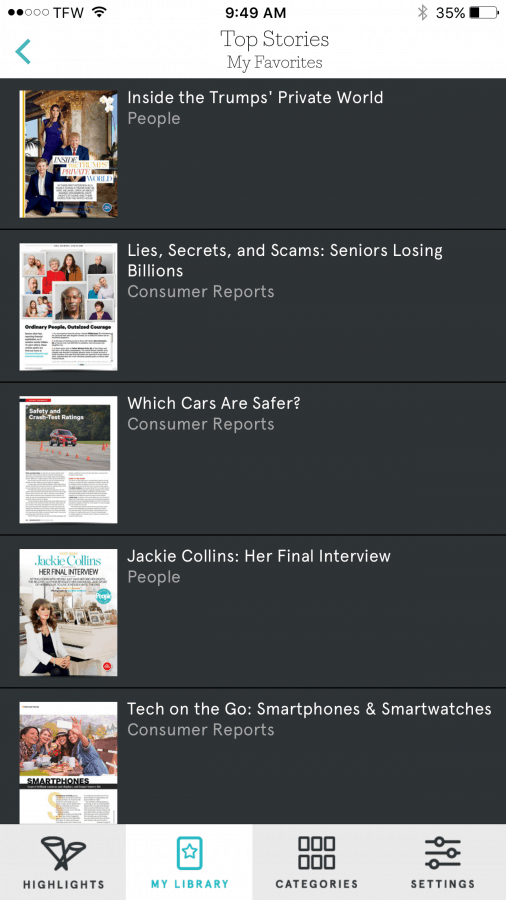 I've added all my fave magazines to My Favorites on Texture, and can find them all easily if I'm wanting to stick with my 'usuals.' But I was also able to add the kids' faves, and that means they can access their fave magazines on the go… same app, just a few touches of the finger.  When we're waiting in the doctor's office for an appointment, it's nice to have things to do that will keep them entertained.  Most kid mags have corny jokes or puns in them that the kids and I love to look for, find and share. We can also look for new things to create, make, and do together- kind of without limitation, since there are so many different magazines available on Texture.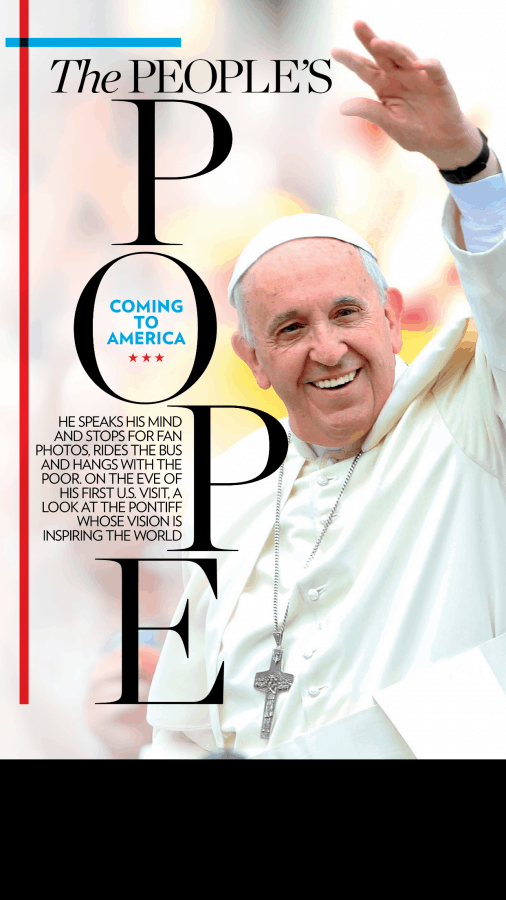 Texture gives us a way to bring our magazines anywhere and everywhere we go.  I can take my  reading on the go with easy downloads for offline use, so when I'm  on an airplane ride without entertainment and finish my latest book, I can catch up on the newest issues, or I can head back to older issues and have a giggle at the fashions of days gone by.  It's all just there, at my fingertips, ready for me to explore, enjoy, and share.  ate of the art, digitally enabled functionality within the app gives readers the unmatched ability to explore current issues, 15,000 back issues and discover inspiring and entertaining content from an archive of over 500,000 stories. It's compatible with smartphones and tablets – with all the new features below available on iOS now, and on Android from November.
New Texture features and benefits include:
Collections: Whether it's revisiting the impact of Hurricane Katrina on the 10th anniversary, diving into Texture franchises like Strong Women Wednesdays or serving up the best fall pumpkin recipes across every food magazine, Texture's thoughtfully curated Collections deliver content to readers in a way that anticipates their needs and reflects their curiosity.

New & Noteworthy: This Texture channel keeps readers in the know–whether the topic is Hollywood bad boy, political renegade or the latest bachelorette–by surfacing stories that are making news, and topics that are trending in social media.

Search & Explore: Powerful search functionality allows readers to seek more information across the entire vast archive of magazines. From gluten-free cooking and electric cars, to golf techniques and presidential candidates, Texture pulls content from the best magazines in the world so readers can get news and perspective instantly from multiple sources. Trending Top Stories uncover what's being read by subscribers, inspiring exploration across previously unread titles.

My Collections: After finding the perfect gift idea from Real Simple, or stumbling across Rolling Stone's most recent enthralling cover story, readers can save them to read later or share with friends.

Personalization: Whether readers are self-proclaimed foodies, celeb savants or travel aficionados, the Texture experience becomes their own, personalized to their taste, interests and reading habits within the app. Favorite magazines lead each reader to Top Stories and Collections based entirely on their reading behaviors and searched content.

First Access: Each month, readers can dive into some of the hottest features before they even hit newsstands thanks to an exclusive agreement between Texture and leading publishers, serving up a handful of most highly anticipated stories only for subscribers.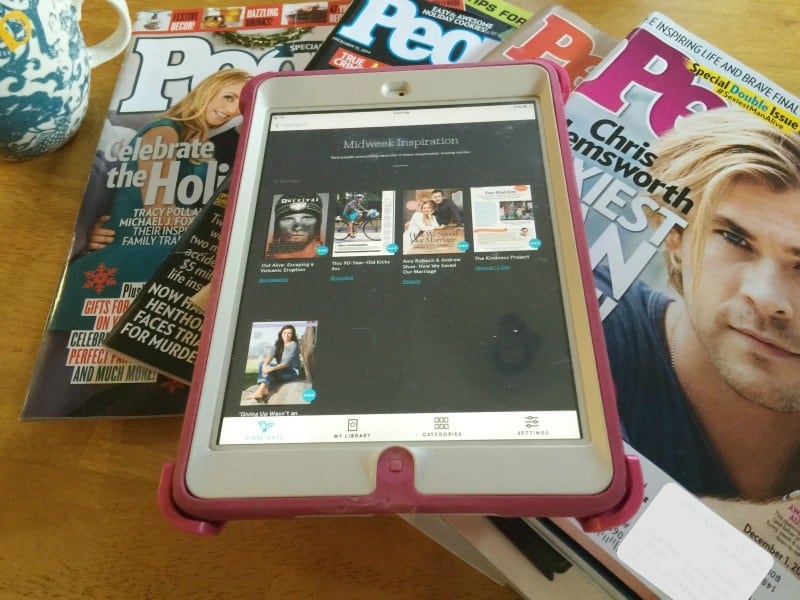 Texture gives busy families a way to continue to enjoy their magazines (and find some new ones) with a lot more portability, so for those few moments you find yourself having some down time, you can catch up on some pages… and the bonus? Less waste- going digital means no magazine to recycle, no issues to store or dispose of, they are all in the Texture app!
Check out the free 30-day trial  to decide if it's right for you.  Remember, you can use Texture on up to 5 devices per account.  PLUS, you can enter to win some AMAZING prizes from Texture from now until  October 29! From October 1-29,  app users will be entered to win their choice of either a GoPro HERO4 Session, a Tory Burch Quilted Clutch, or an Xbox One! They'll randomly select a Texture member to win every other day.
To enter, users just need to visit Texture, start a free 30-day trial, and use the app. Good luck!
This is a sponsored post written by me on behalf of Texture.