A few weeks ago I got to head out to Ann Arbor, Michigan, to visit the Domino's headquarters.  While there, we had a whole lot of pizza, learned how to make a pizza, and learned a whole lot about the Domino's company and brand in general.  There's a lot that may surprise you that you probably don't know about Domino's- I know I didn't know much about them besides their pizza and breadsticks!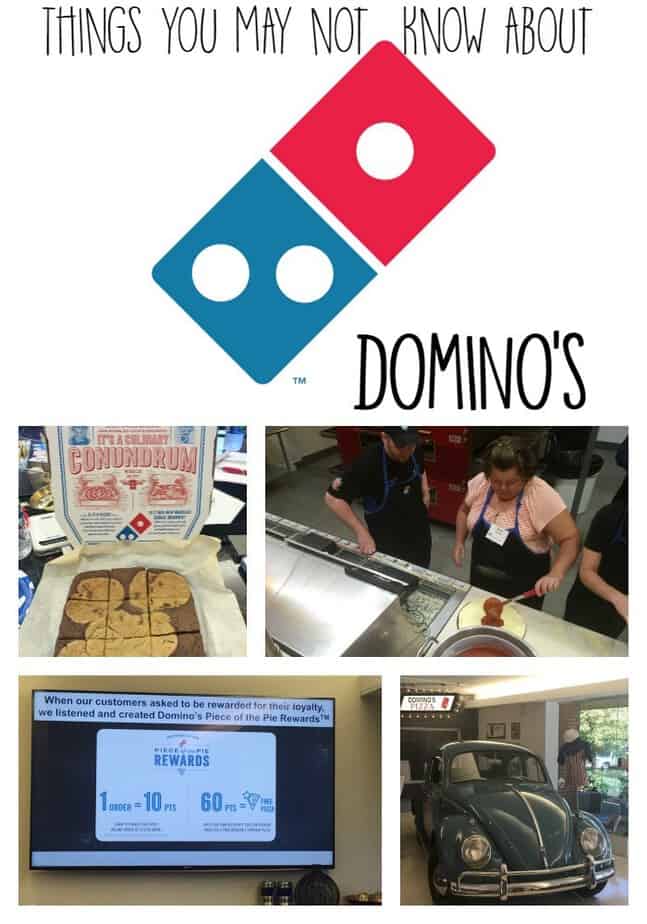 They were the first restaurant chain to focus on delivery only. This was the first Domino's delivery car!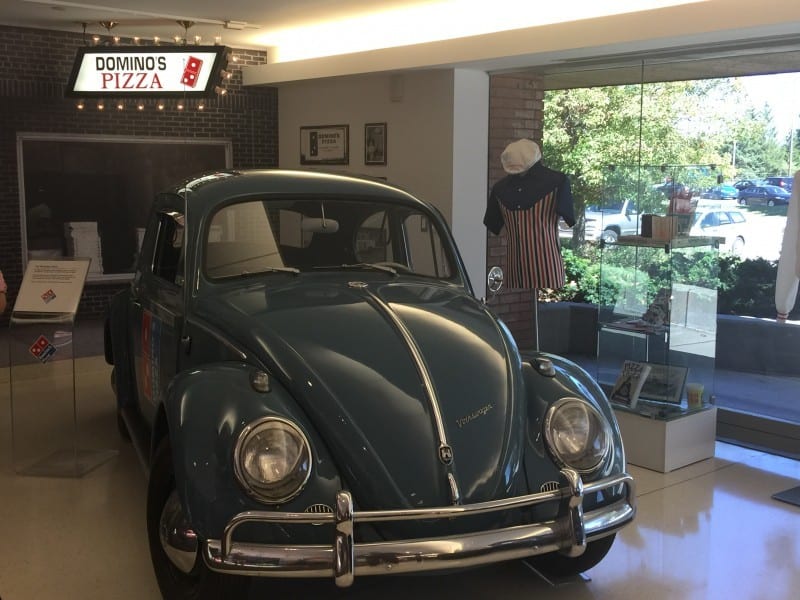 85% of Domino's menu items are new since 2008.  The Marbled Cookie Brownie is one of them…it's been around a few weeks, and you *need* to have some.  They're always looking for new and innovating menu items!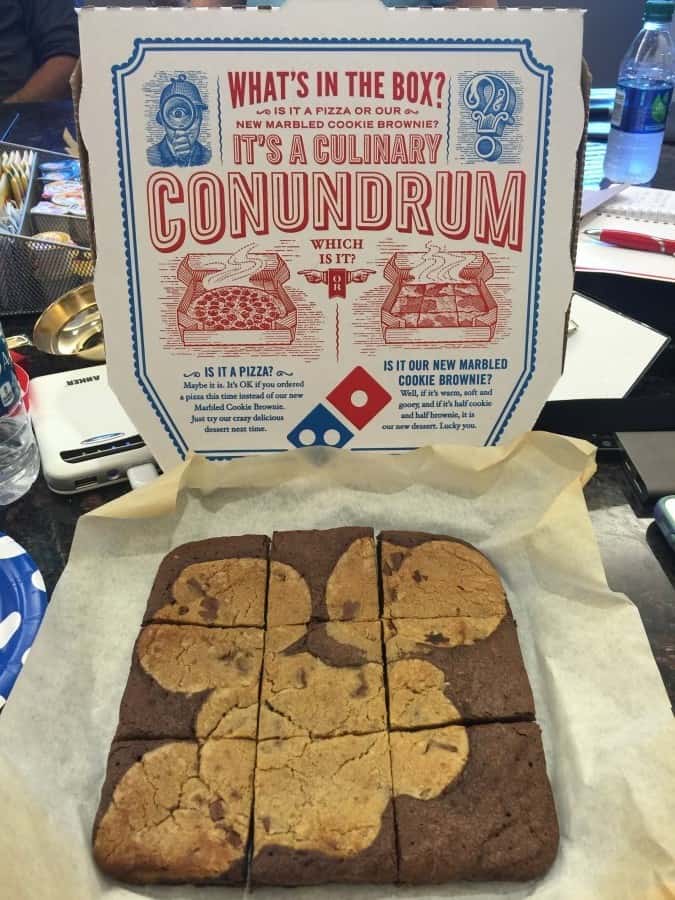 Breadsticks were the first non pizza item available at Domino's, starting in 1992.  (As an aside, I graduated high school that year, and now I'm feeling really old).
The utensil that is used to both scoop and spread pizza sauce at Domino's is called a spoodle.  I don't want to toot my own horn or anything, but I happen to have won the coveted Golden Spoodle Award- my pizza had the highest scores of the bloggers who were in attendance.  We ate the submissions. All were equally delicious. I'm pretty confident my pizza still wasn't to store standards and wouldn't have been sent to anyone's home.  Still delicious.  Tons of fun learning how to make a Domino's pizza and trying to do it in under 5 minutes (not even close).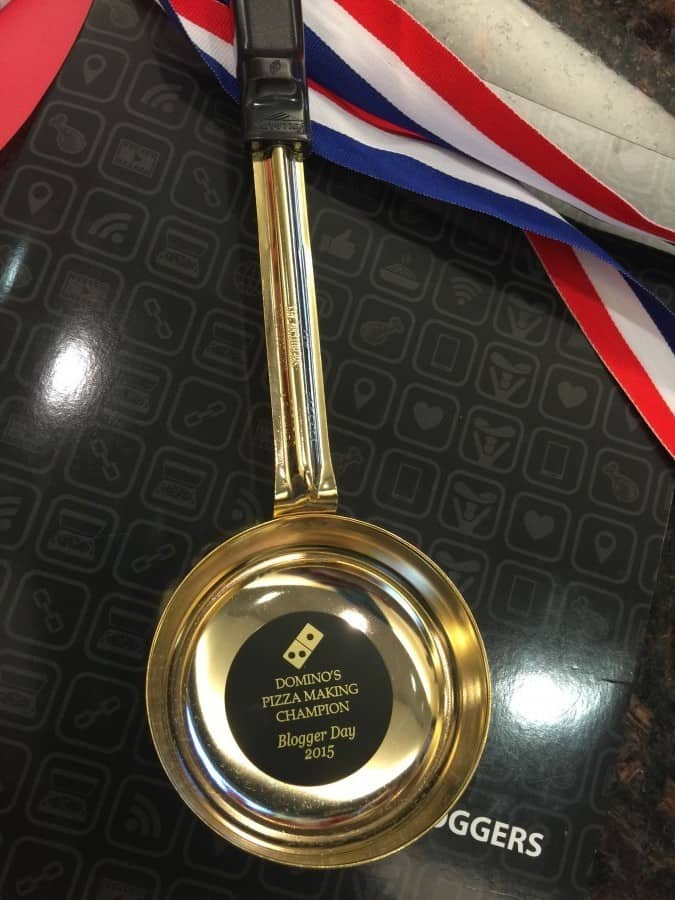 Half of Domino's sales now come from outside of the US!
Domino's sells more than 11 million slices of pizza on Superbowl Sunday.  Most orders are placed in the hour leading up to and during kickoff.
There are over 34 million – yes, million- ways to  create a single Domino's pizza.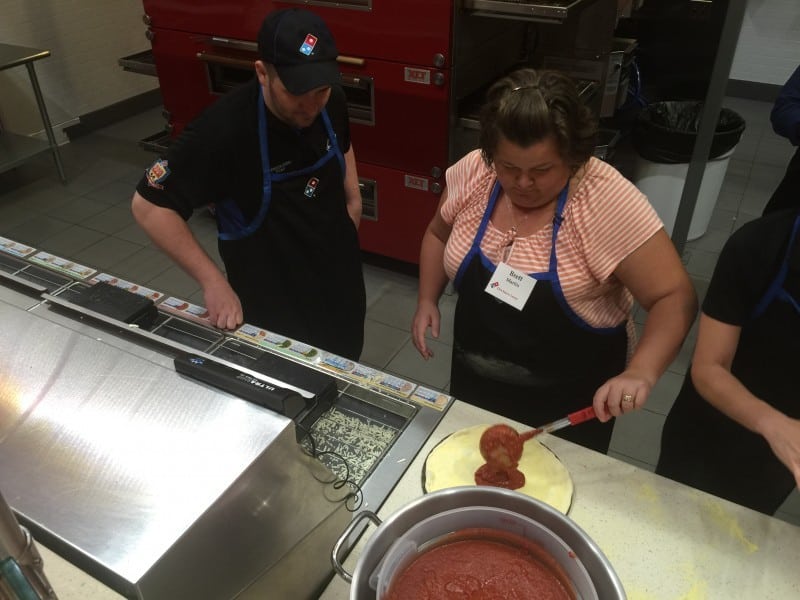 Pali Grewal currently holds the record for being the Domino's World Fastest Pizza Maker.  He can make 3 large pizzas in 32.28 seconds.  To give you an idea of how impressive this is, in our quest to earn the Golden Spoodle, we were given 5 minutes to create one medium pizza.  I didn't come close to making it in even 6 minutes.  For one.
The most popular pizza topping in the US is…… pepperoni.  Up next? Mushrooms, sausage, ham and green peppers. (My favorites are pepperoni and sausage)
Have you heard about? PIECE OF THE PIE REWARDS? Sign up for free at Dominos.com and earn rewards to use for free pizza!!  Just create a pizza profile and order online-you're already on your way to earning that first pizza.  MMMMMM. You can order at Dominos.com or sign up to tweet or text your orders!!  Order on the sly during that meeting before you leave- meet your pizza at home!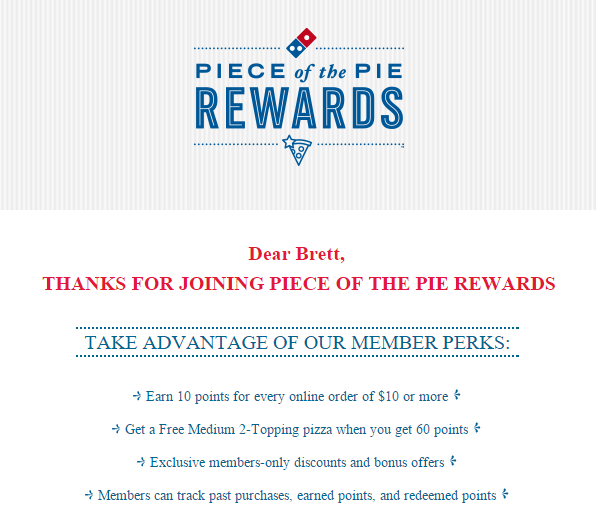 Domino's has no problem poking fun at themselves.  Do you remember years ago (circa 2009) admitted their pizza sucks and not only admitted it, aired it, but then OWNED the admission and made some serious changes? They took the negative comments and criticism and used it to rework their product.  It was a huge success.
They also know how to HAVE fun.  Hip and modern? Check. Remember the Emoji Cards campaign?

Domino's fans think outside the box. Literally. Look what one talented guy made with pizza boxes…
Thanks to Domino's for inviting me to their Blogger Day 2015. Opinions are my own.