Mom. A word that means so much to so many. But it's got one of the shorter definitions in the dictionary: female parent. As if that can sufficiently describe what a mom is.

But a mom is so much more. For most of us, mom is strong.  Strength.  How else could we have arrived to this moment, where we are today, without our mom? Strong moms feed families, they work, they stay home, they work at home. They are single, they are married.  They have athletes, they have musicians. They have healthy kids and they have sick kids.  They have moms and they have lost their moms. They have kids and they have lost their kids. They have spent their time with their kids and they have served with our military away from their kids. Moms are strong. Moms have strong bodies. Moms have strong minds. Moms have strong hearts.
Moms kind of have to have strong hearts. We wear them outside of our bodies, for all the world to see, even to hurt. You have to be strong to do that. From the teen mom who was a strong mom to give her baby up for adoption so that they might have a better life to the adoptive mom who was strong enough to open her heart for adopting someone else's baby…and all of the moms in between.  Even the dads who play the mom and dad role. All strong.  You have to be strong.
My mom was strong. She was strong when she entered a marriage with two built in sons. She was strong when she left that marriage with a son and a daughter under 4 years. She was strong when she set out on her own, leaving comfort and security behind and setting out into the unknown. She was strong when she fell in love with another man, and strong when she married him with two young children in tow.
She was strong my whole life, not talking about her childhood or some of the very defining events that must have shredded her very being as a young girl but knowing that it would destroy other family relationships if she did. So she was strong and she did what she thought was best. She kept those things tucked away and instead focused on the present, or the future.
My mom was, I think, the strongest when I, as a kid and teen didn't understand the world at all and – in my anger at my biological father for choosing to have nothing to do with me except for a child support check every two weeks – would lash out and blame her for the situation. She was strong because never once, not ever, even as she was dying, she never spoke a word against my biological father.
And I think her strength was the greatest when I would, as an angry, upset and confused youth, yell at her and my dad that he wasn't my "real" father… that strength was immeasurable, because how else could she continue to love me after the horrible things I would say? But she did.  Because moms are strong.  Even when you are being hateful and spiteful, they love you.
The past few times that the Olympic Games have come around, P&G has put out Thank You, Mom videos. Videos of all of the little moments that helped to shape the athletes who've made it to the pinnacle of their sport. Videos that promote the people who tied laces and washed equipment and kissed booboos and drove to training at all hours and who were a constant presence for those athletes who are competing with the best in the world. This year, the latest film in the Thank You Mom campaign is called "Strong."
Moms are strong.
This year, several of the US Olympic athletes are starring in "Strong" with their own moms. They are: Venus Athlete, Gabby Douglas (Gymnast), Tide Pods Athlete, Simone Biles (Gymnast), Pampers Athlete, Dana Vollmer, (Swimmer)m Gillette Athlete, Ashton Eaton (Track & Field) and Bounty Athlete, Allyson Felix (Track & Field). This year, we'll meet athletes and their moms and get a glimpse into the emotional strength that moms need.
That's why, for the first time in conjunction with the campaign launch, P&G is offering a deeper look at the origins of this latest campaign insight by revealing new global research about what it means to be a mom in today's world.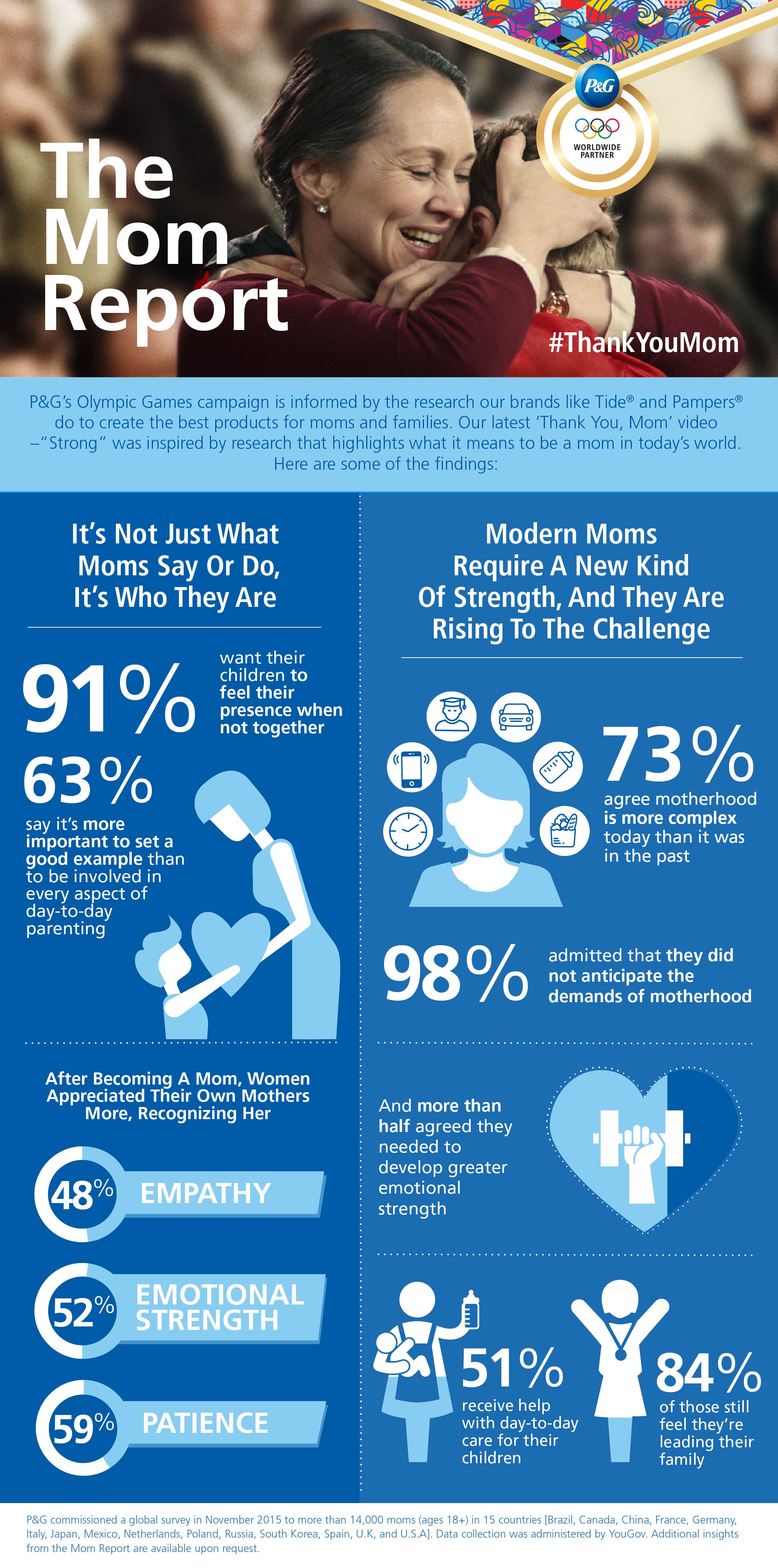 As moms today balance motherhood with other priorities such as out of home employment, relationships with family and friends and time for themselves, they acknowledge that raising a child is about more than physical acts of care and support.  Specific findings include:
Nearly all moms(98%) admitted that they did not anticipate the demands of motherhood with nearly two thirds agreeing that they needed to develop greater emotional strength once they became a mom
(63%)of moms agree it's more important to set a good example for their children than to be involved in every aspect of the day-to-day caring for their children
The majority of moms(91%) want their children to feel the impact of their parenting when they are not together, and for US moms, integrity, hard work and determination are some of the most important values to instill in their children
Of the momswho receive help from others to care for their children (84%) still feel they are leading their family
Watch "Strong" and then click to share on your channels with the #ThankYouMom hashtag.  For all of the strong moms out there.  No matter who they are or where they are!