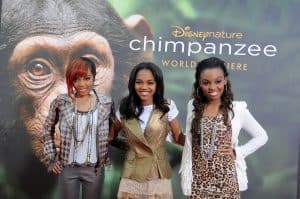 Last Friday was a pretty amazing day filled with amazing experiences for the 20 bloggers who attended the #DisneyGlobalEvent…including yours truly.  We began the day Disney Worldwide Conservation Fund Awards Ceremony & Breakfast at the Festival of the Lion King Theatre, during with the McClain sisters gave a stellar performance of "Rise" which is the theme song for Disneynature's Chimpanzee.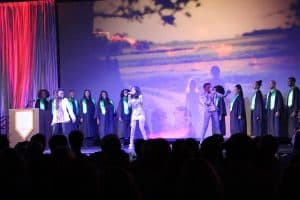 I'd heard the song several times before Friday morning, and I loved it instantly- but the spiritual message and power of the McClain sisters' performance blew me away.  They are phenomenal.  Very young, and very talented.  These ladies will go very far in life, mark my words.
Later in the day, after the movie premiere itself, we had the chance to chat with the lovely and fun China, Lauryn and Sierra McClain.  These girls are clearly grounded and very readily attribute that to their parents and family life.
Not only do the McClain sisters sing this song, but they wrote it.  Their music is a family affair- both of their parents help with each of the songs.  That's some amazing family bonding time, if you ask me.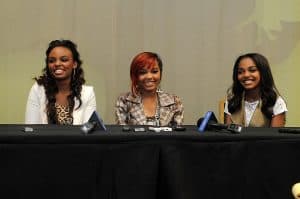 Listening to these three giggling sisters talking about wanting separate space, only to end up talking on the phone to one another or texting because they miss one another, was just a ton of fun.  Lauryn, the oldest, has her own room, but it's right across the hall from her younger sisters, Sierra and China.  Do you know that even they  have been impacted by Disney's Friends for Change?  They said they've been better at turning the water off and have started recycling.  Every single person's changes add up to make a difference- but it's always nice to hear how the youth of today are being conscientious of our earth.
When asked what inspired "Rise" most, the girls were very quick to answer "when he  (Oscar) lost his mom….  a lot of the battle scenes too…,  it's spiritual and that was a big thing for the movie…how they all had to stick together if they wanted to survive, you know, they had to be together, you know, and the lyrics was, "Together –Together we'll rise.
The girls were so in tune with the theme of the movie- the unity of it- how the chimpanzees aren't able to do anything without one another- to survive, to rise, they have to work together, to stay together.  The main point, of course, was always Oscar.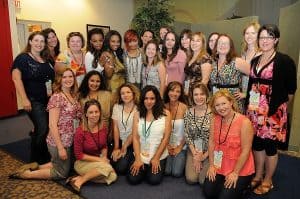 The McClain sisters are just like you and me.  They have movie nights.  They love their Chick-fil-A (I haven't ever been, but I think it is fairly safe to assume that if we had it here in CT that I would love it too).  They have sister nights.  They understand that while friends may come and go, sisters are forever.  Sometimes they just hang out and talk about their days and their weeks, often ending in hysterical laughter.  They are sisters, and they are friends.  They have a very strong faith in God that is evident both in their conversation and also in the way they view one another, how they respect one another, and how they place importance on the things that matter most.  The girls are proud of one another- they speak with so much love and pride in their voices when they talk about their parents' backgrounds and musical talents, and of their brother's musical abilities.  They speak with pride of China's status as a "breakout star" on the Disney channel.
It's really quite refreshing and grounding to spend time with these lovely young women.  I'm honestly excited to see what comes next for them.
Chimpanzee opens in theaters TODAY, April 20th.  See the film and save chimpanzees!!  (Check out my thoughts on the film)
Watch "Rise" now. You won't be sorry.  Then go visit Christie from Average Moms Wear Capes and see her thoughts!
 This interview was part of a press trip I was invited on by Disney and Global Resort Homes.  Travel, accomodations and expenses were provided to me.  All opinions are my own.