With all of the press surrounding beef lately, it's more important to me than ever to find the safest, most natural products to feed my family.  The "pink slime" just grosses me out, and left us feeling like we'd been failing our family.  It was perfect timing when Suzy Sirloin reached out to ask if we'd like to try some of their lean, natural meats- all of which were raised without antibiotics or added hormones.  Refreshing, right?  American raised beef, pork, lamb and veal.
"Suzy" is fifth generation member of the Strassburger family, who has been delivering top quality prime and aged beef to the best steakhouses in the country.  I like knowing that this brand has been around a very long time, know their product and know their customers.
My beef arrived in a huge box.  I actually called Jenni to say "I just got a box of beef in the mail!" because really, when else do you get the chance to say that?  Beef.  In the mail.  What was inside?  Ground beef, meatloaf mix, sliders and steaks.  Let me tell you, we enjoyed every single BITE of these delicious meats Suzy Sirloin sent to us!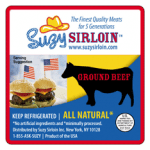 All Natural Premium Ground Beef is 90% lean 10% fat.  My family loves burgers, and the sliders that we got were a huge hit.  I'm not sure my kids have actually had sliders before this so it was a novelty for them- and they were excited about  having burgers that were just the right size for their hands!   Of course, as you can see by the photos below, the sliders are huge- VERY generous portions.  Next time we order some of these we'll probably halve the sliders so the kids can hold onto them easier- plus we'll get double bang for our buck!
We got to to try this in both sliders and in ground beef.  Wonderful.  It was so nice knowing what I was feeding my family was natural, hormone free beef.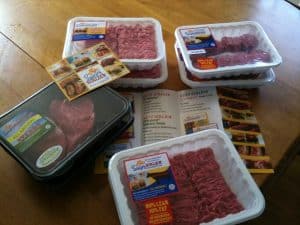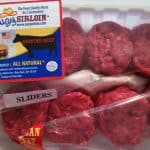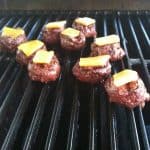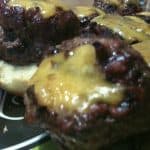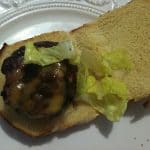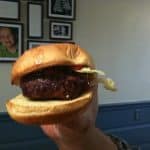 The Natural Ribeye Steaks were delicious- we simply put some salt and a bit of pepper on them and grilled them.  My kids LOVE steak so I knew this would be a big hit-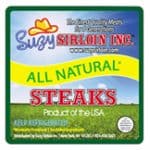 and steak is a treat for us.  We made it a simple, simple meal with the steaks, salads and grilled asparagus.  Fantabulous.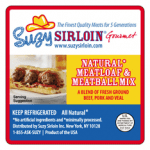 The Gourmet Meatloaf & Meatball Mix offers a nice blend of beef, pork and veal.  I'm not sure if you know this but one of my family's favorite recipes is in the Baby Brezza cookbook and it was so, so nice to have some natural meatloaf mix to use for our meatloaf and meatballs this month!
Suzy Sirloin offers quality, American beef, lamb and pork products that you can rest assured are top notch.  A sampler box from Suzy Sirloin would be a wonderful gift for anyone- including yourself!!  They will cost a bit more than the supermarket but you will know what is – or rather, what isn't – in your beef when you purchase.
You can find Suzy Sirloin on both Facebook and Twitter.  Be sure to keep in touch- fans and followers often find exclusive deals and discounts for many brands!
I received a sample of this product to facilitate my review.  Opinions are my own.