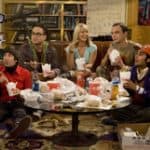 "The Middle Earth Paradigm" from Season 1 of The Big Bang Theory aired Monday 9/26. In the episode, the gang attends a costume party in Penny's apartment.  Penny dresses as a cat, Sheldon dresses as the doppler effect, Leonard is Frodo from Lord of the Rings, Howard is Robin Hood but gets mistaken for Peter Pan and Raj is Thor, the Norse god of thunder. Each costume is interesting for each character (Raj, the quietest of the group, is the god of thunder).
This is one of my top favorite episodes of the show.  The Peter Pan thing is so perfect and so hilarious for Howard!  Its hard to not laugh aloud.  He's always wearing those darn dickies on his neck…and living with his mom- the Peter Pan confusion simply gives the guys more to tease him about!!   So hilarious (and SO Peter Pan…not Robin Hood)!  The "casting" for the costumes for each of the Big Bang friends is spot on- Leonard IS Frodo, and the more you think about it, the more you know its the perfect costume for him- Sheldon is over the top as always, and Raj's thunder god is great, and fun!  Leonard's Frodo is a close second to Howard's Peter Pan/Robin Hood but for the humor alone I have to stick with my vote: Wallowitz. 
 The Big Bang Theory is now on 5 Night a Week!  Check your local listings: www.bigbangweeknights.com.
"I have been hired by Warner Bros. WBWord division to promote The Big Bang Theory Season 4 on DVD."
0