Have you seen the new Perplexus maze game from PlaSmart?  I have a feeling that this going to be BIG this holiday season.  This fun toy requires critical thinking, fine motor skills and NO batteries!  Great for kids ages 6 and up.  I was SO excited with the folks at Plasmart agreed to send me the original Perplexus.  My kids were immediately intruiged when they saw this colorful orb.  In fact, I had to set up a timer and organize a line so that all 3 of my kids got equal time playing.  They had a blast with this thing!  There is a small metal ball that must be maneuvered through the maze in the ball.  You are guided by small numbers on the track.  The concept is easy, the game is challenging!  I love that you can play this game as a single player or make it into a multi player game.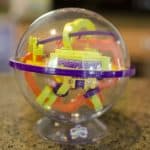 Here are the details:
PERPLEXUS is a maze game where players maneuver a small marble around challenging barriers inside a transparent sphere. Unlike traditional flat-surface mazes that are composed of one path, PERPLEXUS houses various challenging tracks with 100 barriers providing a frustrating three-dimensional experience. Players select the track they would like to attempt and must work with gravity to carefully shift, flip, and twist the sphere to guide the marble. Players can race each other or the clock.
There are many fun ways to play PERPLEXUS. It works as both a single player game and as a multi-player competitive game.
HOW TO PLAY… the basics
Roll the ball to one of the starting points, numbered 1 2 or 3 (we suggest starting with #1) If you can´t find them…. put PERPLEXUS down and slowly back away!
Flip, twist and spin PERPLEXUS to move the ball along the numbered path. When you fall off the track…. cuz it´s gonna happen…. just start over!!!
If you make it to the end, pat yourself on the back… then go get the next PERPLEXUS challenge!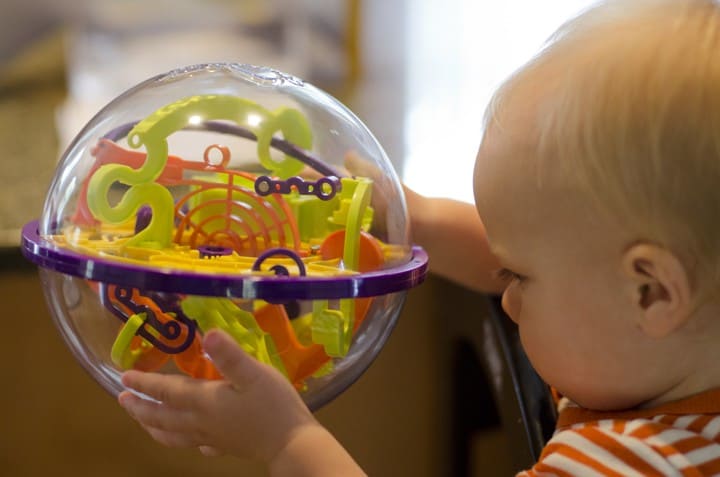 The Perplexus is at the top of my list for holiday gift ideas.  No assembly is required, the game is nice and QUIET, reasonably priced and provides endless entertainment for anyone over the age of 6.  In fact, I am thinking of getting one for my elderly grandparents!  Perplexus offers the maze in the following styles:  Original, Rookie, Epic and Twist.  Get one this holiday season and your entire family will be hooked!
Follow Perplexus on Facebook for the latest information and updates.  Perplexus Original retails for $18.89.  You can find a local vendor here.
"A sample of this product was provided to facilitate my review.  All opinions expressed are my own."