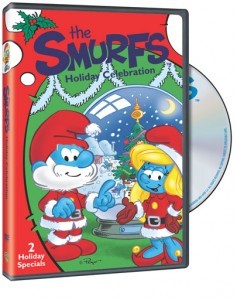 What's more fun than watching Christmas specials?  How about a Smurftastic special?  These 2 stories are sweet, funny and teach a little bit of compassion along the way with all of the usual smurf-capades!!  I love that my kids enjoy watching The Smurfs with me, as does my husband, because we grew up watching them on tv on Saturday mornings (and apparently, I'm old because I remember when cartoons were only ON Saturday mornings!  I find it funny how much humor my kids (and husband) find in what happens to Azrael – I never remember noticing as a child how funny that can be!!  The Smurfs' Holiday Celebration is a disc featuring 2 smurfy Christmas themed shows- available where most DVDs are sold. 
In the Emmy® Award nominated The Smurfs' Christmas Special, the Smurfs encounter two children, Guinevere and William, who have lost their way in the snowy woods after a mysterious stranger prompts their sleigh to turn over. Before reuniting the kids with their family, the Smurfs invite them to their village to enjoy in their annual Christmas celebration which includes gifts, treats, singing and dancing. Thinking Papa Smurf is Santa Claus and the rest of the Smurfs are his Elves, Guinevere and William blissfully partake in the holiday merry making. The mysterious stranger however, still lurks in the woods in hopes of capturing the kids. He goes so far as enticing the evil Gargamel to help him kidnap the two. Will the Smurfs help Guinevere and William reunite with their family?
In 'Tis The Season To Be Smurfy, Grandpa Smurf and Sassette visit a village to witness how human beings celebrate the holidays. While at the village, they are touched by the plight of Gustav, a poor, aging toymaker whose wife Elise is hopelessly ill. Determined to help them, Grandpa and Sassette call on their fellow Smurfs to bring some Christmas cheer into the old couple's lives. Overnight, they lavishly decorate Gustav and Elise's home with a Christmas tree, gifts and treats. The authorities however, accuse the poor couple of having pick-pocketed a villager in order to afford their extravagant feast. Will the Smurfs come to their rescue before the sheriff arrests Gustav on Christmas day?
I received a sample of this product to facilitate my review.  Opinions are my own.
0