Thoughtful Last Minute Father's Day Gift Ideas
Father's Day is sneaking up fast! Did you forget to get a gift, or haven't' had time to something special? Dad doesn't want the finest thing money has to offer; he wants to feel loved on his special day. Here are some thoughtful last minute Father's Day Gift Ideas you can give Dad.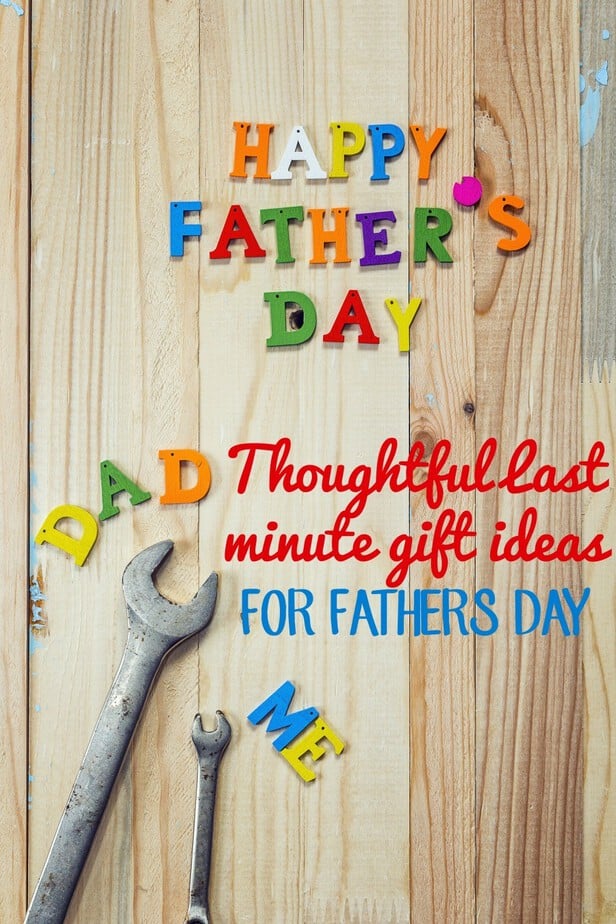 Write a Poem for Dad
Whether you are helping your kids make something for Dad, or you want something thoughtful to give to your dad, poems are great and come from the heart. The great thing about poems is that even if you aren't good at writing, poems can be simple and thoughtful. Here are a few types of simple poems you can do:
• Acrostic Poem: Acrostic poems use the first letter of a word or name for each line of the poem. For example, you could use Dad's name, the word father, love, or dad as an acrostic poem.
• Haiku Poem: A Haiku poem follows a pattern using the syllables in the words. So, you could write Dad a sweet poem using 5 syllables in the first line, 7 syllables in the second line, and then 5 syllables in the last line.
• Cinquain Poem: A Cinquain poem is almost idea for Father's day because it is a poem that uses description to describe a noun. For example, you could start with the noun Dad for the first line; write a description of dad for the second line; an action of dad in the third line; a feeling you have for dad on the fourth line; and then a synonym of Dad such as father for the last line.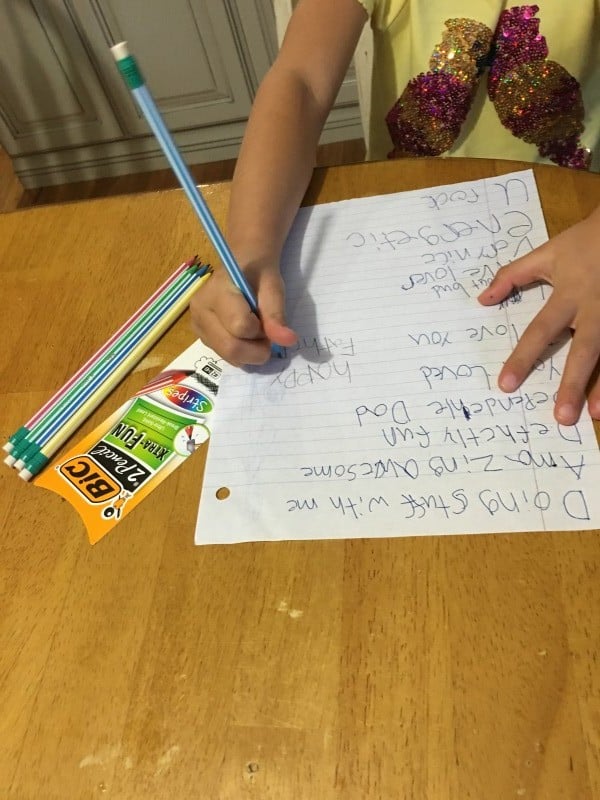 Fight for Your Write with BIC this Father's Day! Show dads how much they're loved with a creative and thoughtful handwritten poem from the kiddos! Not only are handwritten notes the most thoughtful gift out there, but they can have benefits for the writer too! According to experts on educational psychology, handwriting instruction benefits students' cognitive development as well as motor functioning, such as ideation, spelling, grammar and punctuation.* Improving these skillsets can spark educational growth and personal accomplishments.
Whether it is a limerick, rhyme or haiku, the effort and written sentiment will make father's feel special too. All you need is a little time, a BIC pen or pencil and maybe a little help from a rhyming dictionary J Learn more about the benefits of handwriting at BICFightForYourWrite.com.
*Hanover Research (2012). The Importance of Teaching Handwriting in the 21st Century. Washington, DC: Hanover Research
All New BIC® XTRA-Fun #2 Pencils with Stripes
The latest #2 pencils from BIC now come in a variety of bright, two-toned color barrels with stripes!
Features:
· Eight color combinations designed to make handwriting fun!
· #2 pencils with ultra-solid, break-resistant leads that are perfect for test-taking and other school activities
· Durable, long-lasting, latex-free erasers
· PMA certified non-toxic
Suggested retail price: 8-pack: $2.99; 18-pack: $6.99
Make Dad a Coupon Book
Dad isn't just special one day of the year even though he is only celebrated one day a year. Make Dad special on days he needs it by making a coupon book. Each coupon can offer something special for Dad on any day he needs it. Here are a few things you can put in your Father's Day coupon book:
• One free day of weed picking
• One Hug
• One special dinner for dad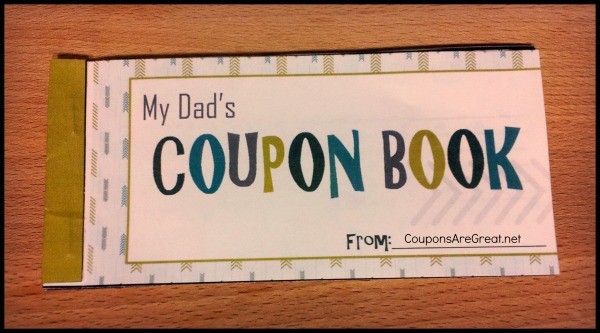 My friend Leandrea has a free printable coupon book for Dad that you can use too!
Frame a Puzzle for Dad
Puzzles are fun for adults and kids, but you don't have to shove it back in the box when you are done with it. Pick a puzzle that Dad would like such as a superhero, his favorite car, or his favorite sports team. Put all the pieces together and glue it with puzzle glue. The glue can dry over-night and be ready for framing the next day!
Give Dad some Help
Most Dads are pretty simple. An act of kindness is all they need to know they are loved on their special day. Give the gift of cleaning the garage, pulling weeds, or washing the car. If Dad doesn't need help on Father's Day, offer to help on another day. Or, better yet, see what needs to be done that Dad usually does and do it before he gets up in the morning.
Make a "Dad" Keychain
Show Dad how special he is every day by making him a thoughtful keychain he can carry with him wherever he goes. You can do this with beads and twine or get crafty with the scrabble pieces. If you want to go the scrabble route, you will need wood glue, an eyelet, and a simple keychain to attach to it. Glue your "Dad" letters together and screw an eyelet through the top letter to attach your keychain.
Making Dad special is number one priority this weekend, so if you have thought of anything, these thoughtful last minute gift ideas are sure to make any Dad proud.
What other thoughtful last minute gift ideas do you have? Share them in the comments below!
Thanks to BIC for sponsoring today's post about thoughtful last minute gift ideas