Parmesan Basil Quinoa Salad
Using quinoa in a cold salad for summer time is a great way to mix it up from the expected pasta salads you always see and still have something similar that is really tasty and the people will love. You can make almost any of your favorite pasta salads into a quinoa one very easily and it adds a great texture to a salad, as well as being gluten free. When I made this salad in particular for family recently, a few of them looked a little skeptical, but once they tried it, it was a huge hit!
This one can be dressed in more than one way, you can do an oil and vinegar mixture yourself, and add the basil right into that, (even put a little lemon juice in it if you have that), or just use your favorite Italian type dressing on it. The Italian tastes great and its super easy to use one you've got in the fridge already, too!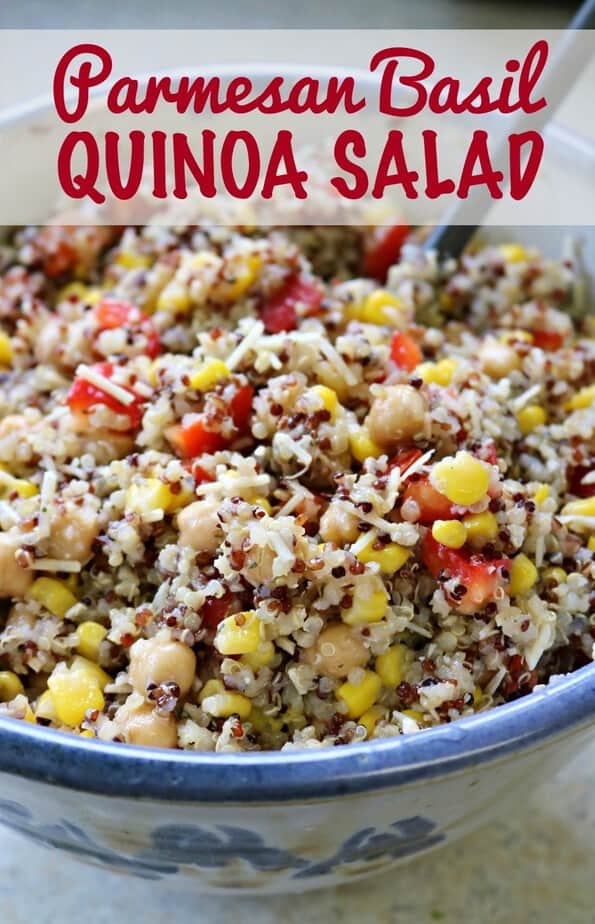 Parmesan Basil Quinoa Salad
Ingredients Needed:
12 ounces quinoa, prepared per package directions
1 small can summer crisp canned corn, or your favorite corn
1 can or small package of chickpeas
1 medium sized red or yellow bell pepper
1 cup finely shredded parmesan cheese
Salt and pepper to taste
Your choice of dressing to taste (approximately half a cup)
2 tbsp. chopped basil (Fresh is my favorite, but any will do!)
Large Mixing/ serving bowl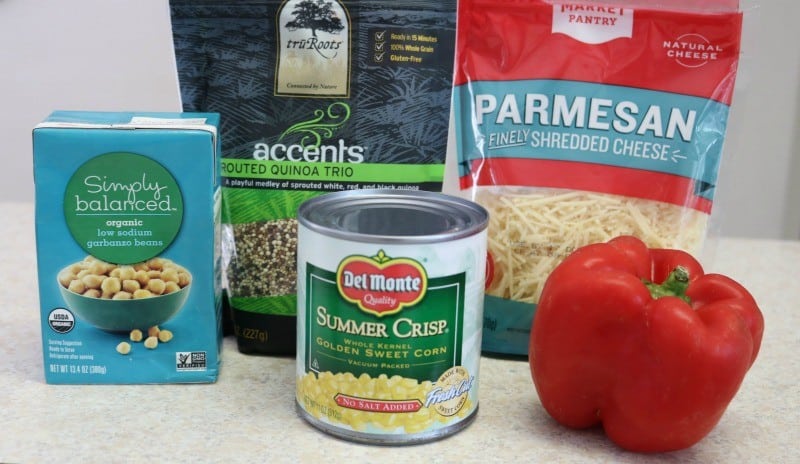 Directions:
Place cooked and covered quinoa in the refrigerator once it has been cooked for at least 30- 40 minutes to allow to cool thoroughly. It can be left longer if needed, until ready to mix and serve the salad. Take out of refrigerator and stir to loosen up and then you will mix your other ingredients right into the bowl, so be sure you have a large enough serving bowl to fit it all.
Drain can of corn and can of chickpeas and add to quinoa.
Measure out basil and add to the salad, unless you are mixing your own oil and vinegar dressing, instead put the basil into that if so.
Finely chop bell pepper and add to salad and lastly add parmesan cheese and mix everything well so that the veggies and chickpeas are dispersed throughout. Just before getting ready to serve, go ahead and add dressing in and mix again.
If you have leftovers of the salad, cover with plastic wrap or lid and just stir well before serving, and test, in case it needs more dressing added. The quinoa may soak some of it up but it does hold up nicely leftover and doesn't tend to get mushy or dried out the way leftover pasta can.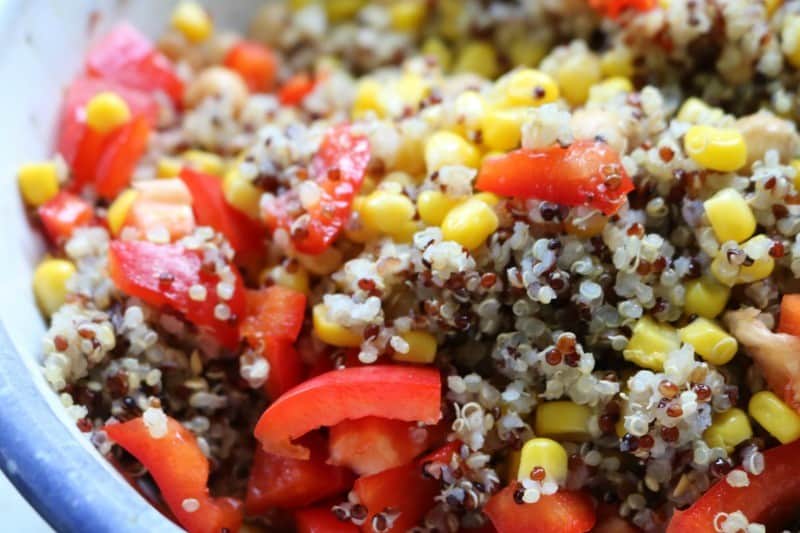 Love quinoa? Try our Multi-Grain Medley Veggie Salad, Enchilada Quinoa Recipe or our Cheesy Broccoli Quinoa!
[mpprecipe-recipe:2167]