Winter is here even if the snow isn't.  Actually, it is finally snowing out today.  The weather has been really strange here for this time of year.  We'll have days of bitter cold and wind with blowing snow followed by days on end of rain and mild temps and then a return of the cold cold.  It's hard on the mood and the little ones.  They want to go outside and play but the weather isn't cooperating.  When it's not raining, it's so cold that their skin becomes so dry and chapped.  The winter weather is even harder for little ones with eczema, something we've been dealing with for a lot of years.  Compensation for this post was provided by Eucerin via MomTrends. The opinions expressed herein are those of the author and are not indicative of the opinions of Eucerin or Momtrends.  We recently tried Eucerin Eczema Relief Flare-Up Treatment and Eczema Relief Body Cream as part of our daily routine for our family's irritated skin. It's really made a difference for me and today I am sharing some tips for easing eczema.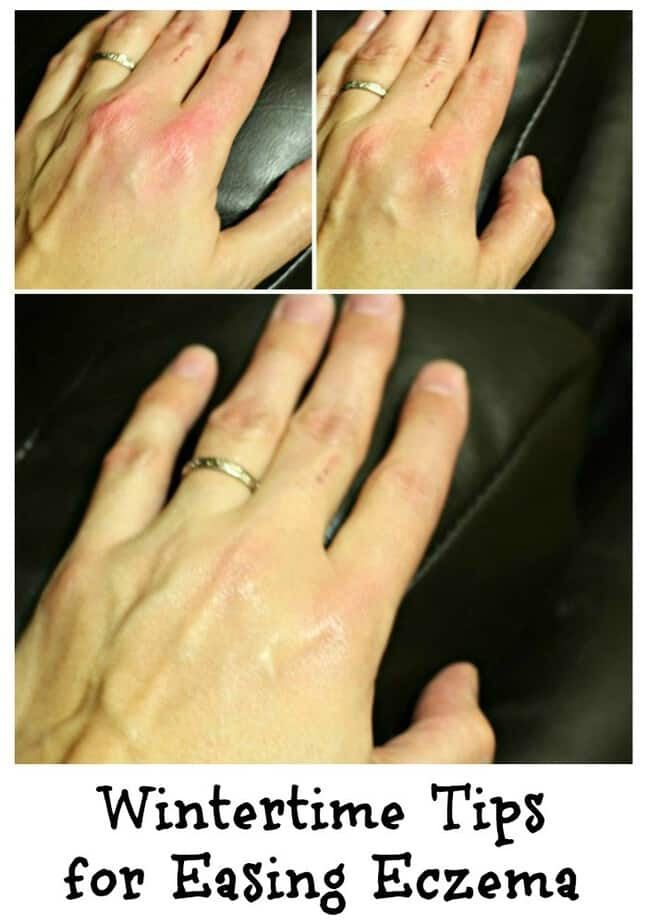 Wintertime Tips for Easing Eczema
Eczema tends to flare up most for our family during the winter, when skin is very dry.  For our littlest who's still getting teeth and drooling more than normal, his skin is especially more prone to flare ups right now.  There are several things we do on a daily basis to keep our skin feeling good through the winter months so we can enjoy activities we love like heading to the water park for a few days over Christmas break.
Moisturize Daily 
I know this seems obvious but if moisturizing doesn't become part of a daily routine it is easy to skip or forget, especially when you're applying creams or moisturizers to young children.  We try to make it part of our routine twice a day.  First in the morning when we are dressing them for the day and second as part of the bedtime routine, either after bath on bath days or as we're getting pajamas on for the night.
Dr. Elizabeth Tanzi, M.D. recommends moisturizing frequently with a fragrance, dye, and steroid free moisturizer like Eucerin Eczema Relief products, and their Baby Eczema Relief for babies and toddlers.  The Eucerin mormulas can be used as many times a day and for as long as needed unlike many prescription creams.  The natural colloidal oatmeal soothes the skin while the ceramide enriched formula helps to bolster the skins protective barrier layer.  The formula is not greasy which is something that is really important to my kids.  They really dislike creams or lotions that leave them greasy especially when they get hot and sweaty at night.
Add Humidity to the Air
The winter months mean the furnace runs a lot and the more the furnace runs the dryer the air becomes.  Dry air, especially when coming inside from the cold, can make eczema so much worse.  Running a humidifier and keeping the indoor temperature at a point that isn't too warm or cold can help prevent skin from becoming even more damaged this time of year.  Dr. Tenzi recommends running a humidifier at night in the bedroom.  Moisturizers work best when the air is humid because the ingredients actually lock hydration against the skin.
Avoid Irritants
Lots of things can trigger skin irritation like laundry soaps, rough scratchy fabrics, smoke (from a fireplace or from someone smoking at a holiday gathering), foods, and pets.  Avoid things you or your children are sensitive to.  Dress babies and young children in comfortable, cotton clothing that's been washed in fragrance and dye free laundry detergent.  Make sure dryer sheets are fragrance free too!
Use Sunscreen
What?!?  Sunscreen is for the beach!  So many of us forget how important it is to protect skin from the sun year round.   The winter sun can damage skin just as easily as the hot summer rays.  Use a sunscreen of at least 30 SPF on all areas that are exposed to the sun (I prefer 50 SPF personally).  Make sure the sunscreen doesn't include ingredients that will cause irritation.
Cover and Protect Skin
Whether it gloves to help cover hands and wrists when outside, scarves to cover the neck and cheeks, or plastic gloves to cover hands when cooking and washing dishes where they are constantly going through a wet/dry state, protecting skin is so important this time of year.  Make sure to take wet gloves, hats, boots, and socks off of kids (or yourself) right away.  Playing in the snow can leave clothing damp and damp clothes are not good for irritated skin causing Eczema flare-ups.
I took a 7 day challenge using Eucerin Eczema Relief Cream and here is what I saw.  The first photo is day 1.  My hands get terrible this time of year with how cold and dry the air is on top of washing my hands so much with all the baking I do.  The 2nd photo is day 3 and the final is day 7.  My hands are noticeably healing and they feel so much better.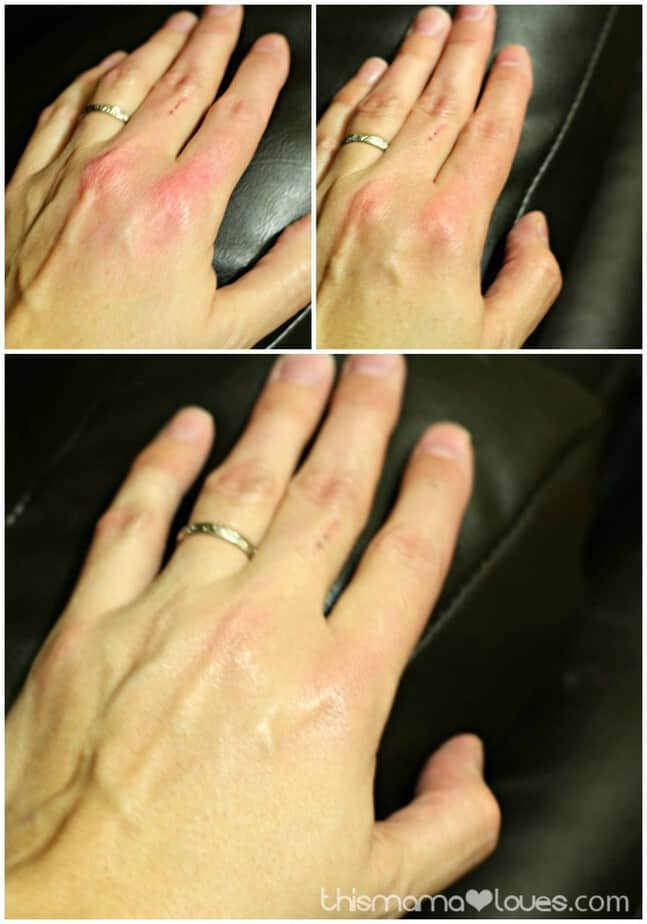 One reader will win a Eucerin prize pack including Eucerin Eczema Relief Flare-up Treatment and Eucerin Eczema Relief Body Creme for adults as well as Eucerin Baby Eczema Relief Body Creme and Eucerin Baby Eczema Relief Flare-up Treatment for babies. Enter on the Giveaway Tools form below.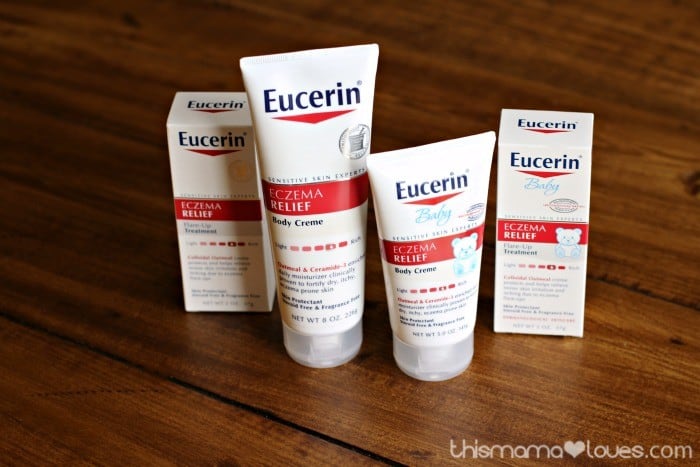 What are your tips for easing eczema?