I remember the days before kids when road trips had a totally different meaning than they do today, with 5 kids in the back two rows of seats.  In my early 20's one of my best friends moved several states away.  We'd leave late in the day, drive all night long listening to loud music to be there by morning.  It was a fun drive then once we got there we'd nap for an hour or two and make the most of the days we had together.  No one needed sleep!  Traveling with 5 kids, 3 of whom are toddlers is not so much fun.  In fact, some drives to the grocery store that's 30 minutes away are too long with them.  The problem is we like to travel, from weekend camping trips to mini vacations a state away to week long road trips, traveling is our family's idea of fun.  So how do we survive Traveling with Kids?  We have a bag of tricks that helps us to keep our sanity.  With these tips and Auto Trader's generous giveaway (see details below), traveling with kids can be less stressful and more fun this holiday season.
Tips for Traveling with Kids
The first thing that makes traveling easier is to make sure you're going to get there.  If your kids are anything like mine, they tend to be pretty OK while the car is moving, but when the car stops anything could happen – they could be fine or it could be a catastrophe.  Planning ahead to make as few stops as possible is important for a smooth trip with our kids.
Gas up ahead of time,
Check your fluid levels (oil, brake and transmission)
Top off your washer fluid.
If it's a long trip, consider an oil change and have them give the brakes, tires and suspension a check.
The second thing that makes travelling easier (and again, safer) is if the driver can focus on the road and the passenger can make sure the driver is awake and aware.  Both of these are harder if you're dealing with backseat drama (not counting backseat drivers).  Singing songs and playing the letter game work in a pinch but tend to get old pretty quickly.  So we plan for the kids to have things to keep them occupied in the back seats.
We like to have the older kids bring a couple of books to help occupy the miles.
Our latest car has a DVD player which is great for the little kids.  We let the older kids have tablets or personal devices like smart phones so usually everyone is happy for the whole trip.  Of course the exception is for potty breaks and agreeing on where to eat.
Keeping the car stocked with everything we might need is next on the list.  With 5 kids and 2 grown ups all with different likes, dislikes, and needs that can be tough.  This tip kind of ties into tip 1 because the fewer stops we have to make the better and if the car is stocked we should need to stop less often for drinks, snacks, and such.
Stock the car with healthy snacks that are easy to eat in the car.  Things like granola bars, fruit snacks, pre-cut fruits and veggies, meat sticks or jerky, and dry cereal are all great ideas.  We try to keep mess as minimal as possible so we keep individual snack bowls in the car for everyone.  Having snacks that everyone likes means happier travelers.
Stock the car with drinks for everyone and refills.  We make sure everyone has their water bottles and we bring along big bottles of water to refill as needed.  While we don't want to have to stop to pee every 30 minutes, staying hydrated while traveling is important.
Keep wet wipes, tissues, napkins, and such on hand and within close reach.  Snacks, snotty noses, and such can mean messes so having these things on hand mean less stops for clean up.
Sometimes watching movies, reading books, and playing on the tablet can get boring if the trip is too long.  Add some crayons, coloring books, note pads, and similar items to a tote to keep the kids busy.
One of the most important things for us when it comes to road trips is staying organized.  Whether it's what we pack and how, the snacks on hand, trash bags for trash as you have it, things for the kids to do, or maps & directions or reservations that we need for getting where we are going, organized travel is so important.
In addition to our tips, Autotrader has 7 Clever Hacks for Driving with Kids that can also help keep you sane on the road.  Don't forget to enter the giveaway for some great items that will make Traveling with Kids easier this holiday season including a charger, $25 Visa gift card, tote, seat back organizer, a selfie stick, a First Aid Kit, Single-use Wet Wipes, and snacks.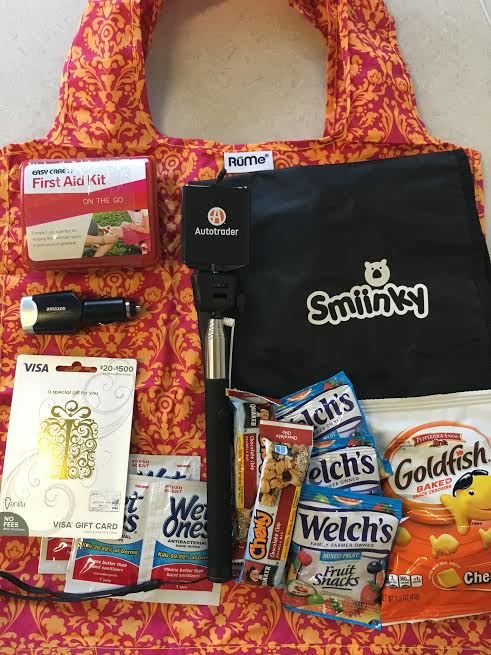 Tell us your travel plans this holiday season!