This is a sponsored post written by me on behalf of Happy Family Products for IZEA. All opinions are 100% mine.
Tips to Surviving the Holidays with a Baby
Being a parent can be so overwhelming, especially when it happens for the first time. Kids do not come with an instruction book, so when they get fussy or cry, it is hard to know what to do. It is even harder when you add the stress of the holidays with a new baby and that is a recipe for disaster! I know because I have known the stress of having a little one during the jolliest time of the year and it was tough! You want to enjoy your new bundle of joy while at the same time, enjoy the togetherness of this happy time of year. If you have a wee one at home, you may be better prepared with these helpful ideas.  My little guy was so easily overwhelmed and overstimulated in the early years… holidays were tough for him at times. We almost always found him wandering off into my sister's kitchen and into her tupperware cabinet- it was familiar and I think just a way for him to kind of zone out and forget the sounds, people and general excitement of the holidays. Kids all respond differently to holiday events and activities, and we need to keep that in mind to help make things go as smoothly as possible.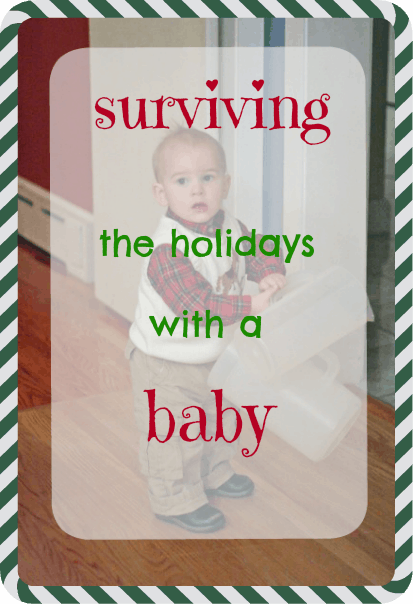 Keep Guests To A Minimum: A young child is super susceptible to germs, so keeping the number of people around them is crucial. The last thing you want during the holiday season is to have a sick little one on your hands.
Keep Commitments Down: Learn to say no! The fewer parties and get-togethers you oblige yourself to, the lower yours and your babies stress level will be. Remember, babies pick up on that stress and get awfully fussy!
Shop Online: With many major retailers and smaller businesses offering great deals and free shipping, you can do virtually all of your shopping online. Who wants to take a little one to the mall at this time of year?
Limit Travel Time: If at all possible, postpone or cancel any long distance traveling you may have. Invite those friends and relatives to come to you instead. You also don't have to have get togethers ON the holiday itself.  Why not spread it out- it'll be easier on your little one and make the celebrations last longer!
Be Food Smart: You and your baby need to eat healthy, especially at this time of year when healthy foods are not always available. Whenever possible, plan ahead and stock up on nutritious foods for your baby from Happy Family, the home of organic superfoods.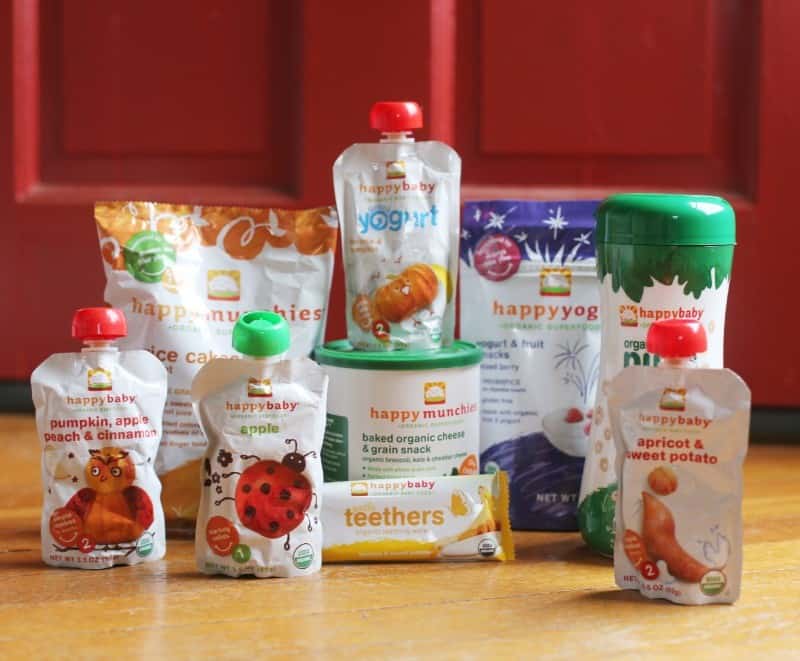 Happy Family, is a company founded and operated by moms for moms. Launching on Mother's Day 2006, Happy Family dedicated themselves to offering premium organic food while delivering optimal nutrition for the entire family. If you want to set your baby up for a healthy future, you need to start them out eating the right nutrition. The organic foods from Happy Family will get your baby's palate off to a good start and are made with busy moms. Happy Family offers your baby's first cereal made with probiotics for a healthy digestive system and is the only organic cereal that contains DHA and Choline which supports brain and eye health.
Visit the Happy Family website to learn about organic baby and toddler food.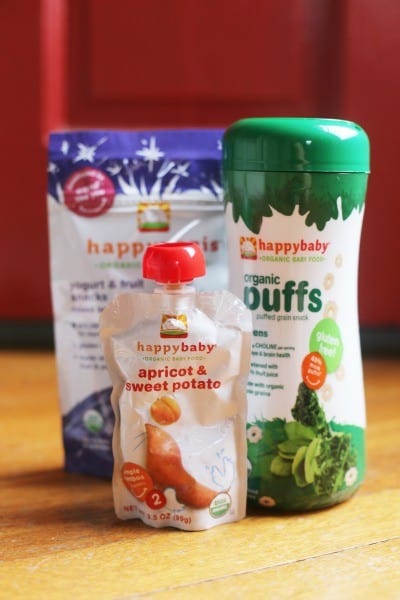 You can also find a ton of yummy foods for baby like squeezable solids and yogurts to melt in their mouth finger foods which help with baby's tactile development. There are also foods for your toddler and older child which are perfect to take when you are on the go and still want to eat healthy. The Happy Family line will help your family stick to your healthy eating routines during this busy holiday season as well as all year round. Join Happy Family on Facebook and enter to win during December's #TistheSqueezin giveaways!. The #TistheSqueezin giveaway is open through December 25th.
Enjoy a $1 off coupon for Happy Family baby food pouches
 What are your tips for surviving the holidays with a baby?