This post brought to you by Great Clubs. The content and opinions expressed below are that of this mama loves.
Five Great Gift Ideas for Beer Lovers
Are you a beer drinker? Beer is a beverage that can be enjoyed by everyone from the president of your company to the plumber who is fixing your kitchen sink. There is something to be said about sitting down after a long day's work and enjoying a cold and frothy beer with your friends. Throw in a game on the big screen with your favorite team playing and you are in nirvana! So, if you are a beer drinker, do you consider yourself a casual drinker or a connoisseur? A casual drinker may head to the convenience store for a 12 pack of their favorite brew while the connoisseur knows everything there is to know about the 78 types of beers and the 1,400 breweries who make them. If this sounds familiar and you are hard pressed to figure out what to get that beer over on your list, here are a few ideas:
Personalized Beer Stein: A serious beer drinker needs a serious stein to drink from. A nice etched glass or pewter stein with their name or initials is a great gift for beer lovers.
Specialty Glasses: For the uber serious beer drinker, consider buying them a stout, lager, pilsner, yard or wheat beer glass.
Insulated Beer Growler: Keep your beer nice and cold in this cool handheld beer cooler.
Stainless Steel Cooler: When you are tailgating or playing basketball at the local park, the serious beer drinker has a stainless steel cooler to keep their beer ice cold.
Beer of the Month Club: This option is super cool because both the casual or seasoned beer drinker will get to try different beers each month. With Clubs of America, you get great beer at a great price, delivered right to your door.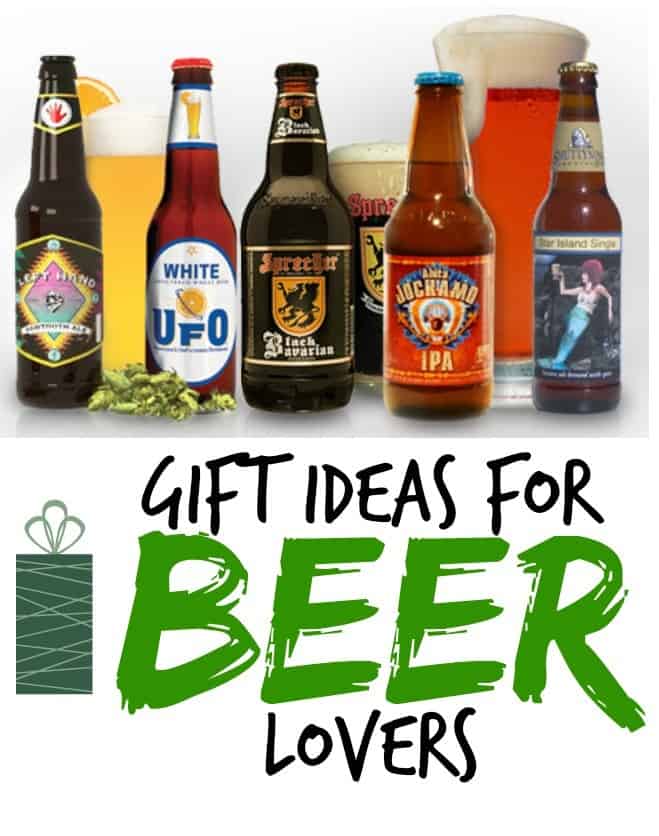 You may already know Clubs of America for their 7 additional clubs of the month : Wine, flower, fruit, cigar, coffee, chocolate, pizza. To add to their delightfully clever and top notch quality clubs, is their Microbrewery Beer of the Month club. With prices starting at just $39.95 per month, your gift recipient will receive a 12-pack of four styles of craft beer every month, along with a monthly newsletter, Beer Expeditions, and all with free shipping and your satisfaction is 100% guaranteed! You can sign up from one month to 12 months or just keep the beer coming until you decide to cancel.
In 1994, Doug and Dirk Doretti knew microbreweries were beginning to catch on with the American public, not only were these local brewmasters passionate about their craft, but they were producing the best beers in the country. So they thought, why not a Beer of the Month Club? Now this idea has caught on and the Clubs of America Beer of the Month Club is a huge hit.
This club is a great gift for the guys on your holiday gift list. If you order now, you will get free shipping during December as well as $10 off of 6 months or $25 off 12 months using the code "Discount1."