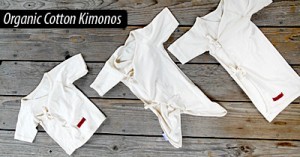 Is there anything sweeter than a new baby in nothing but a diaper and a t-shirt? That's how I like to dress my little ones in the beginning. Not only is it comfo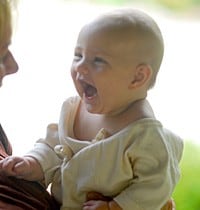 rtable for the baby, but it makes for easy diaper changes. That's why I just love the idea of the organic cotton baby kimono by Tomo & Edie. All of their kimonos are made with 100% organic unbleached cotton. This is a product that you can feel good about putting next to your baby's skin. They even take the care to sew all the seams of the garment on the outside, so as not to irritate delicate skin. The garment is make to be loose fitting, so that it is easy to put on, but also does not irritate the umbilical cord. The kimono's are available in a short, long and combination style. In addition to the unbleached cotton designs, they also offer the kimono in Kusakizome (a Japanese tie dye type technique). The dyes are made from natural ingredients such as tea leaves and flowers. The colors are gorgeous too, ranging from a clay color to a deep rich purple.
I don't have a little one to try my Kimono on yet, but I am so excited to try it out. I ordered the short style and am very impressed with the quality of the sewing. The inside of the kimono feels so nice and smooth, with all the seams and tags on the outside. Why hasn't someone thought of this before? The garment is pretty straightforward, it has two ties, kind of like a hospital johnny. First you tie the inside, then the outside so the tag ends up on the outside. I like any clothing that doesn't need to be put over a new babies head (yes, even the third time around I'm still a nervous nelly). The kimono is also generously sized and should last at least until 3-6 months. For lounging around the house and cuddling, I can't think of anything more comfortable for baby, and convenient for mom and dad. The combination style could easily be worn out in cooler weather. You will not be disappointed in the quality or comfort of this item.
If you would like to try out your very own baby kimono you're in luck! Tomo and Edie has generously offered a discount to our readers. Just enter "mamalovesherbargains" for 20% your purchase at checkout.
I received a sample of this product to facilitate my review. Opinions expressed within are my own.
[ad#glam between posts][ad#glam between posts]
[ad#glam between posts]
0