We celebrate the 4th of July big in our family.  It's the holiday my children look forward to most out of the whole year I think.  The day is spent gathering together with family, swimming in grandma and grandpa's lake, eating too much food, playing in the sand, and at dark watching fireworks over the lake.  It's a day filled with traditions like paper bag lanterns along the lake shore and all the kids in patriotic t-shirts for a group photo on my parent's back patio.  Love, laughter, and campfire smoke fills the air.  Food is a big part of our annual 4th of July celebration.  This year I'm taking my Patriotic Triple Berry Layer Cake.  The whipped filling and fresh fruit makes it a family favorite!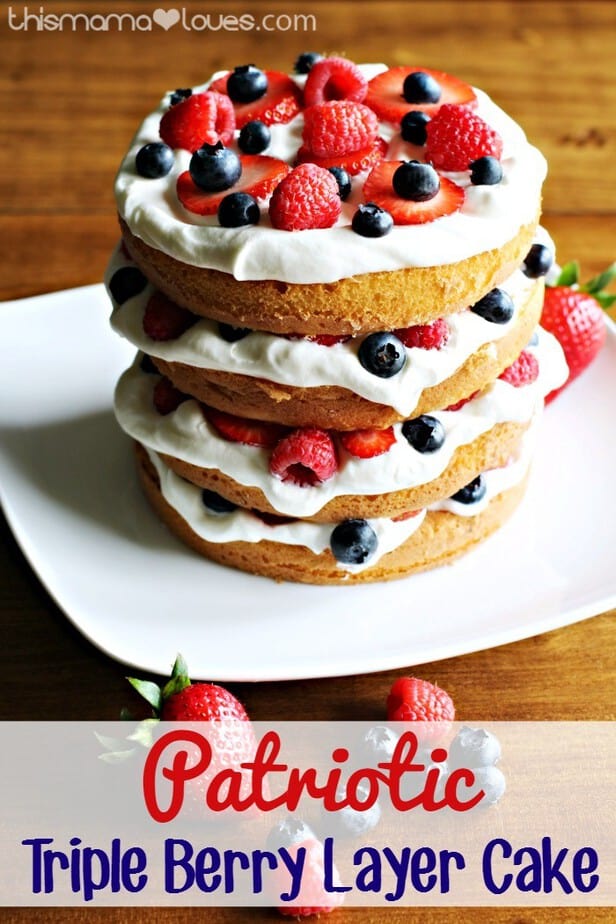 Patriotic Triple Berry Layer Cake
Cake Ingredients:
Makes 4 6″ layers
3 cups cake flour – sifted
3 tsp baking powder
1/2 tsp salt
1/2 cup shortening
1 1/2 cup raw sugar
1 tsp real vanilla
1 cup milk
4 egg whites
Filling/Topping Ingredients:
1 1/2 cups heavy whipping cream
1/4 cup powdered sugar
Berries:
Blueberries
Raspberries
Strawberries
other berries as desired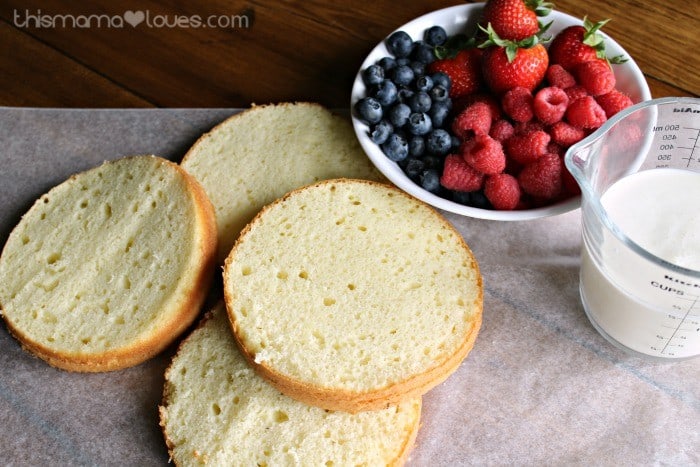 Cake Instructions:
Preheat the oven to 350 degrees.
Prepare cake pans for baking by greasing with shortening and lightly dusting with flour.
Sift together cake flour, baking powder, and salt.
In a separate bowl cream together the shortening with the sugar and vanilla until fluffy.
Add the dry ingredients and milk in small amounts to the shortening and sugar, beating well after each addition.
In a separate bowl beat egg whites until they are stiff.  Once stiff fold them into the batter.
Pour the batter into the baking pans and bake in preheated oven for 30-35 minutes or until cake pick comes out clean when inserted into center.
Remove from oven and allow to cool in pan for 10-15 minutes before turning out to cool the rest of the way.
Filling Instructions:
In the bowl of a stand mixer combine the heavy whipping cream and the powdered sugar.  Whip on high until a thick, fluffy whipped cream forms.
Assembling Instructions:
Once the cakes have cooled completely, carefully level them with a sharp knife or cake leveling tool.
Place the first layer on your cake plate and cover with the whipped topping.
Add a combination of sliced and whole berries.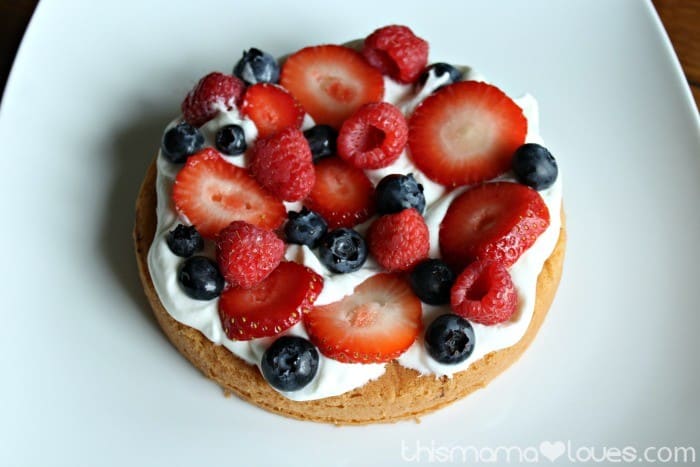 Add the next layer and repeat.  Continue layering cake, whipped topping, and berries until you've used all of your cake layers and topping.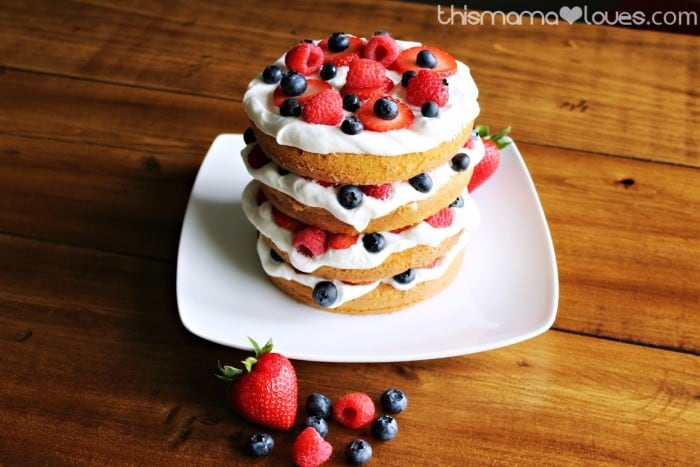 I made this cake using 6″ rounds and made a bit taller cake but you could use an 8″ pan and make the overall height of the cake shorter with fewer layers.  It's all up to you!
This cake is not just great for 4th of July, it's perfect for the upcoming Memorial Day Weekend too!