This post about the Top Five Summer Window Treatment Ideas is brought to you by our friends at Budget Blinds.com.
With the official beginning of summer only days away on June 21st, there are months of beautiful weather to take advantage of and enjoy. The solstice is just days away and with it come the longest, brightest, and hottest days of the year in the Northern Hemisphere. To get your home prepared for summer Budget Blinds has provided the top five window treatment ideas for summer style.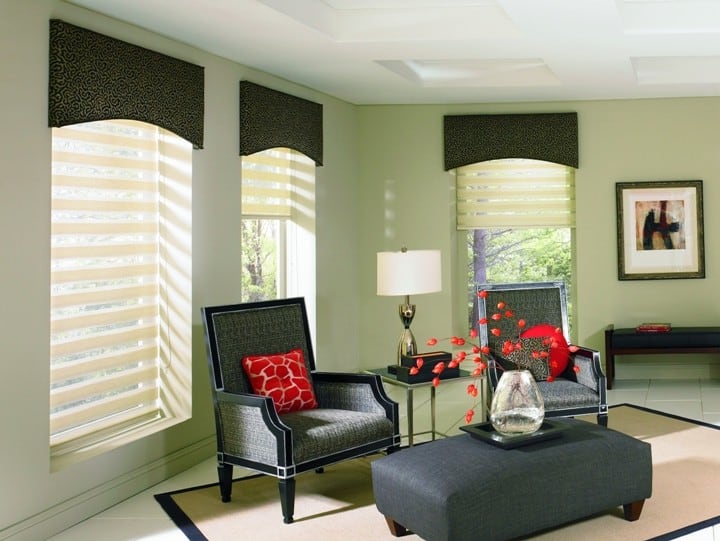 Elite Roman shades

Half Roman shade, half pleated shade, this unique window treatment has the elegant look of Roman shades with a vast selection of styles and fabrics that come with the insulating qualities of pleated shades.

Sheer pleated shades

Wood blinds

Wood blinds are always found on any list that deals with best window treatment ideas because of their classic beauty and their ability to complement virtually any décor. Available in real or faux wood, these blinds come in hundreds of paints, stains, and finishes to create the unique look you seek and their ability to block sunlight is a major factor in making these one of the best summer treatments.

Wood cornices

Although they aren't technically a window covering, wood cornices are the perfect accessory to just about any window treatment ideas you may have. They will dress up your window coverings and make any plain covering look like a masterpiece while enhancing the overall design aesthetic of your home. Wood cornices are available in a variety of styles, paint stains, and finishes to suit every homeowner's specific needs.

Window film

During the hot and sweaty summer months window film can not only increase the appeal of your home from the exterior, but it increases the comfort level of the interior. By cutting the glare and reflecting heat from the windows, window tinting and film reduces the amount of heat absorbed by your windows, thus creating a cooler atmosphere inside. Not only is window film great for keeping you comfortable, but it will also help to lower your utility bill because a cooler house means less use of the air conditioner. The less you use your appliances to keep you cool, the more money will be saved in the end!
Window film used in conjunction with another treatment will provide you with next level heat blocking capabilities and you should always look into the best ways to save as much energy as possible when combining window treatments. Take some time to think about what heat-reducing solution will work best in your home and give the specialists at your local Budget Blinds a call today.