We do a lot of gardening with our kids, but most of it happens outdoors. The kids are always asking for some plants in the house- and specifically, in their rooms, so I decided this week in honor of Miracle-Gro's The Gro Project, we would make a "Toyrarium" custom for our house.  We've done terrariums before, but the idea of using favorite toys really just struck a chord with me and we went with it. This post brought to you by Miracle-Gro. All opinions are 100% mine.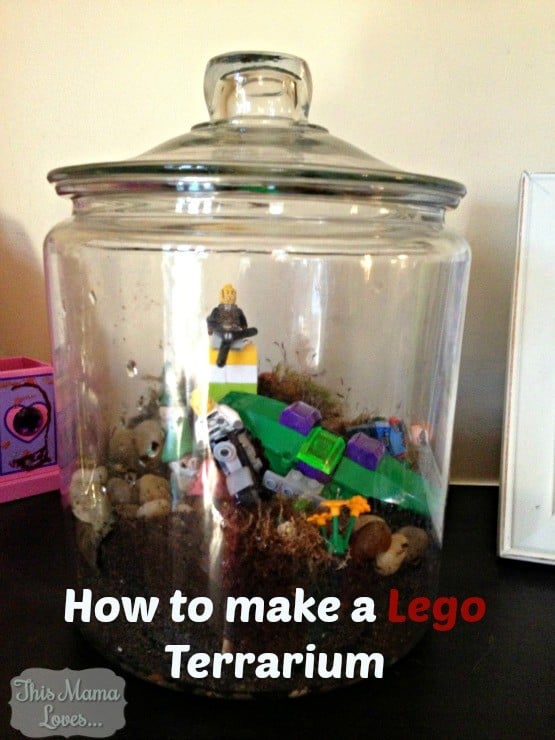 What you need to make a Lego Terrarium
glass jar or bowl (this can be large, medium or small, something you buy, something you have around the house.  It really doesn't matter!!  Be creative and have FUN)
Miracle-Gro Moisture Control Potting Mix
Spoon or small sized measuring cup
small rocks or pebbles
Small plants and/or moss
Small toys
To make your Lego Terrarium
Spread a layer of rocks at the bottom of your bowl/jar
Place your Miracle-Gro Moisture Control Potting Mix on top of the rocks/pebbles (you want the jar or bowl to be about 2/5 full before adding your toys and plants)
Add your plants– have fun with this.  Succulents are a great choice, I just happened to have some moss and other plants left from terrariums we've done before so we used that- the kids want to add two succulents this week, I'm told)
Add some toys here and there– kids will have a LOT of fun with this!
Add some pebbles/rocks around the plantings and toys
Mist the plants and Lego Terrarium well and….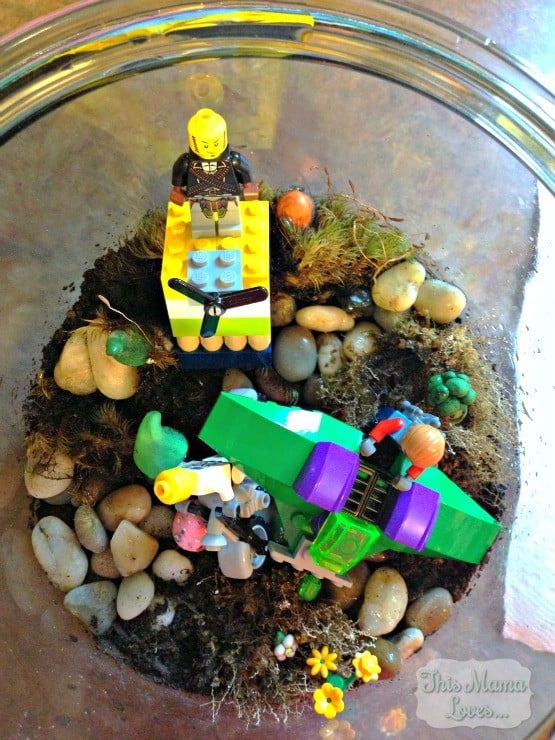 VOILA!  A Lego Terrarium.  You just did a gardening project with your child, in under an hour, with very low maintenance and something that will make them want to care for and enjoy watching it grow.
Can you guess who's Lego minifigures and creations are in THIS terrarium? You have to love a 5 1/2 year old's thinking!  We have a whole huge and long story about how the Lego "guys" were flying in a ship and crashed in a planet and don't know where they are….
Be sure to check out Miracle-Gro online to access their expansive library of articles and videos full of expert gardening tips for beginners and professionals alike as well as online tools to help growers solve common garden problems and find the right products to help you keep a healthy and beautiful garden.
The Miracle-Gro Pinterest board also has lots of fun garden projects for kids of all ages using both the Miracle-Gro Moisture Control Potting Mix and LiquaFeed All Purpose Plant Food Advance Starter Kit

Do you garden with your children?  What kinds of projects have you done with them?