Tween Skin Care Routine: Teaching your tween the importance of skin care
This post was sponsored by Johnson & Johnson and I received complimentary
products to facilitate my post. I am disclosing this in accordance with the
Federal Trade Commissions (FTC) guidelines concerning the use of
endorsements and testimonials in advertising. All thoughts and opinions are
my own.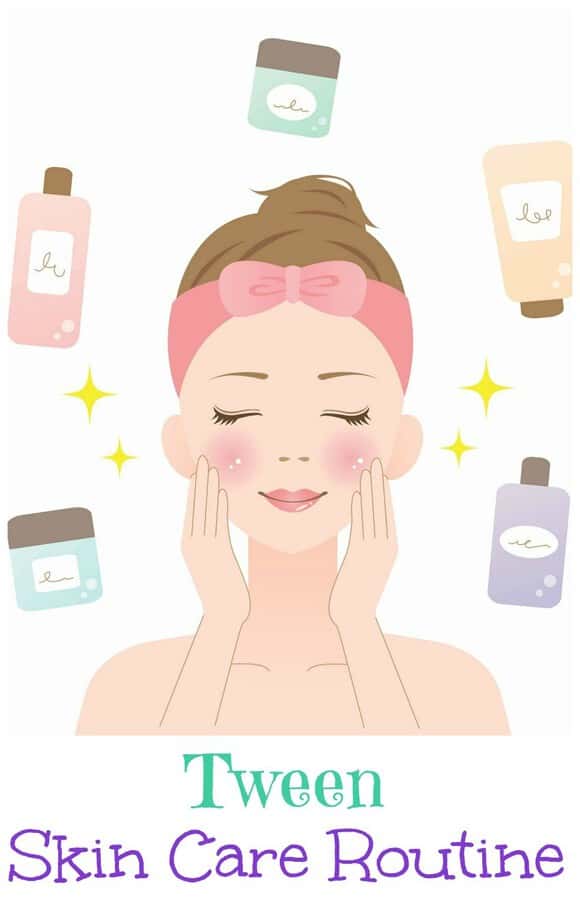 My oldest is a full fledged tweenager now. She's got the fierce desire for independence one minute, and is still our little girl the next. Along with the tween age, she's also begun middle school, and the hormones are changing seemingly daily. One of the first things I did when I noticed she was starting to show signs of puberty and an influx of hormones was to sit her down and have a talk about learning to take care of her skin.
Of course, I'm MOM, and some days I know it all and other days I know nothing, and the day we had that talk? I knew nothing. So my suggestions and tips fell on deaf ears. Fast forward to an actual pimple on one tween chin and we had an eager to learn tween asking for skin care help.
I remember my first pimple. Also the second, third and fourth. Sometime after, I lost count. At 42, I still get them! So annoying! But with a good skin care routine, I learned quickly as a tween that taking care of my skin and doing a routine each day would help to not get so many pimples. Lucky for me I had 3 older sisters to help guide me in my product purchasing, because my mom worked full time as an attorney and generally would just grab whatever from the shelves. Sometimes that worked out just fine, when mom shopped. Other times? Not so much. Not all products are created equal!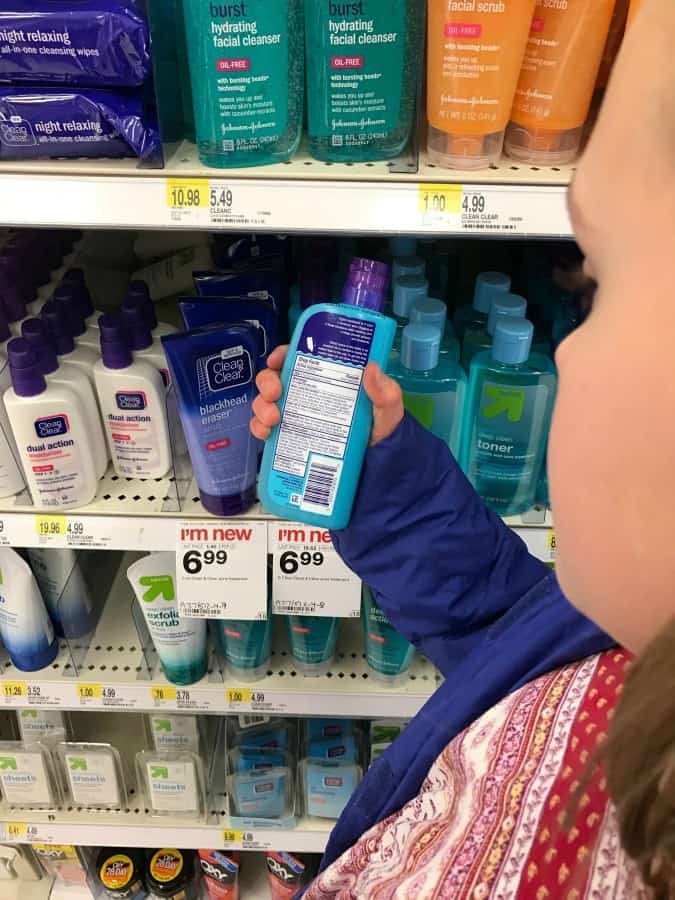 The best way to teach my girl was to take her shopping and talk with her about different products, what their purpose is, which might work better for her skin vs. my skin at 42. Plus, shopping is fun for us and I figured if she was feeling at all awkward about the conversation that the activity of shopping and looking at packaging would help to kind of offset that feeling. I think she was ok with it- we've worked really hard to be open with the kids and talk to them about things that they can maybe expect with their bodies. Honestly, I think the deoderant talk of 2013 was far more awkward for both of us! Bonus for me is that her current focus is when can she start wearing mascara and blush, so skincare was kind of a walk in the park!
I picked my girl up after school and we headed over to Target to stock up on some must-have tween skin care products. I was happy to see that Clean & Clear is still around- that's what I used as a teen, and actually still use a spot treatment for pimples from Clean & Clear! I needed a few things for myself, so having a fun little mom and tween shopping outing was just the thing.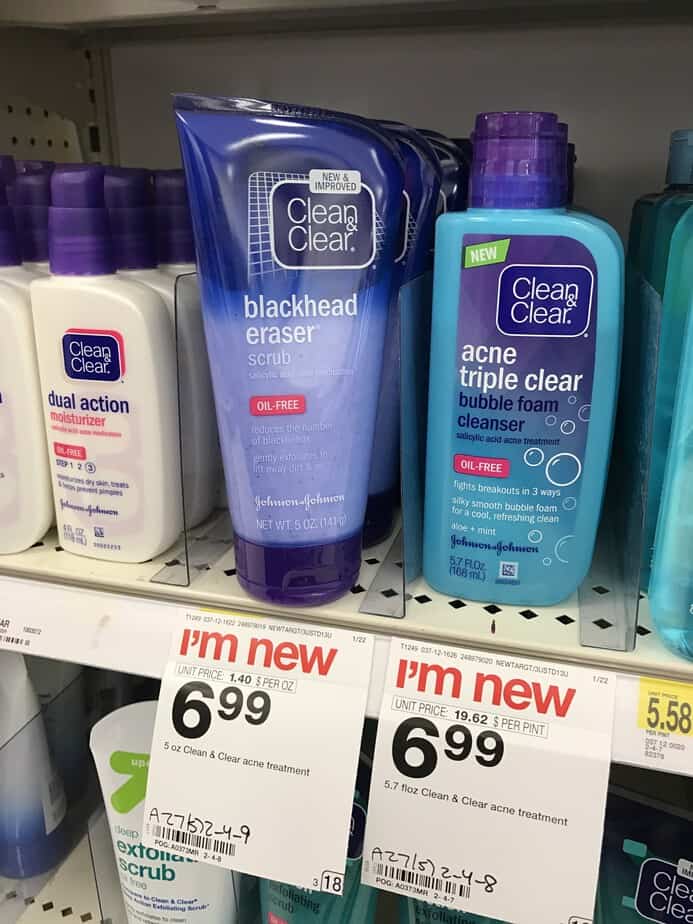 What we talked about for tween skin care was the importance of cleansing the skin and also moisturizing it afterwards. Also, that these steps need to be done not once a day but twice- when you wake up and again before you go to sleep for the night. We did discuss additional products like exfoliating scrubs but decided we'd stick to basics for now and add things as needed. I believe the earlier you start a good skin care regime, the better, so getting her into one at 11 will hopefully set the stage for her to keep that gorgeous skin as healthy as can be!
What she chose for her tween skin care routine:
Clean & Clear Triple Clear Bubble Foam Cleanser — This triple action daily cleanser fights pimples by removing pore-clogging oil, treating breakouts while soothing skin with its aloe and mint formula, and helping to prevent future breakouts. The cleanser dispenses upside down and comes out nice and foamy for easy use. She loved that it comes out foamy. I love that it's a brand I know and its available where we shop already!
A good skin care routine always includes a moisturizer, and we grabbed Clean & Clear® Dual Action Moisturizer for her to apply each morning and evening.
We also grabbed a pack of Clean & Clear® Night Relaxing All-in-One Cleansing Wipes– 25 Ct. We both thought these would be good for her to keep in her gymnastics bag, to wash her face after meets, or at sleepovers.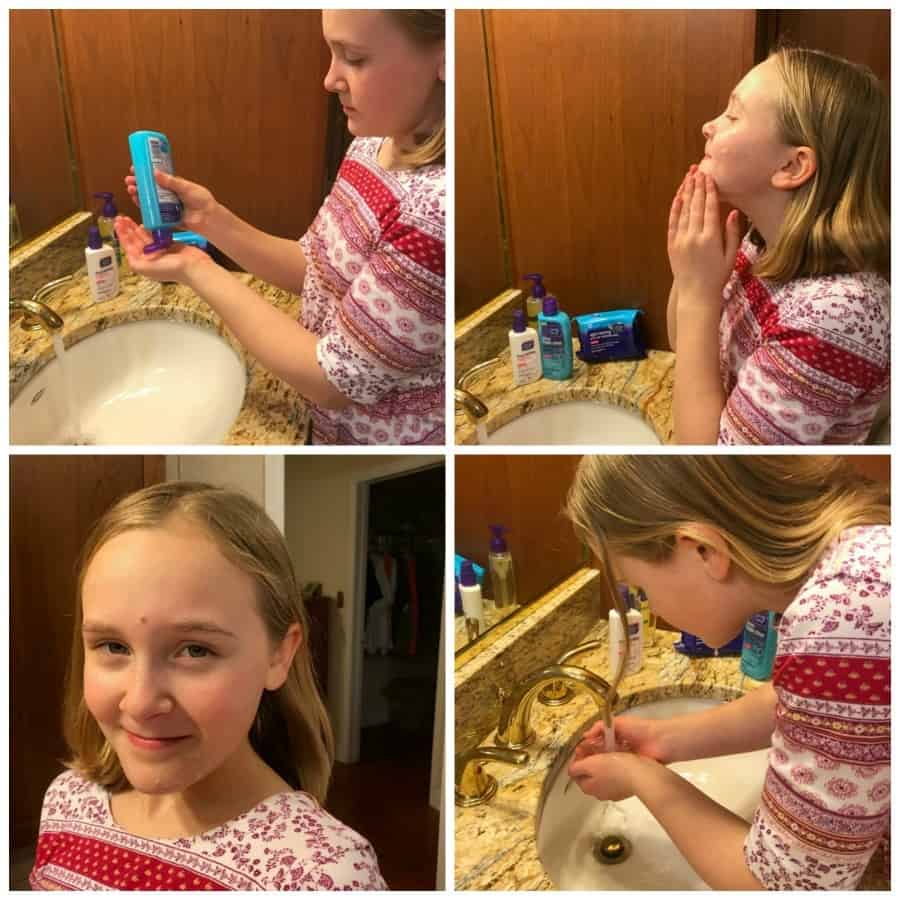 As she gets used to her skin care routine and has any changes in her skin or wants something like a scrub, we'll head back to Target (like we need an excuse, but yay! for reasons) and pick up the Clean & Clear® Triple Clear Exfoliating Scrub. I remember all too well how my skin care needs changed during my tween and teen years, and I want to be sure she's got what she needs in the bathroom closet to help keep her skin looking its best.
Since I am a little fun, and do let her do a little lip gloss every so often, I did grab a Neutrogena® Hydro Boost Lip Shine 60 for my girl. She was delighted to have a new gloss, and can't wait to wear it to the Someone Special & Me dance on Friday night! This non-sticky lip shine pairs the vibrant color of a lipstick with the shine of a gloss and the conditioning effects of a lip balm. This one's available in 8 shades- we'd hoped for Vibrant Raspberry but they were sold out and we went with a Frosted Coral instead.
Target has just begun a GREAT in-store
promo on skincare essentials
from Neutrogena, Aveeno and Clean & Clear and they will be available through March of 2017! Be sure to download Target's Cartwheel app to take advantage of the Aveeno and Clean & Clear discounts.
Neutrogena – Buy 3, get $5 Target gift card
Aveeno – 5% off on Cartwheel
Clean & Clear – 5% off on Cartwheel
I was pretty happy I also found some fun new products for ME to use, especially with the promos running!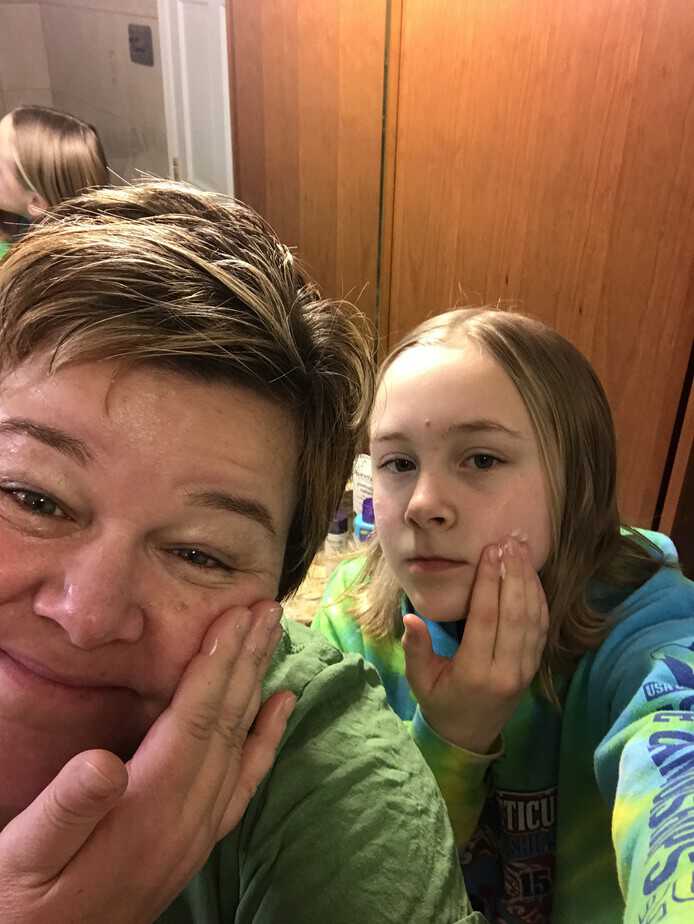 Hydro Boost Concealer 20 Light- Leave your skin feeling hydrated all day while minimizing the look of imperfections with Neutrogena® Hydro Boost Hydrating Concealer. Containing hyaluronic acid, this concealer works to leave skin feeling quenched. It applies flawlessly and is available in five blendable shades to designed to match multiple skin tones. This lightweight concealer is non-greasy, oil-free, and non-comedogenic.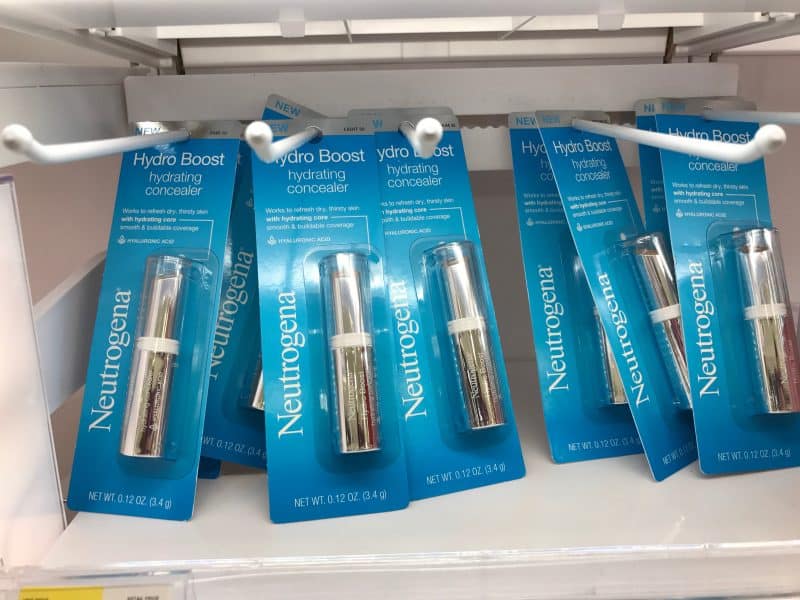 Neutrogena® Hydro Boost Liquid Makeup – I've been searching a while for something that will help to hydrate my face that gets so, so dry in the winter months. Plump your skin, boost hydration, and even the look of your complexion with Neutrogena® Hydro Boost Hydrating Tint. Better for your skin than wearing no foundation at all, this face makeup, with hyaluronic acid, quenches skin for 24 hours. The weightless hydration-infused formula is oil-free and non-comedogenic, which means it won't clog pores. This foundation for dry skin is available in 10 blendable makeup shades.
Aveeno® Positively Radiant 60 Second In-Shower Facial Cleanser– This one I got because the heat of the shower works WITH the product and I love that. I'm really excited to shower tomorrow! New AVEENO® ACTIVE NATURALS® POSITIVELY RADIANT® 60 Second In-Shower Facial reveals healthy, glowing skin 4x faster than at home masks and peels*. This oil-free facial treatment works with the steam of your shower to deeply but gently exfoliate all traces of dirt, oil, and dead skin. The non-comedogenic cleanser is formulated with ACTIVE NATURALS® Soy and lemon peel extracts that transform dull, tired-looking skin into brighter, more naturally radiant, and velvety soft skin in just one minute.
What are your suggestions for tween skin care routines?
This is a sponsored post about tween skin care routines written by me on behalf of Johnson & Johnson.