Earlier this week, I noticed a bald spot on my almost 5 year old son's head.  His friend had pulled his hair the day before…there wasn't even mention of it to me, or his friends mom.  It was kind of matter of fact.  Right after I took this photo, my little guy looked up at me and asked me if I could glue his hair back in tomorrow.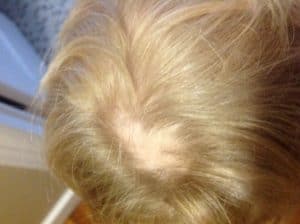 My mama instinct kicked into overdrive.  It made no sense to me that a 6 year old could pull that much hair out and leave no marks, none at all- or that there was no pain when it happened.  My oldest had actually come to me earlier in the day with her hand full of hair and it looked like cut hair.  I thought (wrongly) that someone had cut her hair- or that she'd cut her own.  No skin, no blood. It didn't make sense. The spot on his head was smooth, not at all red or irritated…the skin is a slightly different color than the rest of his scalp…but it sure didn't look to me like any trauma had occurred.
I sent this image to my sister and one friend.  They agreed with me that this just did not seem like hi friend pulled his hair out.  I couldn't figure out how it was possible…something didn't click. Within minutes my sister (who is a licensed cosmetologist by trade) introduced two new words into my vocabulary.
The images came up.  The description.  I kept seeing bald and hair loss and suddenly I really just wanted to call my mom.  Really would have loved to hear her thoughts on this.  Many, many tears were shed that night.  
First thing the next morning I called the pediatrician.  They got him in as soon as possible. It took the doctor a few seconds to use those same two words.  Alopecia Areata.  I'm going to do an exam, she said, but I think that's what it is.  You'll need to see  a pediatric dermatologist for some testing and treatment, and some counseling.  I have a list of names…
Do you know that getting an appointment with a dermatologist is really hard?  I wanted to go RIGHT then.
My baby boy – I just want to know he's ok, that this isn't something more…I read that it's an autoimmune disorder, I just want to be sure it's only this and not more.    Can't someone just squeeze us in today, right now?  I'm floundering here, I may not look it but it's taking every ounce of my strength to hold these tears in and not let my boy see his mama upset.  
I think I called 37 phone numbers.  Some offices had more than one, so I tried both options.  Not until the end of November, some said.  We're not taking on new patients, was what many others said.  Finally I got someone who stopped to listen to what I was saying.  My son- they said he has this thing, and we don't know much about it…we don't want to wait 5 months to find out more…that's a long time, he's not even 5 yet.  Do you know where we can bring him, that has an opening?
She found a cancellation.  We're going July 23 at 1:30.  (For those of you taking stalker notes, there will be an adult here with the other kids, so don't be all Oh! They won't be home.  This mama doesn't mess with naptime).
Writing that appointment on the calendar felt great.  I shifted gears.  There's not much I can do at this point.  I'm a mom, I have 3 kids, they are all kinds of awesome, each talented in their own way.  One of them has a bald spot. He may get more.  He may never have one again.   I can't do anything about it, there's no cure, no magical potion…so I'll start educating myself.  Maybe I can help erase some of the stigma that comes hand in hand with hair loss and baldness.  I can also most definitely find some awesome and cool hats for my little dude to wear, with one bald spot or one spot of hair.
I have nervous energy about this whole situation and I have to channel it somehow, right?
 Are you here looking for some fun BABY prizes?  Head here next!!
To be continued…(continued here)