Yesterday I shared with you some new words in my vocabulary: Alopecia Areata.  I did what many of my friends would do- I started poking around online.  Shopping is therapeutic- but this was a different kind of shopping for me.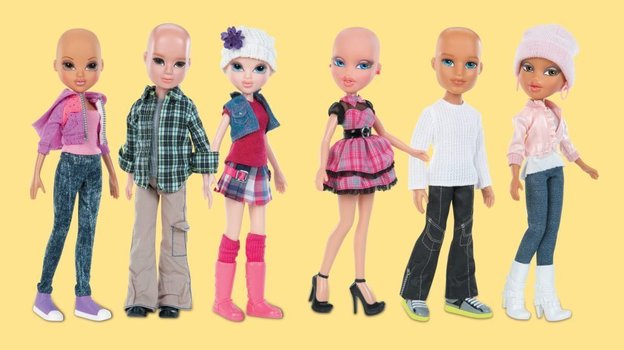 It's funny- looking around online – Bratz and Moxie Girlz both have dolls out with bald heads.  Moxie Girlz actually sent us one, which I knew immediately would be donated to Connecticut Children's Medical Center– what a cool gift to be able to give a child losing their hair from a treatment was my first thought.  Now, I think it's pretty cool that a kid with Alopecia Areata might get to take one of those Girlz home.  I cannot explain to you how great it is that companies are taking steps and being proactive to help raise awareness and give kids toys and playthings that can help them to have a better self esteem- to have dolls that look like them and are still marvelous and awesome in every single way.
Back in February MGA announced that they would be coming out with hairless fashion dolls to support the fight against pediatric cancer. Under the banner ""True Hope," MGA released three Bratz® dolls – Cloe™, Yasmin™ and Cameron™, and three Moxie Girlz™ dolls, Avery™, Sophina™ and Jaxson™.  Available at Toys"R"Us® stores and toysrus.com ,  MGA will donate $1 for every "True Hope" Bratz® andMoxie Girlz™ doll, sold to distributors, to City of Hope for cancer research.
My blogging friend Jeanne from Inside Out Motherhood shaves her head for St. Baldrick's each year.  This year, she went pink.  She wears it well.  She's awesome with and without hair.  Like we all are.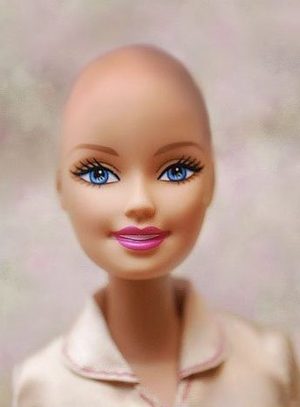 Mattel has a Beautiful and Bald Barbie. Barbie.  Well, a beautiful and bald friend of Barbie.
The Beautiful and Bald Barbie is finally becoming a reality. A bustling Facebook campaign urged toymaker Mattel to create a doll that appeals to kids undergoing cancer treatments or suffering diseases such as Alopecia, and after receiving 150,000 "likes" in under four months, Mattel will soon put the bald doll into production. Mattel spokesperson Alan Hilowitz told CBS News' HealthPop that the doll will be created as "friend" of Barbie. She'll come complete with wigs, hats, scarves and other accessories, with the option of going fully bald. While many of the 152,000-plus fans that the movement has garnered will be clamoring to get their hands on one of the dolls (this writer included), Mattel said that the bald Barbies will not be sold in stores. Instead, the dolls will be donated to children's hospitals, as well as the National Alopecia Areata Foundation. Read more: http://newsfeed.time.com/2012/03/30/mattel-agrees-to-manufacture-bald-barbie-amid-social-media-campaign/#ixzz20TC4ANB2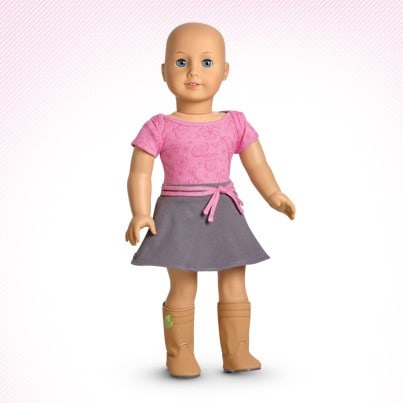 American Girl has a wigless doll out now…or you can send your child's doll to the doll hospital and they can send her home bald.  I can imagine that could make a pretty big impression on a little girl going through a chemotherapy treatment, or a little girl with Alopecia Areata.
American Girl has announced a new line of dolls without hair as part of the My American Girl® line for girls affected by cancer, alopecia, or any medical condition causing hair loss. This new product line provides even more possibilities for a girl to create a doll that's as unique as she is. Customers can choose from a total of five different dolls in light, medium, and dark skin tones. In addition, girls can choose their dolls' eye color from a selection of options. Finally, because we know that not all hair loss conditions are permanent, American Girl is proud to offer one free doll head replacement should a girl's need for a doll without hair ever change. Charitable Giving: To help provide comfort to kids who may be affected by medical conditions that cause hair loss, American Girl is including the new dolls in its annual $100,000+ donation to the Children's Hospital Association.
American Girl also just released an option to have a (pink) hearing aid onto your doll.  I think that's a pretty cool step for them to take.  There's also a sweet, adorable Service Dog setthat will make your heart melt.
American Girl has a long history of creating items that speak to diversity and inclusion, and these new products are yet another way we are expanding in this important area. As part of the My American Girl® line, we are providing even more options for a girl to create a doll that's as unique as she is. Hearing Aid This removable hearing aid is specially made to fit 18" My American Girl dolls and can be worn on either ear. Purchase includes a permanent piercing to ensure the hearing aid is expertly fitted to the doll's ear for easy placement and removal. Service Dog Our new service dog-in-training set comes with Chocolate Chip (a soft-fur, solid-body dog), a service vest with a handle that a girl's doll can hold, and faux treats.
Bald doesn't have to be a stigma.  We can all be beautiful and amazing and accepted for who we are.  Hair is not defining us.  We need to  work together to embrace and accept diversity and inclusion.