This is a sponsored post written by me on behalf of Renew Life Formulas for IZEA. All opinions are 100% mine.
I'm working hard to get a whole lot healthier this year.  I started with a DietBet with some friends on Facebook…turns out money is a great motivator for me. I hate wasting it, and I'm apparently pretty competitive, so the idea of wasting money and losing a "bet" was enough to get me past the "I'm not sure I'm ready to start losing weight again" hump.  One of the first foods I typically reach for when trying to lose weight and be healthier is yogurt…. but the one thing I am not loving lately is yogurt, which is unfortunate, because that's one way I keep my belly all balanced, bacterially speaking.  So I've been looking for a new something to get the bacteria in balance in there.  This Vanilla Banana Blueberry Shake inspired by Renew Life Skinny Gut Ultimate Shakes is a great way to help me get that balance of good and bad!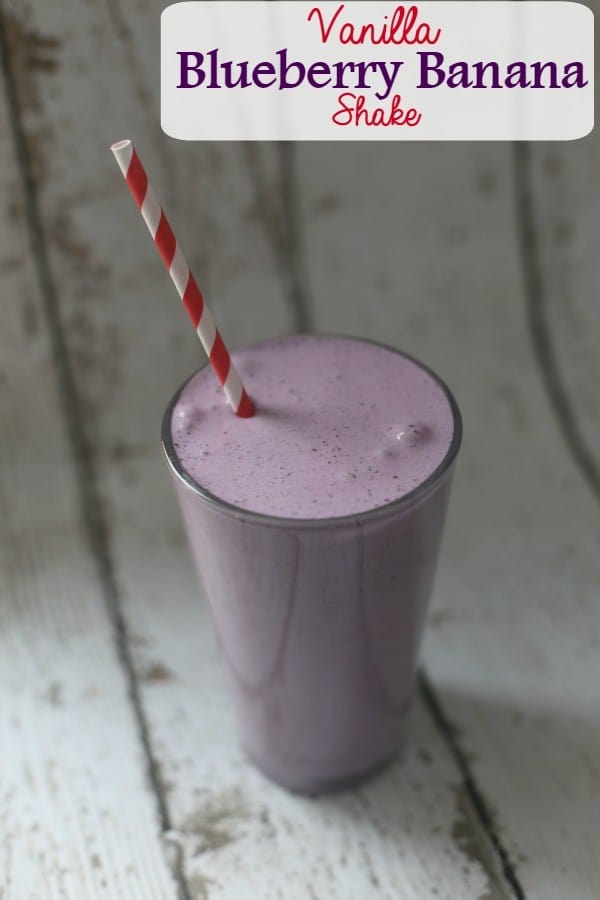 Vanilla Blueberry Banana Shake
Ingredients
1 banana,
1c frozen blueberries
10 oz almond milk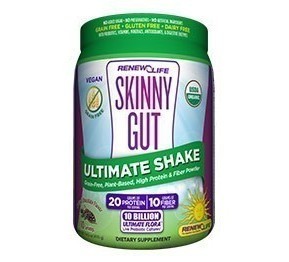 1 scoop Renew Life Skinny Gut Vanilla Shake powder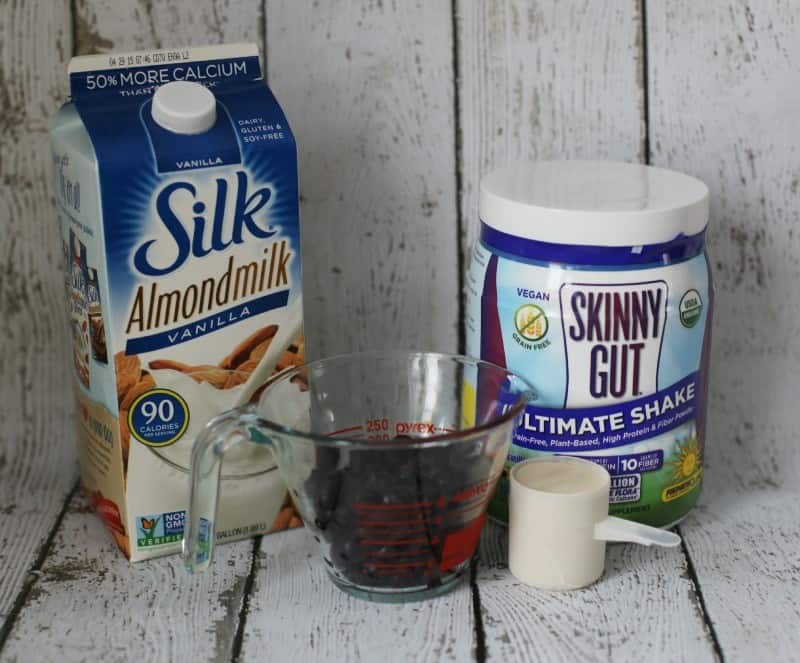 Directions
Add banana, blueberries and milk to blender.  Pulse for 30 seconds.
Add shake powder, pulse 20 seconds.
Drink immediately.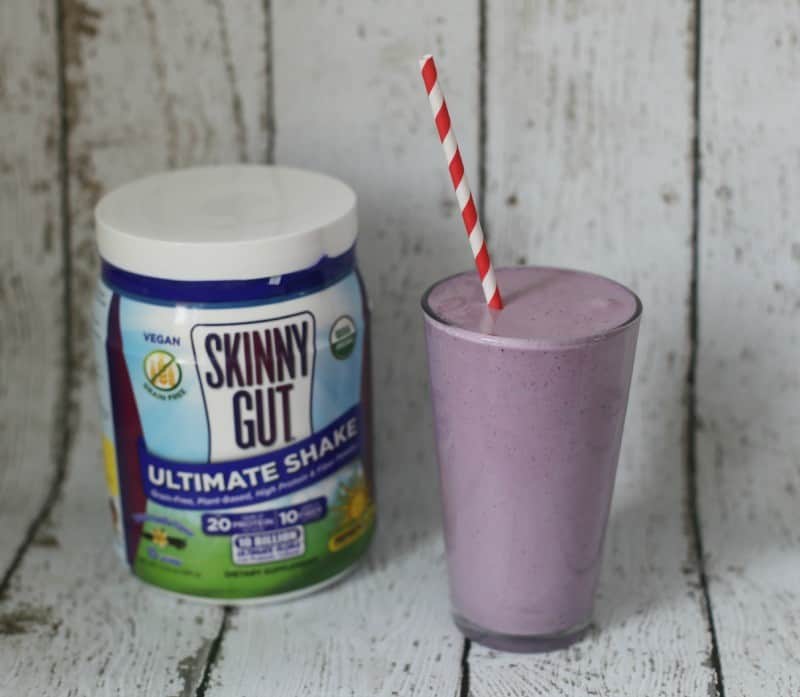 The Skinny Gut program promotes how to balance the good and bad bacteria in our digestive tract to help you achieve your healthy weight goals.* It's a new way of eating that helps curb appetite and cravings. It encourages the reduction of sugar intake along with an increase of protein, fiber, probiotics and living, fermented foods. Given that sugar is the weakness that's gotten me to the physical state I'm in today, this is a big draw for me to give the Skinny Gut supplements a go.
The Skinny Gut supplements offer convenience organic, grain-free shakes, which are packed full of protein, probiotics, prebiotic soluble fiber, and digestive enzymes- and the organic, soluble fiber formulas easily mix into beverages or soft foods. It's simple to use, convenient, and if I keep a serving portion in a water bottle, I can have myself a protein-filled shake anytime, anywhere. You can mix water or (almond) milk with the supplement. What I'm finding: Renew Life Skinny Gut products are the perfect supplements for me to feed my Skinny Gut Life and help promote digestive balance as I work to achieve my ideal weight!* †
Now, you may be all, ok, Brett, this sounds all great, but how does it taste?  What's the texture like?  So here's my .02
The vanilla, which is the flavor I have had so far, is good. I'm going to give the Renew Life Skinny Gut Chocolate Shake a go next. I'm a chocolate girl.
Benefits that each serving of the Skinny Gut Shake provides:
20 grams of Organic, Grain-free Protein from seeds and legumes to help build muscle*
10 grams of Prebiotic Organic Fiber, including acacia fiber, to help curb appetite by helping you feel full*
10 Billion live Ultimate Flora™ Probiotic cultures providing specially selected strains to support healthy gut balance*
Organic Fruit and Veggie Antioxidant blend plus vitamins and minerals to nourish cells.*
Full-spectrum Digestive Enzyme blend to support healthy digestion and help optimize nutrient availability.*
Low fat and low calorie
Available in delicious natural vanilla and chocolate flavors
No Artificial Ingredients or Preservatives
No Added Sugar
Gluten & Dairy Free
No GMOs
Vegan
†Skinny Gut nutritional supplements, along with lifestyle changes, promote digestive system balance to help achieve your ideal weight.*
*These statements have not been evaluated by the FDA. These products are not intended to diagnose, treat, cure or prevent any disease.
Vanilla Blueberry Banana Shake
Author:
Ingredients
1 banana,
1c frozen blueberries
10 oz almond milk
Instructions
scoop Renew Life Skinny Gut Vanilla Shake powder
Add banana, blueberries and milk to blender. Pulse for 30 seconds.
Add shake powder, pulse 20 seconds.
Drink immediately.