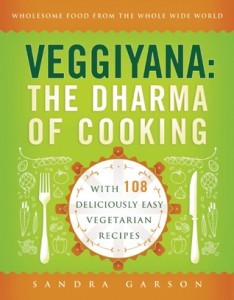 I have to admit, I sit with a glass of wine and read cookbooks on Saturday evenings.  It is relaxing for me and I love to find new recipes to try.  This book Veggiyana: The Darma of Cooking is a wonderful read. The author, Sandra Garson studied food history at Harvard and her expertise in this area really shines in this book.  It is full of great vegetarian recipes from around the world and it has so many fun facts and history lessons about the foods and where they come from.
The book begins with Sandra's experience in Nepal and helping provide nutritious food for students at a boarding school.  She helped the students improve their energy levels and strengthen their immune systems.
About the Book
Veggiyana provides 108 tasty, beloved, and simple recipes from around the world. And generously sprinkled throughout are perfectly spiced morsels of time-tested wisdom on how to live a life that nourishes both body and spirit. Veggiyana brings the vitality of the world's kitchens to your own with time-less wisdom and recipes to delight and inspire.
Meet the Author
Sandra Garson is dedicated to the profound spiritual practice of caring for our bodies and healing others through the power of food and community. Her work has appeared in The New York Times, Tricycle, Boston Globe, Yankee, and Down East: The Magazine of Maine. As a professional caterer she has transformed the nutritional value of the diets of many monasteries in Nepal. She studied food history at Harvard University and is the author of How to Fix a Leek and Other Food from Your Farmers' Market. She lives in San Francisco.
Some of the great recipes are for Black Bean Chili, Sweet Potato Fritters, Buddha's Delight and Berber Date Bars.
You can order a copy of Veggiyana on the publisher's site, Amazon or Barnes and Noble.
A copy of this book was provided to facilitate the review.  All opinions are my own.