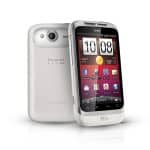 It's been almost a year since I was first introduced to Virgin Mobile.  It was love at first sight, when my Samsung Intercept first arrived at my door, and I was (at long last) included in the world of smartphones.  Smartphones with affordable plans, and no contracts.  No commitment.  That's what I love about Virgin Mobile.  They save me money.  Us, really.  We were paying just under$55.00 a month for my phone with our old provider- that was with zero data, and450 talk minutes (plus free nights and weekends)- I did pay $5 extra each month for texting.  But that had limits too.  With Virgin Mobile, I get 1250 talk minutes, plus unlimited messaging and data.  I have no contract.  I love it.
I have a new phone, although this time, Mr. Bargains tested it out…for the most part.  He's still without a smartphone (work provides his cell but they don't do data or anything).  Virgin Mobile sent us the HTC Wildfire S for review.  He used it for a month and now I've taken it over.
I find this phone to be  easy to use, very receptive touch screen, LOVE the flash (I haven't ever had that on a phone before!  Nor have I had a 5 megapixel camera on a phone) and so many other cool apps available from Android marketplace.  My husband liked the phone well enough but has large  hands and gets very frustrated with touch screens (he hates my tablet for the same reason).  He liked the features, especially the ability to create different sounds for anything "incoming" like ringtones, texts, emails, calendar notifications, etc).  He just got frustrated because he felt like he couldn't enter anything into the phone due to his hands being large.  
The design of this phone is sleek and lightweight- I feel like phones are starting to get bigger and bulkier and I like that HTC kind of kept things lower profile.  I have enough to tote around without a huge phone to boot!  The colors are really vibrant, strikingly so, in fact.  I like that there's kind of a lip on the bottom (as does Mr. Bargains) to help you keep a grip when you turn the phone for landscape/horizontal viewing.
As with most android-based smartphones I've come across,  this phone performed a lot better when I installed an app meant to send things to the SD card to not use up so much memory- that quick and free install has meant my phones perform faster, and memory use is kept lower!!  I do wish that there was a way to remove pre-installed apps that I don't use from the phone because it would free up a lot of memory for me.  I just send everything to my SD card.  I've found the battery life is comaprable to just about any phone I've had- the more you are using the internet, of course, the faster you drain your battery.
A superphone that lets you share. Everything.

Surf the web in style with multi-window browsing, pinch to zoom with auto text reflow, and Flash video support. The HTC Wildfire S lets you take great shots with the 5 MP camera with flash, tag your friends in the pics and instantly post them to social networks for all to enjoy. Explore thousands of apps on Android Market™ and send your favorite ones to friends – so everyone can get in on the fun.

Additional Features

Android 2.3™ Platform
5MP Camera with Flash
Camcorder
Wi-Fi Capable
Personalize Button
Threaded Text Messaging
Speakerphone
Bluetooth® 3.0
Internal Memory: 512MB RAM
Expandable Memory: 32GB (sold separately)
600 MHz Processor
3.5mm Audio Jack
HAC Rating: M3/T3
TTY Support
Gmail™
Phone Data Bluetooth Transfer
Google Talk™
WHERE®
News and Weather
Android Web Browser
Calculator
Picture Messaging
Music Widget
FriendStream
My Account
Google Search™
3G EVDO Rev A Data Network
Not Wireless Emergency Alert capable
I am not "techy" and I have read other reviews online about the processor speed and other tech terms I don't know much about at all, but I find this to be a decent smartphone- it has all of the cool features that help us stay connected socially and the call clarity is great, the camera super cool, and I can get my beloved Muppets ringtone for it.  I'm a happy girl.  My husband was a happy guy.  I say "yay" to the HTC Wildfire S.  I hope that soon they make this phone in pink and purple for those of us who have prepaid plans!! Then it might be even better!!
One thing I more recently got to check out from Virgin Mobile is their Ovation MC76o – USB Broadband that gives you: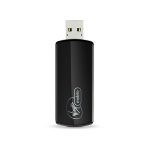 3G Internet At Home or On The Go
No Contract, No Overages & No Activation Fees
Nationwide Sprint® 3G Network
Only Pay for What You Need
Change Plans as Your Needs Change
My inlaws don't have internet.  They don't have a computer.  As a blogger, I'm never long to check emails, by nature.  So I love that I can be down there, and access the internet- even if it's just to help them do travel arrangements for their timeshare or something.  This allows me to be free to do my work wherever I am- regardless of if I am someplace where they have free wi-fi.  I have my own.  It's portable.  Easy to keep track of.  Love it.  I've had zero issues with this since I started using it!  I really like that I can just activate it when I need it- so if we were going away on vacation for a week, I could just activate it and not have to pay a contract fee for all of the time between now and when we were to leave…or for more time when we return home.  That works for me.   You can get 10 days of service for $10 or do a month unlimited for $50.00.  I like options.  I like not having to spend money for services I just won't use, you know?
TWO of my readers will each win a LG Optimus Slider phone!! (These are NOT activated.)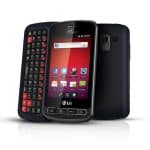 I received a sample of this product to facilitate my review.  Opinions are my own.