I saw a picture of this wreath on Pinterest (do you follow me?  Please do, and I would love to follow you, too!) and I knew I had to have it. Or rather, I knew I had to make it. I love the simplicity and I have this newfound obsession with wreaths, so this just fits perfectly into my world. Plus, it has pink.
What you will need for this project: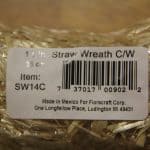 1 – 14 inch wreath I've seen these in styrofoam and straw that comes wrapped in plastic. Take this advice as I did (from many, many sources) and use the straw wreath, leaving the plastic ON. The yarn holds better to this and won't slip as much.
1 skein yarn – we did a grey, both light and dark (in searching the web for ideas, several places I have seen suggest Vanna White skeins, we did use some Red Heart brand. I don't think you need to go with the top of the line yarn here, as it is only going to be on the wreath)
Felt Hearts (we did 2 shades of pink, you need about 7 hearts per color)
1 (small) skein black yarn
How we did our wreaths:
Tie the grey yarn around the wreath to secure.  Then wrap around, and around, and around again- you can pull tight or not, depending on your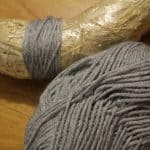 preference.  We did this as a MOMS club activity and it was fun to see how we each did it so differently!  I found that wrapping a few times and then sliding it over to ensure total coverage of the straw worked for me.
Once you have gone all the way around the wreath, tie the end for closure and tuck the ends of the tie under wrapped yarn.  This took me almost an hour, but I had my 2.5 year old "helping" which made things more difficult.  Most of the moms who were at my house did their wrapping in under 30 minutes.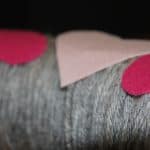 Once your wreath is wrapped, you'll want to add hearts.  I wanted the argyle look so I did 7 light pink and 7 dark pink hearts, alternating directions.  I used felt for mine that has a sticky backing, and it won't lay as flat as I'd like because of the sticky back.  Next time I do one of these, it'll be with plain felt (which is what my friends' have).
After your hearts are positioned, simply take black yarn, and wrap around the wreath- this is what secures your felt hearts.  I did once around but many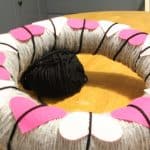 others, including my 6 year old, did twice around for the "X" look.  I love both looks.
Here's our "show and tell" from our MOMS club crafting- plus my very proud 6.5 year old's mini version of this (she used styrofoam wreath- totally not going to do that again, the yarn slips way too much)